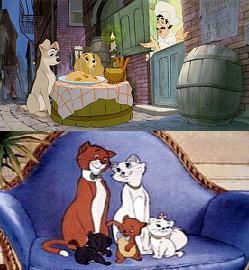 Lady and the Tramp & The Aristocats (c) The Walt Disney Co
as the french say,
"love me, love my dog".
whoever's the current apple of my eye has to love my pets... or else...
that was what went through my head when i had 23 cats and 9 dogs. let me name some of them as this is my tribute to my precious little ones --
dogs first:
chibi:
my japanese looking sister gave our terrier a japanese name -- which means "small and cute". he was very affectionate, cuddly, and a real looker. always hungry for affection, he often ran wild in the living room to get our attention, jumping from one end of the couch to the other. he taught us the true meaning of loyalty.
sam:
i was inspired by the movie "sleepless in seattle", hence, the name sam. sweet sam was beautiful, with golden flecks on his chest. all he wanted to do was to lie flat on his back all day letting people take advantage of his cuteness.
annie:
sam's sister, and his exact opposite. hyena-looking annie was feisty, self-centered, and paranoid. i adored her. once, when my sister was playing the piano, annie started howling, hopelessly covered her ears and scratched the paint off the kitchen door to get out and stop the torture.
indiana:
you guessed it right -- indiana jones. indy was my companion. he was as beautiful as sam, as fiercely loyal as chibi, and as feisty as annie. whenever my dad scolded him, he'd hide behind me, then bark so loudly, trying to look savage.
dumbo:
a guy friend gave her as a present to me. i came home one time, and saw this dalmatian-looking puppy, looking back shyly at me. i always felt protective of dumbo since she seemed very melancholic.
then, annie and dumbo both gave birth...
how we were able to take care of cats and dogs together in one roof is a marvelous story. adopting a cat all started with the very lovely, very regal kitty...
kitty:
she simply wanted a home. she would come either to the front or back door asking for food and love. the day we officially adopted her was the day when i popped my head out of the front door to call her -- i was reading a book called "kitty" (by lena kennedy) at the time, and decided this was the perfect name for the newest member of the family -- seconds later, kitty came running all the way from the garage to where i was, in eager anticipation. i loved her dearly.
three spots:
one, one spot!, two, two spots!, three, three spots! ha ha ha ha ha!... remember 'the count' in sesame street?? well no, i didnt get the name from 'the count', but i just loved scooping three spots up in my arms, counting the spots on her little flexible body... she hated it. but she was a very sweet, unusual kitten. she was as gorgeous as her mummy cassandra, with pink little paws and a pink little nose that wiggled like a rabbit's. she loved flowers, yes even fake ones, and was the only cat i know who sang as she played.
francesco
(or france for short)
:
france is the epitome of fat. his body was simply pure fat. whichever way he turned, he was fat. his favourite place was the kitchen, his plate was bigger than mine, he was as spoiled as spoiled could be. but he also had a big heart. he never used his claws even when we gave him a bath. he was the gentlest cat i ever knew (and he was afraid of mice). the two of us enjoyed watching the christmas lights around our christmas tree.
cassandra:
the beauty in the family... she was the scarlett o'hara of tabbies. this blue-eyed cat would make anyone pay for cuddling her if she didnt want to be held. if her mother kitty was the matriarch of the clan, cassandra was definitely the princess -- no wonder, the two beauties always clashed. cassandra was grace and royalty personified. i was in awe of her. i felt like curtsying whenever she passed me by.
observing our pets -- from our cats and dogs, to my aunt's doves, and the fish in our pond -- i have realised that animals are like humans, with unique behaviours and characteristics.
Man's fate is like that of the animals; the same fate awaits them both: As one dies, so dies the other. All have the same breath; man has no advantage over the animal.
-- Ecclesiastes 3:19
i'm not a fanatic animal rights activist, but i'm an advocate of promoting compassion and respect, extending beyond our species. the misconception that the bible doesnt care for other living things exasperates me. the welfare of animals concerns God as much as our happiness and well-being [Deuteronomy 22:1-12].
The greatness of a nation and its moral progress can be judged by the way its animals are treated.
-- Mahatma Gandhi
i'm against any form of torture toward animals, as michael w. fox stated,
"Farm animals can be kept five to a cage two feet square, tied up constantly by a two-foot-long tether, castrated without anesthesia, or branded with a hot iron..."
when i read about
bears
locked in coffinlike cages, with a catheter in their body that continuously absorbs the liquid from their gall bladders to produce shampoos, aphrodisiacs, and "miraculous remedies", my heart broke. i have heard that kindness is innate (as cruelty is), but consider this: if we were in the same position as the animals, how'd we take it? we could scream and cuss and beg for mercy, but what about them whose language we cant understand?
The time will come when men such as I will look upon the murder of animals as they now look on the murder of men.
-- Leonardo Da Vinci
did you know...
It was discovered on a space mission that a frog can throw up. The frog throws up its stomach first, so the stomach is dangling out of its mouth. Then the frog uses its forearms to dig out all of the stomach's contents and then swallows the stomach back down again.