fall in the city
Winter is an etching, spring a watercolor, summer an oil painting and autumn a mosaic of them all.

-- Stanley Horowitz
the smell of fall... *sighs*
i noticed the dramatic temp change last sunday. i wore a light pink sweater but the change still had me chilled to my bones. just
last autumn
, i was hoping for a favoured season -- some turned out [so] good, and some, well, they were lessons that would never be forgotten. i remember when spring came, i wished for a summer-like weather. now that summer's over, i'm actually relieved. it seems there is always that feeling of a new beginning when autumn comes.
losing a buddy and everything else that i have experienced the past months induced me to reaffirm my faith in God. i don't have qualms when i say i'm no saint because it's the truth -- professing one's christian faith can be more daunting. somehow, christianity is associated with bigotry (see
the harvard crimson
). but today, today was different. i didn't exactly know what to pray for, so all i said was, "i have faith in you, because you live." once again, i'm hoping for a favoured season. both yours and mine.
---
lost in translation
Blue Nude 1902 (c) Pablo Picasso

notice how stress can affect a healthy outlook on life? well i was one of those, you know.
I'm free but I'm focused
I'm green but I'm wise
I'm hard but I'm friendly, baby
I'm sad but I'm laughin
I'm brave but I'm chickenshit
I'm sick but I'm pretty, baby
i have a series of artworks to finish and what's nice about it is i get to choose my subj. i call the shots. lately, i've been under stress and the drive to create just wasn't there. pranking my mom on the phone was a welcome diversion -- i told her i got paid $5 for cleaning 3 toilets, of course she nearly passed out but when she recovered, she asked if i even wore gloves... yup, that's mom for ya. hilarious? talking to my cousin later that night was much more. in fact, it tore my ribs apart. she was gushing about a boy whom she called "babe", i said that sounded very outdated, very corny. she said, "what? horny? are you sure?" she was using a three-way call so you could imagine how many times she called him "horny" while i sat back listening. i didn't have the energy to correct her, so i let go. anyway, as i was saying, i've slacked off. my rebellious days are over but what to do if sometimes you just want to break away from social conformity? when life kinda burns you out? sitting on the piano at 3 am just looking out the window made me think of the things i've done in my life (a breathtaking city view often has that effect in the wee hours of the morning), once in a while giving myself a pat on the back for eschewing the temptations that were hurled at me -- oh, some minor stuff such as, let's see, i've never flicked a cigarette (ordinary cigarette or otherwise) because smoking doesn't cut for me. when suddenly, like smooching
leonardo diCaprio
, it hit me: you find patches of your calling (or purpose) and put them together to make sense of life.
And what it all all boils down to
Is that no one's really got it figured out just yet
I've got one hand in my pocket
And the other one is playing the piano
these days, i'm not living only for myself. i'm gaining more [teen] followers and the responsibility scares the hell out of me. but it's also giving me back my inspiration. despite my recent sluggishness, i'm eager to pick up a pen and get creative again. so yes, i'm alright. a temporary setback... nothing to it.
And what it all comes down to my friends
Is that everything's just fine fine fine
I've got one hand in my pocket
And the other one is hailing a taxi cab
Artist: Alanis Morissette
---
INXS's fortune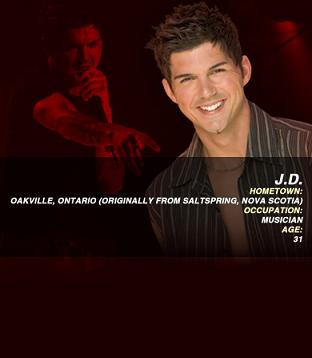 JD Fortune (c) CBS


Rock is young music, it is youth oriented. It just speaks for a generation.
-- Ruben Blades
oh yeah, a handsome chunk, isn't he? definitely
not
so typical rock star. well, INXS has made their decision and the new frontman is
canadian --
watching "Rock Star: INXS" on CBS (fyi, i hardly watch tv with all the reality crap popping up on screen), made me put down my iPod and listen to the final three rockers give their best. "these guys know how to emote," i thought. i knew in my "throbbing" heart who was going to win.
mig
, with the voice of freddie mercury (almost) and the looks of david bowie, was the first to go. he exited with dignity that impressed me. and although
marty
had the voice of a true rock star -- rustic but tastefully melodious -- he too, had to go...
I always wanted to be a rock star. That was my childhood dream. That's what I told everybody I was going to be when I grew up.
-- Chester Bennington
i was flushed with excitement when INXS announced their guy -- i heard
jd fortune
sing and boom!, he took my breath away. there are so many (in fact, too many) rockers and wannabes who turn the stage into their personal interpretation of cirque du soleil simply because they can't carry a tune.
Rock 'n Roll: The most brutal, ugly, desperate, vicious form of expression it has been my misfortune to hear.
-- Frank Sinatra
yes to an extent, frankie, but this new rock star (crooner, if he chose to), is an exception. his voice harmonizes and belts out the music, believe me. oh well, i'm not a rock fan(atic), either. so why am i blogging about this? because... because... *smiles*
Rock groups, by their very nature, are hysterically funny. They are usually a mixture of working class lads and art students which is odd. Then there's the commitment, the sincerity, the pseudo philosophy of a rock group -- it's sexy when you're 21 but absolutely ridiculous when you're 41.
-- Gary Kemp
---
ah dare ya!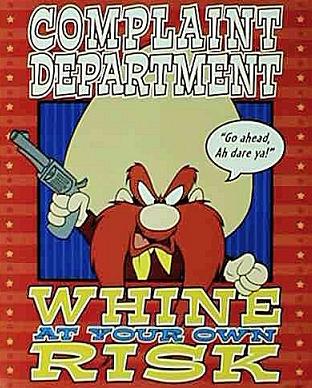 Yosemite Sam (c) Warner Bros
i can't help but post this ludricous (or is it ludicrous? ha!) brit humo(u)r that completely left me gagging for air. since it's a monday, why not start the week off "rofl"? the newspaper office where i work part-time, jokes and "insists" about me being a die hard independent... ah only do ma job, ya rackinfrackin' varmits!
warning: (no) pun intended!
Message from John Cleese - To the Citizens of the United States of America
To the Citizens of the United States of America:
In light of your failure to elect a competent President of the USA thus to govern yourselves, we hereby give notice of the revocation of your independence, effective immediately. Her Sovereign Majesty Queen Elizabeth II will resume monarchical duties over all states, commonwealths and other territories (excepting Kansas, which she does not fancy). Your new prime minister, Tony Blair, will appoint a governor for America without the need for further elections. Congress and the Senate will be disbanded. A questionnaire may be circulated next year to determine whether any of you noticed. To aid in the transition to a British Crown Dependency, the following rules are introduced with immediate effect:
1. You should look up "revocation" in the Oxford English Dictionary. Then look up "aluminium," and check the pronunciation guide. You will be amazed at just how wrongly you have been pronouncing it. The letter 'U' will be reinstated and you will learn to spell 'doughnut' without skipping half the letters, and the suffix "ize" will be replaced by the suffix "ise." You will learn that the suffix 'burgh' is pronounced 'burra'; you may elect to respell Pittsburgh as 'Pittsberg' if you find you simply can't cope with correct pronunciation. Generally, you will be expected to raise your vocabulary to acceptable levels (look up "vocabulary"). Using the same twenty-seven words interspersed with filler noises such as "like" and "you know" is an unacceptable and inefficient form of communication.
2. There is no such thing as "US English." We will let Microsoft know on your behalf. The Microsoft spell-checker will be adjusted to take account of the reinstated letter 'u' and the elimination of "-ize."
3. You will relearn your original national anthem, "God Save The Queen", but only after fully carrying out Task #1 (see above).
4. July 4th will no longer be celebrated as a holiday. November 2nd will be called "Come-Uppance Day."
5. You will learn to resolve personal issues without using guns, lawyers or therapists. The fact that you need so many lawyers and therapists shows that you're not adult enough to be independent. Guns should only be handled by adults. If you're not adult enough to sort things out without suing someone or speaking to a therapist then you're not grown up enough to handle a gun. Therefore, you will no longer be allowed to own or carry anything more dangerous than a vegetable peeler. A permit will be required if you wish to carry a vegetable peeler in public.
6. All American cars are hereby banned. They are crap and this is for your own good. When we show you German cars, you will understand what we mean. All intersections will be replaced with roundabouts, and you will start driving on the left with immediate effect. At the same time, you will go metric with immediate effect and without the benefit of conversion tables. Both roundabouts and metrication will help you understand the British sense of humour.
7. The Former USA will adopt UK prices on petrol (which you have been calling "gasoline")-roughly $6/US gallon. Get used to it.
8. You will learn to make real chips. Those things you call French fries are not real chips, and those things you insist on calling potato chips are properly called "crisps." Real chips are thick cut, fried in animal fat, and dressed not with mayonnaise but with vinegar.
9. Waiters and waitresses will be trained to be more aggressive with customers.
10. The cold tasteless stuff you insist on calling beer is not actually beer at all. Henceforth, only proper British Bitter will be referred to as "beer," and European brews of known and accepted provenance will be referred to as "Lager." American brands will be referred to as "Near-Frozen Gnat's Urine," so that all can be sold without risk of further confusion.
11. Hollywood will be required occasionally to cast English actors as good guys. Hollywood will also be required to cast English actors to play English characters. Watching Andie MacDowell attempt English dialogue in "Four Weddings and a Funeral" was an experience akin to having one's ears removed with a cheese grater.
12. You will cease playing American "football." There is only one kind of proper football; you call it "soccer." Those of you brave enough will, in time, be allowed to play rugby (which has some similarities to American "football", but does not involve stopping for a rest every twenty seconds or wearing full kevlar body armour like a bunch of nancies). Further, you will stop playing baseball. It is not reasonable to host an event called the "World Series" for a game which is not played outside of America. Since only 2.1% of you are aware that there is a world beyond your borders, your error is understandable.
13. You must tell us who killed JFK. It's been driving us mad.
14. An internal revenue agent (i. e. tax collector) from Her Majesty's Government will be with you shortly to ensure the acquisition of all monies due (backdated to 1776). Thank you for your co-operation and have a great day.
15. Start pronouncing "Queen Camilla." She will be your next queen!
---
ain't misbehavin'!
Frigate (c) Sophie
All the world's a stage,And all the men andwomen merely players:They have their exits andtheir entrances;And one man in his timeplays many parts,His acts being seven ages.
-- William Shakespeare's As You Like It
has anyone read, "dennis the menace ain't misbehavin'?" i found the book conspicuously tucked beneath my grandfather's selection of law books (don't ask me how or why it got there), and quickly adopted dennis mitchell's credo at an age where mischief was the name of the game. i was remarkably sanguine -- ok fine, i
am
remarkably
sanguine
. true, i have outgrown most of the stuff i've daydreamt about (e.g. playing pirate or indiana jones's love interest), but the more attainable ones, i'm proud to say, have come to pass. there are four major things in my adult life that i still fancy:
1.) create a masterpiece
well, why not show [off] a little bit of talent? it isn't as if i claim to be this generation's michelangelo buonarroti, although there's no harm in wishing -- perhaps the vatican could build another sistine chapel and request the honour of my company -- it has been decades since the world has had a taste of true masterpieces...Tanto nomini nullum par elogium. (No praise is sufficient for so great a man.) -- michelangelo's monument inscription. what would mine be -- Eternalii Overconfidentii. (Eternally Over-confident.)?? aahh heck.
2.) be a real ballerina
i've studied classical ballet and modern jazz, but ballet is what i want to pursue, and well, you know if you're good at something, right? you feel it the most in the pit of your stomach. i felt it, luckily, i didn't throw up when it was my turn to perform on stage while the russian ballet company looked on.
3.) live life like indiana jones
can anyone believe i used to want to be this ancient playboy's girlfriend?? actually, i still do sshh... seriously, i can't imagine myself being domesticated... at least, not yet. my favourite reverend said, in his lifetime, he discovered that only a handful of people have real bright eyes and i'm one of them. i guess what he saw was my thirst to go the distance.
4.) become a shakespearean actor
"Wherefore art thou?"
"So you walk softly and look sweetly and say nothing, I am yours for the walk; and especially when I walk away."
... it's one of those nagging thoughts and yet...
"I shall forget, to have thee still stand there, Remembering how I love thy company."
... indeed.
if you remember your childhood fantasies, would you still chase after them now that you're fully grown? or would you let go?
Let us have fantasy, boldness, unexpectedness, enchantment -- above all, tenderness, and morbidezza!
-- George Bizet
---
a tale of two cities

Early Evening, New York City by Sophie


as i've stated
here
, new york and i have a peculiar love-hate relationship -- but as always, i end up going back because it is, after all, my city, too. last night, uncle and aunt came over fresh from their trip to napa valley, california. it was my
cousin
's wedding and we had a blast talking (or, rather, "toasting" -- it was an extended celebration as i put it). the pictures were very lovely and my cousin glowed. we rambled to other topics that included new york and new orleans. rest assured that whenever 9/11 or hurricane katrina is mentioned, it gets ugly. some theorize that the reason for the prompt response to the 9/11 tragedy was, new york was a greater loss than new orleans. others say, "blame the lack of response in
new orleans
on FEMA (and the president... oh no, let's not forget
him
)." many have predicted the looming disaster that was to hit new orleans and its surrounding counties, among them was
brendan loy
-- it is indeed disturbing that help came after four days, you'd think we've learned to listen after 9/11. anyway, i refuse to be political because compassion is what people are crying for at this moment.
At 8:46 a.m., there will be a moment of silence at
Ground Zero
to mark when the north tower was struck by the first plane. At that time, churches across the city have been asked to toll their bells... The morning will have four separate moments of silence, two to mark the time each plane struck and two when each tower collapsed.
i know these days, it is even harder to trust in a God who is unseen but what if, just what if, we learned to trust not in man but in God? what would He do?
Yea, though I walk through the valley of the shadow of death, I will fear no evil; for thou art with me; thy rod and thy staff they comfort me.
Surely goodness and mercy shall follow me all the days of my life: and I will dwell in the house of the LORD for ever.
-- Psalm 23:4,6
---
elle raconte l'histoire en francais (or she tells the story in french)
Yes, I did get over David and I'm cured. Now, I don't know how to get over the cure.
-- "Sabrina", 1954
"sabrina" is a featherlight story of a shy, gawkish young woman who has been besotted all her life with david, a millionaire playboy who ignores her existence. she goes off to paris, and returns a fashionable, uber-refined lady. suddenly, david is smitten by her, and so is his brother...
watching a classic brings back sweet memories. being
grandpa's little girl
, i've often sat with gramp to watch old movies or just to pass the time (that was the best). when i became deathly sick, my grandfather flew 7,000 miles to be near me, dragging my grandmother with him who said he wouldn't have done it for anyone, not even for her (and she was his great love). ahh yes, my grandfather spoiled me giving all he had (a relative was so jealous he badmouthed me every chance he got and though i don't feel anything for the kibitzer, i could understand the jealousy, i mean i'd be jealous of "me", too.)
i was devastated when grandfather passed away, i couldn't and wouldn't cry -- it took three guys to break the pent-up anger within me -- God,
joey
and
brent
. undoubtedly, God will walk with me all the days of my life, but for a while it was hard to figure out which of the other two guys would be holding my hand as i continue the walk. well if you must know, instead of walking,
i'm taking the adirondack route
. and when i draw near the end of my journey, i shall tell my story in french. why? because "french" is another word for "love". ask sabrina.
---
repondez s'il vous plait
or R.S.V.P. for short.
in the blogosphere, anything goes. weblogs can take the form of an online diary or an ongoing commentary. whatever you post is instantly accessible and readable by 580 million internet users. mine is very eclectic -- i use it as my thought depot, my travel portmanteau, my memory bin. (i draw the line at mudslinging and veiled trashing. if i have something against a person, i say it to their face.) some of my readers requested that i put a comment box, but i politely refused because i don't need to have my thoughts/actions validated. imagine how surprised i was when the emails kept coming.
this one
, wanted to talk about my chance meeting with a celebrity a few summers ago. i couldn't call it just "one of those letters", it was very warm and personal, and i guess, that's what i want from readers. then came
more
. the latest email tugged at my heartstrings.
From: J
Mailed-By: aol.com
To: ceriesling
Date: Sep 2, 2005 11:11 PM

I am blown away by the sheer beauty that is within you! I too believe in God and love him with the flames of a thousand fires. Yet you are truth and innocence and wonder and wisdom and love all wrapped in a cute little package. I know that that sounds strange coming from a girl that you hardly know and you are probably freaked out yet i am just in awe. My name is... I live to love, and i love to live. I haven't yet had a proposal yet i have had offers of 'forever relationships' but thats all to talk about later. Anyway, you are the true meaning of follower and leader. You see all that is there and all that could be there and i like that. I love the fact that you see love in a lot of things. I admire that trait for few have it... I thank you for making me understand that there is innocence in the world still, and that it is very peaceful and beautiful.

God Bless You and May all your Prayers and Hopes and Dreams Be Answered,
to have this kind of effect on people overwhelms me. i asked for permission to post the letter so others would know it really is a beautiful world out there. your views can impact a stranger's day, for good or ill. i choose to post non-edited, non-copied versions of me.
---
in search of new orleans

New Orleans Traveler (c) Cynthia Williams


29th august, 1:05 am. a friend showed me the link to
hurricane katrina
. the forecast revealed a frightening tropical cyclone with a speed of 250 km. i wondered how i could possibly shake off the jitters? i got down on my knees to pray. i live several states away from louisiana but i knew the aftermath would affect many lives in different parts of the US.
"I'm not doing too good right now,"
Chris Robinson
said via cellphone from his home east of the city's downtown. "The water's rising pretty fast. I got a hammer and an axe and a crowbar, but I'm holding off on breaking the roof until the last minute. Tell someone to come get me, please. I want to live."



an acquaintance who lived in new orleans for 10 years and still maintains close ties to the city, tearfully criticized the sluggish federal help they've been receiving. before the national guard arrived, watching the news conjured up horrible images of women being raped in public bathrooms, and civilians walking in the sts with shotguns and M-16 rifles.

"We are out here like pure animals. We don't have help," the Rev Isaac Clark, 68, said outside the New Orleans Convention Center, where corpses lay in the open and evacuees complained that they were dropped off and given nothing.

whether the disaster was

prophetic

or bs, the question is how do we reach out to those who suffered a grievous blow? i don't think my conscience could take it if i didn't help. it's impossible to have fun without feeling a sense of guilt. i'm not saying we should wallow in the dark but i guess, if we feel guilty it only means we've missed out on doing good. i believe what the bible teaches, but as God said, the one thing that is greater than faith or hope (or a thousand prophecies ever written) is love.


So I will very gladly spend for you everything I have and expend myself as well. If I love you more, will you love me less? -- 2 Corinthians 12:15



---
qui m'aime aime mon chien part deux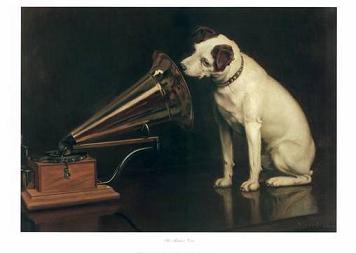 His master's voice (c) Francis Barraud
does
this
look familiar? ever heard of a "gramophone" or a "phonograph"? i've always wondered if the dog in the painting was real. apparently yes, and its name was "nipper." i'm posting barraud's painting in honour of the new orleanders' pets that were left behind. when i read the news about the plight of animals in new orleans, i was crushed. to some, animals should be the least of our worries, but see, they can perceive pain, and as such,
it is our duty to treat them humanely
.
In one example reported last week by The Associated Press, a police officer took a dog from one little boy waiting to get on a bus in New Orleans. "Snowball! Snowball!" the boy cried until he vomited. The policeman told a reporter he didn't know what would happen to the dog.
The fate of pets is a huge but underappreciated cause of anguish for storm survivors, said Richard Garfield, professor of international clinical nursing at New York's Columbia University... Valerie Bennett left her dogs with an anesthesiologist who was taking care of about 30 staff members' pets on the roof of the hospital, Lindy Boggs Medical Center.
The doctor euthanized some animals at the request of their owners, who feared they would be abandoned and starve to death. He set up a small gas chamber out of a plastic-wrapped dog kennel.
"The bigger dogs were fighting it. Fighting the gas. It took them longer. When I saw that, I said 'I can't do it,'" said Bennett's husband, Lorne.
But the anesthesiologist, a cat owner, promised to care for the other pets.
"He said he'd stay there as long as he possibly could," Valerie Bennett recalled, speaking from her husband's bedside at Atlanta's Emory University Hospital.
these people have had a blow-by-blow experience. i actually was planning to post an entry on
kanye west
but rather than be political (again), i opted for this (click
here
for the hurricane katrina animal welfare resources.)
Animal rights advocates remind us of this admonition: The ways in which people treat animals will be reflected in how people relate to one another.
-- William Greider
---
All entries and pen and ink drawings are protected under U.S. copyright and other laws and are the property of C. Sophia or the party credited as the provider of the content.