love. it's a verb.
I'd like to run away
From you,
But if you didn't come
And find me...
I would die.
-- Shirley Bassey
love. it's a strange little word with a myriad of meanings, isn't it? i'm delighted that my favourite girl cousin is getting married very soon. if i'm looking smug right this minute it is also because i'm very much elated -- i came up with a classy design for the wedding invite. i do love weddings and would wed too, (un)fortunately, mine is a higher calling... for now. i've had two marriage proposals -- the second came from my own
best friend
. it seemed the whole world knew about us and he was rudolph valentino. i giggle when i think of how crazy it was to be in his arms.
I have loved to the point of madness;
That which is called madness,
That which to me,
Is the only sensible way to love.
-- F. Sagan
there's another guy who wants to be a part of my life. he offered several times to be my "date" at my cousin's wedding, i thought it was very sweet of him. men rarely "invite themselves" to meet the parents but
green-flecked brown eyes
doesn't mind... at all.
I love thee, I love but thee
With a love that shall not die
Till the sun grows cold
And the stars grow old.
-- William Shakespeare
my younger cousins protested when i turned down the second proposal (they think the world of him). personally, i think i know now whom i love but how do i respond to his affection?
"mon cher,
je m'excuse de vous avoir fait attendre.
(my dear, i'm sorry i kept you waiting.)"
---
hero or villain?
Bugs & Daffy (c) Warner Bros
a friend said, "if you're gonna play villain, play it well. if you opt for hero, pad the polls." that was some advice. i'd say, i'm somewhere in between...
Every hero becomes a bore at last.
-- Ralph Waldo Emerson
the same friend also said, "some of us may be living our lives vicariously through yours." i honestly never thought of it. ethics asks us to consider our actions, but to say that i consider mine is only half-truth because most of the time, i don't. i may be the unparalleled villain one moment, and the next, a swashbuckling hero(ine) -- if 'i' could call 'myself' that.
In the old days villains had moustaches and kicked the dog. Audiences are smarter today. They don't want their villain to be thrown at them with green limelight on his face. They want an ordinary human being with failings.
-- Alfred Hitchcock
i don't regret playing "villain", sometimes you learn more by being one. don't get me wrong, merriam-webster perfectly describes it in its ugliest form. on the other hand, i have learned the definition of "good" not in the dictionary but through the oodles of mistakes i've done in my life -- that shaped my character and behaviour. i became reformed.
The real hero is always a hero by mistake; he dreams of being an honest coward like everybody else.
-- Umberto Eco
who isn't afraid of stigmas? we tend to duck our responsibility for personal reasons (i.e. we're concerned about those busybodies who devote swaths of time to yakking... well, some people are bound to gossip, that's the way life goes.) i don't waste my energy over such trivialities.
I worked with all of the big guys because I play a good villain. And the better villain I am, the better they look.
-- Brion James
c'est entendu. indeed.
---
monkey see, monkey do
Bugs (c) Warner Bros

No man is ever great by imitation.
-- Samuel Johnson
i had an unusual experience last saturday. of course on a weekend, the sts are usually swarmed by holidayers. trolleys were crowding the sidewalk when, a guy came out of nowhere and without much ado, rolled the trolleys in the middle of the st that caused confusion. everybody was in shock, one trolley after another was pushed right in the middle of the road... cars honked, people cussed, but nobody did anything. the guy eventually left, none of us knew where he came from, what possessed him to do the unthinkable and if he was ever coming back to undo it. minutes ticked by and the guy was a no-show... i wondered who'd be willing to sacrifice standing in the middle of the already chaotic st just to push the trolleys back to their place. nobody moved! it seemed as if everyone was in the twilight zone, staring at the monstrous trolleys that wouldn't budge! i couldn't take it anymore, i thought, might as well end our misery -- i crossed the st and stood right in the middle, gathered the trolleys and pushed them back to where they originally were. i giggled letting out the stress i've been feeling lately. when i turned back, people were cheering, finally relieved of the burden -- a girl said she could've done it herself, only she couldn't leave her shopping bags. i tried to keep a straight face. anyway, i thought about how other people would be willing to take your place when they see you basking in the light.
forging someone else's identity can make one an overnight success but, to what extent and for how long? no, i'm not talking about the girl who couldn't leave her shopping bags, it was her prerogative to stay behind. i'm talking about a more vicious nature... some bloggers turn apoplectic at the mere mention of 'copycat' -- i can understand what all the fuss is about.
take for instance, the producers of the movie, "mr and mrs smith". they could've gotten the
idea
from a 1943 classic, "beyond suspicion." however, it wasn't a reproduction of the original work, they must be wise enough to know that the original's always the best. sadly, a lot of movies these days are remakes, even the music and fashion were once the 'latest fad' of yesteryear. just ask mom and dad and you'll find yourself screaming, "it can't be true." pitiful. well sure, it's good to emulate someone/something if they're worth emulating but to take someone else's credit is downright crooked. if you ever encounter copycats, my advice is, to stay away from them. they're like leaches that would suck your life force out of you. now, if you're a copycat -- first, breathe in... so far, so good? then be yourself once and for all! geez. anyhoo, you may have something 'original' hidden up your sleeves (probably device a plan on how to live in mars with fellow clones) or, better consult a
therapist.
uh uh, no more wagging of tongues (and jumping on couches),
mr tom
.
---
saeva indignatio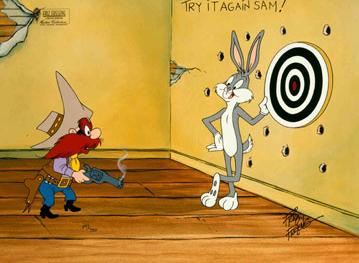 Bugs & Sam (c) Warner Bros
well, i'm done with my drawings. i'll be seeing the fruits of my labour soon (and i'm posting 'em when everything's all good.) i know i've been bad at keeping [my blog] updated but as my days go on a more relaxed pace -- i'll have time to post an entry. i've hibernated enough so
nitpickers
, get ready to flap your gums [once more]. might as well give you something to bitch about.
i had the unfortunate experience of reading one of the worst letters in the history of e-mail. a bigoted jackass wrote fanatically about his views on racial intelligence that set me off. normally, i ignore milksops like him but my conscience wouldn't let me. i could've sued the bastard, only his letter wasn't for me. instead, i decided to email everyone on my address book -- i attached his perfectly horrid and offensive letter, tried to be objective and loving which was an impossible task. of course i was taught to love my brethren, but the guy simply failed to make the cut.
he gave all that his peanut-sized brain could squeeze, explaining how eugenics could make the world a better place to live, also putting freaky hitler on a pedestal. i know what free speech means, however, some ideas are like poison.
i got a mixed reaction from many people who read my email, finally giving their two cents' worth -- some were effusive, others were nonchalant. the reason for the "nonchalance" though was, they were afraid for me. people who know me know how passionate i am, i get into lots of trouble for it.
standing in someone else's shoes takes guts. to fully understand them, you either went through similar situations or you're genuinely compassionate (and compassion is innate.) it cracks me up when some idiot announces his/her flawless character with trumpets because frankly, nobody gives a damn until you shut up and begin to practice humility.
a man is not defined by the nature of his job, his social status, or the colour of his skin. if you can't figure it out yourself, you aren't one. now, fetch my slippers, you manging mutt.
We fight for men and women whose poetry is not yet written but which will presently be as enviable and renowned as any of them.
-- Robert Gould Shaw
---
raising sophie
Put your hand on a hot stove for a minute, and it seems like an hour. Sit with a pretty girl for an hour, and it seems like a minute. That's relativity.
-- Albert Einstein
stupendous... hilarious... animating... extraordinary. spending time with my younger bay area-based cousins for almost two weeks somewhat cured my insomnia. i slept for 12 hrs straight after they left (it used to be 3-4 hrs, poor me). at the airport, i cried as we hugged each other and said our toodle loos. i wasn't expecting to be that emotional but i couldn't help myself. being with these thrill-crazy youths actually taught me a lot about love, life and everything in between -- who would've guessed? they left last saturday yet, to this day, my eyes are blurry with tears of laughter. it would take forever to put in writing the things that were said and done but i'm blogging it anyway, as a 'memoir'... well, sort of.
when it was time to take charge, i told my cousins to "let it all out" while with me, so they did. inside the apartment, they yelled, screamed and laughed themselves silly at 3 am that could've waken the whole building, the city, and the dead. feeding them croissants and ice cream calmed my wretched nerves if only for a bit. what caught the girls' attention was my ultra-baffling love life. "he held me as he sobbed... i never saw him or any guy for that matter cry like that so i cried with him...", my youngest cousin almost broke into tears when i finished my story. "but see, i'm with someone new now, and i'm in-love." i said, putting the rose-coloured roaring twenties teddy bear my cousins gave on the piano. "if you didn't know both guys and just saw them from afar, who would you come up to meet, the one that looks like brad pitt or the one that looks like orlando bloom?", asked one of my cousins. "tricky question... the one that looks like orlando bloom, of course, he's my present, brad's history", i answered. the youngest didn't want him to be history so i gave her a pair of earrings that he loved to cool her down. the girls wouldn't let it go easily, so for a full week, we talked about the
two guys
in my life.
their days in this city were filled with "kodak moments." we went to the world-renowned art museum that's across the st from where i live (ken, the only boy in our group took photos of my drawings and told me that there's an empty space in the museum for my artworks to be hung, i wanted to throw my arms around him and weep); introduced them to a cute guy named 'kevin' that one of my boy crazy cousins got a crush on; took a glimpse of the pool outside of the apartment in the heat of the day; ate at a local pub where benjamin franklin and thomas jefferson hung out; gave the 'mallrats' a tour of the famous malls in the 'burbs; watched "phone booth", "laguna beach" and "nick-at-nite" till 4 am; fed them more college foods at the end of the day. they were so used to my lifestyle, they missed their flights and had to take the next.
am i a bad influence? i should hope not, but boy, was i true to my word -- i was never boring, nor was i ever saintly -- just a regular girl with many darn good ideas up her sleeves. thank God for that!
---
All entries and pen and ink drawings are protected under U.S. copyright and other laws and are the property of C. Sophia or the party credited as the provider of the content.