poppins for a day
Mary Poppins (c) The Walt Disney Co
Mary Poppins: First of all I would like to make one thing perfectly clear.
Mr Banks: Yes?
Mary Poppins: I never explain anything.
(exits)

my two teenage californian cousins are visiting the east coast for a couple of weeks and the other two will arrive this weekend... imagine the thrill of seeing them once again... and the intermittent headaches my aunt n suffers in the hands of these headstrong, crazy youths... i just laugh at the thought. i had my own share of experience monday night during dinner, yup, my turn to be mary poppins...
the two were all over me. one kept talking about her shopping spree while the other kept talking about her newfound love. naturally, the whole family would freak out if they found out about the boyfriend's intention of marrying her (well, if a member of my family's reading this, you know now). my cousin begged me to call her boyfriend because she's grounded from the phone ("or maybe your boyfriend if i can't call mine", she said eagerly). apparently, her guy called very late the other night (probably PDT, not realising we're ahead by 3 hrs) and woke my uncle up, "who are you?" the guy asked. my uncle replied, "who are you?" well... the rest is history. call me a sucker but when i heard about my cousin's boyfriend's tragedy, i took the law (erm phone) in my hands and dragged my cousin to the study so she could call him while i stood guard. half an hour later, i was in deep shit, even i am grounded from the phone indefinitely. i just wonder if it ever occurred to my aunts that besides not being a teen anymore, i have a cellphone so it kinda beats the purpose? sheesh.
the next day, we all went out and passed through the lincoln tunnel, a 1.5 mile-long tunnel under the hudson river. in the heat of the day, i felt like a roasted chicken in the backseat of the car, my sunglasses couldn't protect the rest of my body. as i pondered my misery over the 4 bottles of water that i gulped down before we left the house, my 13 year old cousin suddenly spoke, warning us to hold our breaths because it's bad luck to breathe inside a tunnel -- (huh??) the other cousin heeded the advice and held her breath (i told them the tunnel was very long and it was traffic so by the time we got out, we'd all be dead.) the one who heeded the advice kept asking, "are we there yet? how long is this gonna take?" luckily, we got out of the tunnel still alive but my two cousins were barely breathing.
after that shenanigan, we got out of the car and walked around for a bit, one of my cousins almost got into a fight with a guy whom she insisted was staring at us. she said, "stop looking at my cousin, you freak!" omg. these californians do not know what tough is, #1 rule, do not get into a fight with a new yorker. sigh.
so, what do i think about our little (mis)adventure(s) at the end of the day? we had the best time -- we totally rocked! i can't wait to get my hands on all four cousins next week, throw out old school while they're with me! if mary poppins used a spoonful of sugar that helped the medicine go down, i'll definitely use pizza.
---
my 1st, said she
'hear me out'
Sophie,
You're the type of girl, who can make any man fall head over heels for you with a single word.
Your friend,
J.D.B.

I've got sunshine on a cloudy day.
When it's cold outside I've got the month of May.
I guess you'd say
What can make me feel this way?
My girl (my girl, my girl).
Talkin' 'bout my girl (my girl).

I've got so much honey the bees envy me.
I've got a sweeter song than the birds in the trees.
I guess you'd say
What can make me feel this way?
My girl (my girl, my girl)
Talkin' 'bout my girl (my girl).

Hey hey hey
Hey hey hey
Ooooh.

I don't need no money, fortune, or fame.
I've got all the riches baby one man can claim.
I guess you'd say
What can make me feel this way?
My girl (my girl, my girl)
Talkin' 'bout my girl (my girl).

I've got sunshine on a cloudy day
with my girl...
Nor height, nor depth, nor any other creature, shall be able to separate us from the love of God which is in Christ Jesus our Lord. -- Romans 8:39
---
mapping life

Bugs & Sam (c) Warner Bros


Make someone happy, make just one someone happy.
Make just one heart the heart you sing to...
i'm barely awake now and still have to be up early in a few hrs but i thought of posting something -- anything for my dear readers' amusement. yup, one of the 43 things i want to do is to make someone happy come hell or high water (don't worry, i'm only melodramatic when i'm almost ready to pass out for the night). it's my
blog's 1st yr anniversary
on july 19th and i might just concoct something very interesting, we'll see.
i've dealt with every [un]imaginable issue since i've started blogging and got in trouble with my critics for being too political (and critical towards
other bloggers
who boast about their sex life as if they really have one -- for pete's sake, GET A ROOM you nasty) so i've decided to keep a low profile (indefinitely). yup, i've ruled out the idea of totally becoming a vexation of the spirit. anyway, below are some of my daily affirmations and the witty comments i received.
learn how to remember people's names -- face with a name
sophie: i get pissed off with myself for forgetting people's names, i always remember a face but it'll be more cool if there's also a name attached to it.
comment: who cares about names
who cares about names- just make them up and just say you were kidding when they correct you. or alternatively invest in a notepad
sophie: impressive
i'd be saving money if i said i was kidding, you're brilliant!
comment: guru
i am the guru of all knowledge! between me and my chimp friends we can answer any question and solve every problem... easily
sophie: dynamic guru
as u can see, i have 9 things on my 'to do' list and more to go, and obviously you're much better than yoda, i may need your help one of these days!
live in the moment -- moment by moment ;)
sophie: i'm a risk taker, after all, we only live once... but before the thrills and chills, check out your brain without chucking it out, otherwise, spend the rest of your life throwing pity parties.
comment 1: What next..
I have found an effective method, that balances your work and your feeling about living and current.
Just predict what is going to happen, (in let's say next hour) and you can be much closer to reality.
sophie: aartist
predictions can be pretty accurate, let's just hope mine are...
comment 2: A way with words
I like that: "thrills and chills" and "check... before chucking" and "throwing a pity party." That's a witty way with the words. Enjoyed your entry!
sophie: and a way with people
i've read your entries and peeps are cheering for every list u make, why, coz they're all worth the cheers =)
make someone happy -- spread the laugh
i really do think that life's too short for bitching and all that crappiness coz at the end of the day, it would only leave a hollow feeling. making ppl happy on the other hand, could open new doors (and relationships), it could even probably untangle the knot in someone's heart.
*yawns* sweet dreams. ciao baby.
---
designing girl
From: cecilia sophia
Date: Jul 15, 2005 5:45 AM
Subject: hi from the city of brotherly love
hi everyone, i hope everything will go smoothly this weekend for all of u... thanks for the cool stuff btw :) reme, omg i love 'always in my heart'! i believe it was composed in 1942 but i can only take a guess who [else] sung it -- perry como (although he came about 2 decades later), but what i do know's both tommy dorsey and glenn miller bands were the first to have their hands on it... hmm.. what do i recommend when the rain's outside, it's almost midnite and [i] left [my] CD player in the car? lol i love questions like this actually, if u have a musical instrument hidden somewhere in the house, that might do the trick, OR sing. yup, sing and dance to your own tune, that's what i'd do. i recommend 'moonlight serenade' for u...
live 8 was a huge success plus my prediction came true, i was on tv!!! (not on 'america's most wanted' pls ;) i was looking around for some souvenirs and got pissed off (didnt have a wink that night so i was in a pissy mood) with a couple guys who were breathing down my neck, i turned and lo!, it was the WB17 crew!
... on the down side (everybody has one), a couple nights ago, a fishbone got stuck in my throat and i did everything i could -- i mean everything. i didnt do any grocery shopping so i just swallowed anything i could push down my throat i.e. canola oil, metamucil, stale bread, frozen cake, sticky rice etc and when those didnt work, i threw up (cant outline them all or you'd be too grossed out ;) finally, at 11 pm, i found myself walking in the st to buy a banana (i ended up swallowing all 4 but even that didnt help). anyway, i didnt wanna go to the hosp for something as minute as a fishbone ('though literally, it was quite big) so who did i end up with? the greatest physician of all... God definitely heard me and comforted me as i looked out the window at 2 am whimpering. i was such a baby but just think about it: a sharp needle right in the middle of your throat: cant speak, cant laugh, cant cry, cant shout, cant turn your head sideways... it was literally a thorn in the flesh. well really, men are great comforters but God is indescribably cool. i'm just glad that saga's ended.
last week, i was offered to be co-editor/photographer for the city's newest [4-1-1] newsletter :) i have no experience but this is another challenge i'd like to take. at first, i was reluctant to take such a responsibility coz u all notice, i misspell words when i'm tired (i spell misspell right, no? jk!) and i can be grammatically erroneous.. bah who cares, i'm just co-editing (i'm interviewing ben, a painter and teacher who hates star wars), and there's the matter of photography, i havent even taken a class but we'll see.. it's their film and camera, if i mess up, might as well mess up good :) i'm just thrilled that i'm officially a photographer, thank u thank u... which reminds me once again, i've taken pics of live 8 and stuff using a disposable camera so when i send the pics, go easy on me!
i'm attaching an invite... my cousin's getting married!!! yay!!! PLUS i designed the invite, yup, moi, yours truly... my first ever wedding design, cool huh!
email when u all can and take care! i gotta go!
all my love.
---
ode to green-flecked brown eyes
A Repeat (c) Sophie
strange. he used to show me the links to trucks and beetles, and now you're doing the same -- except your reasons are far different than his, but still, wanting to entertain me. i'm currently working on my '43 things', and i want to include you on the list, let's wait and see. outlining the advantages and disadvantages of being with you was wicked funny when i finally put it on paper. we both dismissed it. i, for the reason it was too hilarious to dwell upon, and you, for some other reason i may never know. you said so yourself, you're "as calm as a corpse." isn't it crazy? you're calm, i'm passionate; i'm restless, you're stable; you're focused, i'm flighty and so on and so forth... yet, we tolerate each other so perfectly. i guess because we let each other breathe and grow. i'm happy.

I want you to know
one thing.
You know how this is: if I look
at the crystal moon, at the red branch
of the slow autumn at my window,
if I touch near the fire
the impalpable ash
or the wrinkled body of the log,
everything carries me to you,
as if everything that exists,
aromas, light, metals,
were little boats
that sail
toward those isles of yours that wait for me.
Well, now,
if little by little you stop loving me
I shall stop loving you little by little.
If suddenly
you forget me
do not look for me,
for I shall already have forgotten you.
If you think it long and mad,
the wind of banners that passes through my life,
and you decide
to leave me at the shore
of the heart where I have roots,
remember that on that day,
at that hour,
I shall lift my arms
and my roots will set off
to seek another land.
But
if each day,
each hour,
you feel that you are destined for me
with implacable sweetness,
if each day a flower
climbs up to your lips to seek me,
ah my love, ah my own,
in me all that fire is repeated,
in me nothing is extinguished or forgotten,
my love feeds on your love, beloved,
and as long as you live it will be in your arms
without leaving mine.
-- Pablo Neruda
---
passion is my middle name

Giant from the King of Ireland's Son (c) Sophie



this

is a fun way to express yourself (i should know, i'm already on to it)...




People have known for years that making a list of goals is the best way to achieve them. Why is that? First, getting your goals in writing can help you clarify what you really want to do. You might find you have some important and some frivolous goals. That is OK. You've got space for 43 Things on your list. Not every one of them has to change the world (but save room for the ones that might).

-- 43 Things




well, i want more than "43" but what's exciting about the site is you get to share things you want out of life and let other people cheer you on and vice versa. so, what're you waiting for? discover your "43 things." chop-chop!




9. Have conversations late into the night with fascinating people -- nocturnal

just when i get to be most creative, people have fallen asleep!




8. Live passionately every single minute -- 'passion' is my middle name

i'd rather live life to the fullest than regret not having a single "kodak moment."




7. Read the bible

i consider God my best friend, He's the only one who sees me when i cry or dance for joy at 3 am; and the only one who knows my innermost thoughts.




6. Find the most elegant yet comfortable shoes

i love to walk, but i also want my feet to look pretty when i do :)




5. Get a hundred emails a day

... as in "literally." it's good to be remembered every few seconds ;)




4. Be 10x richer than paris hilton

why not? :)




3. Take more photos

savouring each picture perfect moment.




2. Create a personal travel map -- and become the world's greatest cartographer!

my own blueprint for travelling :)




1. Create a masterpiece

well, why not show [off] a little bit of talent? it isn't as if i claim to be this generation's michelangelo buonarroti, although there's no harm in wishing -- perhaps the vatican could build another sistine chapel and request the honour of my company -- it has been decades since the world has had a taste of true masterpieces... Tanto nomini nullum par elogium. (No praise is sufficient for so great a man.) -- michelangelo's monument inscription. what would mine be -- Eternalii Overconfidentii. (Eternally Over-confident.)??

aahh heck

.




34 more to go...
---
grillin' (& chillin') season
1776 (c) Warner Bros
Happy 4th of July!
as they say, "there's no coincidence." after the
biggest concert
on july 2nd (did i mention i was on
WB 17
??), here we are again, celebrating "the most memorable epocha in the history of America." pomp, parades, [more] concerts i.e. peter nero, bryan adams, rufus wainwright, elton john..., grillin' and chillin' highlight 4th of july.
as i'm typing this, fireworks are making me jump off the chair... uh-huh, quite an early start for the big event later. anyway, i thought of posting a backyard BBQ recipe but decided against it, why? because traditional peeps (or grill masters) use their 'own' recipes, and i don't want to mess with that. who knows if theirs were even passed down from generation to generation... hmm... food for thought, eh? but take heart, i still have a couple of tricks up my sleeves, nothing fancy (i don't want to upstage the grill masters), just grilling tips & tricks and a holiday drink recipe appropriate for the occassion.
Top 5 Grilling Tips & Tricks
1 A hot grill is your best defense against sticky situations. Be sure that grates are piping hot before laying down your food -- or be prepared to clean it later!
2 When cooking anything skewered, like kebabs, soak the wooden sticks in water first to prevent them from burning.
3 Try a dry rub on chicken instead of traditional barbecue sauce. BBQ sauces contain sugars that caramelize and then quickly burn. Cook your chicken almost all the way through and then baste with a thin coating of sauce.
4 Keep a spray bottle of water closely by to tame any flare-ups.
5 A great way to oil up your grill without creating a wild fire: fold up a cotton kitchen towel, lightly dip in vegetable oil, and use your tongs to glide a coat onto the grates.
Peach Bellini
Courtesy Food Network Kitchens
The famous Harry's Bar of Venice, Italy, began serving this drink in 1934. Named after the Venetian painter Giovanni Bellini, fresh grated peaches are mixed with sugar and then topped off with sparkling Prosecco for a truly decadent drink.

6 peaches, (about 1 pound, 8 ounces), halved and pitted
1/4 cup superfine sugar, plus more for garnish
1/4 cup water
1 bottle Prosecco (750 ml or 3 1/3 cups), chilled

With a box grater grate peaches into a pitcher. Add the sugar and water to the peaches and place pitcher in refrigerator until chilled and sugar has dissolved, or until needed.
When ready to serve pour the superfine sugar on a plate and invert a chilled Champagne glass in the sugar to coat rim. Pour about a 1/8th of the peach mixture into the prepared glass and top off with Prosecco. Stir gently and serve.
Have Fun!
The second day of July, 1776, ... will be celebrated by succeeding generations as the great anniversary festival. It ought to be commemorated as the day of deliverance, by solemn acts of devotion to God Almighty. It ought to be solemnized with pomp and parade, with shows, games, sports, guns, bells, bonfires, and illuminations, from one end of this continent to the other, from this time forward for evermore.
---
snap!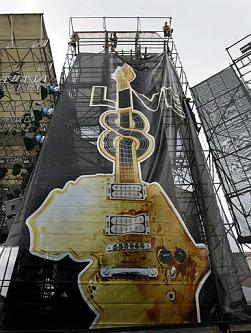 With the stroke of a pen, the world's 8 most powerful men can change the lives of millions.
-- Will Smith
i havent had a wink and i feel like a zombie but still up for anything.
Live 8
is now several hundred thousand strong (and so are the port-a-potties! good thing my bathroom's just two minutes away) -- yup, welcome to adrenaline high!
quickie: check me out on WB17! woohoo!
some critics have been gnashing their teeth 'thinking' that live 8 could only worsen the
situation
. well if they don't like it, then they should come up with other ways to help because frankly, running their mouths isn't going to feed the 30,000 children who die everyday from starvation.
It's amazing that where you're born can decide whether you live or die.
-- Rob Thomas
i've signed the
ONE
declaration. have you?
---
ONE

The White Band

rc: sophie, are you comfortable speaking before a large crowd?
me: i don't mind, why?
rc: coz you're going to, on june 12th.
me: (brain freezes) ok... what about?


sunday, 12 june.
hello everyone, i was asked by the missions board to talk about our concerns... and i do love talking but not exactly in public, so i thought of a cure... i'm gonna think that everybody here is a friend. u know, when i was a lot younger, i used to not care about other people's financial needs, i mean, what was i to do, give my allowance to every destitute person in the sts, when i was also dependent on my family's generosity? i lived off my allowance buying stuff for myself and there's nothing wrong with that, except it's always a temporary thrill like the one u get, riding a roller-coaster-type space adventure. but see, God has a way of moving us, simply coz he knows us well. there was a time when i squandered what was left in my pocket and i didnt know what else to do, i didnt know how to get home, i couldnt even call my mom or anybody else to pick me up, it was definitely a long walk home and i didnt dare do it at 9 pm. all i had was a banana that a friend gave that afternoon. there was a guy that almost walked past me had i not stopped him. i asked him if i could exchange the banana for a ride back home. honestly, i didnt think he'd help, but he did with no strings attached -- he paid for my fare and told me to keep the banana. people are really giving, if we only learn to ask and humble ourselves. that night, i've learned that it's almost impossible to live in this world with nothing at all. i guess, this is what Jesus meant when he said, "for everyone to whom much is given, from him much will be required, and to whom much has been committed, of him they will ask the more." people are dying everyday for lack of financial resources, please remember that some of us are richly blessed so we could share our blessings, following our saviour's footsteps.
a thousand thanks and God bless us all.
North American Christians have long sought to ease the plight of the poorest of the poor. For more than fifty years
One Great Hour of Sharing
has made development aid, disaster relief and refugee resettlement assistance possible in more than 70 countries around the world.
---
All entries and pen and ink drawings are protected under U.S. copyright and other laws and are the property of C. Sophia or the party credited as the provider of the content.