by jeeves, er, jove!
By Jeeves! (c) Sophie
once again, we close the month with a bang! it has been awhile since i've last posted a trivia -- so, might as well bombard the mind with 'wholesome, humorous' facts about life, the universe and everything, erm right, jeeves?
Very good, Miss Sophie
... uh-ahem, meet my imaginary butler... till i'm able to afford a real-life, bona fide "jeeves."
Trivial facts are often the best hints to what is going on.
-- J.M. Roberts
20. X-ray technology has shown there are 3 different versions of the Mona Lisa under the visible one.
19. Honey is the only food that does not spoil. Honey found in the tombs of Egyptian pharaohs has been tasted by archaeologists and found edible.
18. The city of Chicago has the only post office in the world where you can drive your car through.
17. The shortest war on record, between Britain and Zanzibar in 1896, lasted just 38 minutes.
16. A bibliophile is a collector of rare books. A bibliopole is a seller of rare books.
15. A poem written to celebrate a wedding is called an epithalamium.
14. In 1945 a computer at Harvard malfunctioned and Grace Hopper, who was working on the computer, investigated, found a moth in one of the circuits and removed it. Ever since, when something goes wrong with a computer, it is said to have a bug in it.
13. Fourteenth century physicians didn't know what caused the plague, but they knew it was contagious. As a result they wore an early kind of bioprotective suit which included a large beaked head piece. The beak of the head piece, which made them look like large birds, was filled with vinegar, sweet oils and other strong smelling compounds to counteract the stench of the dead and dying plague victims.
12. "Ough" can be pronounced in eight different ways. The following sentence contains them all: "A rough-coated, dough-faced ploughman strode through the streets of Scarborough, coughing and hiccoughing thoughtfully.
11. Barbers at one time combined shaving and haircutting with bloodletting and pulling teeth. The white stripes on a field of red that spiral down a barber pole represent the bandages used in the bloodletting.
10. The last thing to happen is the ultimate. The next-to-last is the penultimate, and the second-to-last is the antepenultimate.
9. The symbol on the "pound" key (#) is called an octothorpe.
8. The word "assassination" was invented by Shakespeare.
7. Sherlock Holmes never said 'Elementary, my dear Watson.'
6. The Hoover Dam was built to last 2,000 years. The concrete in it will not even be fully cured for another 500 years.
5. Dueling is legal in Paraguay as long as both parties are registered blood donors.
4. A Saudi Arabian woman can get a divorce if her husband doesn't give her coffee.
3. The two lines that connect your top lip to the bottom of your nose are known as the philtrum.
2. Aztec emperor Montezuma drank 50 golden goblets of hot chocolate every day. It was thick, dyed red and flavored with chili peppers.

and finally,
1. In the late 19th century, millions of human mummies were used as fuel for locomotives in Egypt where wood and coal was scarce, but mummies were plentiful.
... morbidly clever, eh? excusez-moi while i philosophize.
my top 3 newsmakers of the month:
oh and before i say 'adieu', On average women say 7,000 words per day. Men manage just over 2000. how utterly... true.
---
Live 8 where i live... CARPE DIEM!
Princess Daffy (c) Warner Bros
From: cecilia sophia
Date: Jun 27, 2005 4:50 AM
Subject: Live 8 where i live
For this time it isn't fascination
Or a dream that will fade and fall apart
It's love
This time it's love
My foolish heart

hi guys, ... thought i'd send a quick email... thanks for the 'sumptuous' emails, i was happy with all the lettres i got and totally blushed, swooned and kissed the screen jk :)
rg
, i love the songs u mentioned, i took the advice so now i'm including [once again] a song that u might like... i think roberta flack's version's the best but that's just me... me, a comic writer?? um if somebody's got the balls to risk his life savings to publish me... :p yes, let's get together -- custard's my fav dessert btw jk jk!
rs
, i know! -- the guy who now owns
congo the chimp
's paintings must've been delirious when he bought them, cant let that go so i'm still bitchy about it, oh well... it'll pass... lol i dont know about the guy that fake (emphasis on the F) gypsy talked about, i tore her 'business card' to pieces and threw it -- if that happened a long, long time ago, she'd burn at the stakes along with 'the groom'.
kb
, i'm gonna try the hi5 again, thanks so much for that, hope u and
ch
are having the best time, pls give my regards to everyone in cali.
ppl (and cousins) i know i've been bad at catching up but i'll email separately tomorrow. oh and if some of u havent watched "mr & mrs smith", what're u waiting for, go watch it! i'm not a filmgoer myself but that is one heck of a movie.
anyway, LIVE 8 is performing across the st from where i live... AAAHHH!!!! (
mh
, you'd love it!) 3 museums encircle the apartment (museum of art, rodin and franklin institute - north, west and east) and
LIVE 8
will be on the steps of the art museum, if i peep out the window of the lobby or walk across the st, i'd be jamming with bon jovi and stevie wonder :) now, all i got to do is pounce on kevin one more time and not let him go til the cameras are fixed. sometimes i wonder if God listens coz i dont "feel" Him but really, to me it's a matter of commitment, like u know, admit it, we dont "feel" our families sometimes esp when they piss us off but that doesnt mean they dont care or we stop loving them. i'm saying this coz god i'm so lucky, i mean, i've been eating spaghetti (spaghetti bolognaise, spaghetti with sardines, spaghetti & sun-dried tomatoes, baked spaghetti, spaghetti & tomato sauce... u get the point) everyday for almost a month now coz i've been saving up for other stuff and yet, wonderful things still pop out of nowhere, like LIVE 8! the only thing that could cramp the concert's style's justin timberlake. anyhow, the point is, be thankful with what u have and always be up and ready for the unexpected, life's like that and it's beautiful.
update, update and update pls! take care, have fun and God bless!
all my love.
---
queen of wishful thinking
Unmade (c) Sophie
has anyone noticed i flatter myself these days?

in my past entries

(
this

,

this

and

this

)
,

i've "featured" my old drawings not just for the heck of it, but they were suitable for posting. why not show [off

] a little bit of talent? it isn't as if i claim to be this generation's michelangelo buonarroti, although there's no

harm in wishing --

perhaps the vatican could build another sistine chapel and request

the honour of my company

-- it has been decades since the world has had a taste of true masterpieces...

Tanto

nomini nullum par elogium. (No praise is sufficient for so great a man.) -- michelangelo's monument inscription.
what would my own inscription be -- Eternalii Overconfidentii. (eternally over-confident

.)??

ah heck.
LONDON
(AFP) - Three paintings by a chimpanzee named Congo were sold at auction in London to an American buyer for a total of 14,400 pounds (26,250 dollars, 21,610 euros), many times the estimated price.
Congo's works went under the hammer in a sale that included works by French impressionist Pierre-Auguste Renoir, French cubist Fernand Leger and US pop artist Andy Warhol.
wow, i never realised i'd wake up one day envying a

chimp called congo

. so much for that. maybe congo and i could team up in an extravagant, never-been-done-before exhibit of the century. yeah right... fat chance, congo.

congratulations, anyway, you lucky mojo jojo.
Who, or why, or what Is the Akond of SWAT?
Is he tall or short, or dark or fair?
Does he sit on a stool or sofa or chair,
... Does he study the wants of his own dominion?
Or doesn't he care for public opinion
... Does he wear a white tie when he dines with friends,
And tie it neat in a bow with ends,
... Some one, or nobody, knows I wot
Who or which or why or what
---
we, the bobo(s)
coffee, tea or me? (c) Sophie
The hot new trend is called "Bobo," which is short for "Bohemian Bourgeois." Just think rich hippie and you've got the idea. The skirts are full, the sunglasses are huge, the hats are large-brimmed and the accessories are expensive, in the new Bobo look. Huge mufflers and baggy cardigans are key. But the mufflers are cashmere and the cardigans are Marni.
-- The New York Times
"
hobo
" look is out and "bobo" is in, huh? we, the bohemians -- the real mccoys -- aren't embracing this newest (bobo) fad crap without a fight! what about our bohemian lifestyle for yonker's sake, (torn jeans, smelly socks, mold & mildew bathroom, decomposing food and hairy armpits) oh yes, we've come a long way... must we finally succumb to the dictates of today's beau brummels??
Lauren Stover, the author of Bohemian Manifesto: A Field Guide to Living on the Edge (Bulfinch Press, 2004), has noticed the trend, which has cropped up in moneyed communities from Beverly Hills to the Upper West Side, where young women wear grandma's crocheted shawl, moth-eaten cashmere sweaters and scuffed cowboy boots. "It's perfectly fine to look like a bag lady," Ms. Stover said.
oh. in that case, we're with ya. and yes, i was only kidding. by all means, succumb to oakleys and manolo blahniks (even men discuss the importance of expensive shoes) and get a total makeover. if the bills pile up, face it like a true bohemian would -- by golly, move on!
Fifty years ago, it was the dream of every bohemian artist to be seen getting out of a limousine wearing blue jeans and sneakers. Today, it's the dream of probably half the people in the country. -- Brad Holland
---
two guys and a girl up into the silence
up into the silence the green
silence with a white earth in it
you will(kiss me)go
out into the morning the young
morning with a warm world in it
(kiss me)you will go
on into the sunlight the fine
sunlight with a firm day in it
you will go(kiss me
down into your memory and a memory and memory
i)kiss me,(will go)
-- e.e. cummings
bozo,
just before i hopped on the train, you pulled me and gave me the quickest, sweetest hug i've ever experienced in my entire life. i didn't look back, i wasn't even crying but i knew something had changed. you've always cracked me up whenever those big, mischievous blue eyes casted a pleading glance at me to join your hair-raising schemes -- of course, i didn't need any coaxing (god our private jokes would've offended everyone, by the way). but now, goofing with you all across new england's over, we've both grown and another story begins. thanks for proposing to me a hundred thousand times. who's the smartass that said, "marry a friend?," i'd like to thank that person, too. it may not have worked for us but it's still true. it baffled me for a while why two people who fit each other so perfectly couldn't stand each other after only 2 mins of talking, i guess because we were so much alike.
i've fallen for my other best friend, and you know it freaks me out sometimes that you two are practically twins (though not temperamentally). his cool, green-flecked brown eyes aren't devilish (like yours) and he doesn't have anything up his sleeves (like you do), but he makes my heart go thump. when somebody asked me to compare you both, i said, "well, one cheers me up and the other makes me smile."
thank you for putting up with me and making everything easy for me; for literally calling me ten times a day and being my tv guide at night; for (almost) defending me with a baseball bat and taking care of me when i was sick (yes, i've marked my territory in every corner of your room); for laughing at me when i smashed the phone to pieces all because of you.
is closure possible? yes, it is. i'm doing it now. one thing's for sure, i'll remember you as the only guy who knew how to handle me. everyday was disneyland with you.
i know you hate sappy, schmaltzy, sugar-coated talk but you're my bestest friend, after all. as cliche as it may appear, i wish you all the good things.
forget not me?
sophie
---
beat it, billie jean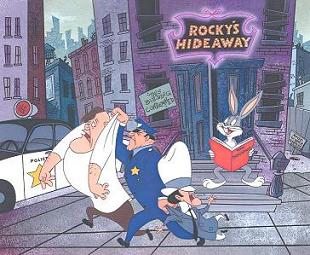 Bugs & Rocky (c) Warner Bros
i can't believe i'm doing this -- after the
tom cruise
shenanigan, here comes
jacko
filling my latest entry with his acquittal. am i stuck blogging about celebrities the whole month of june?? uh-uh, hell no. but some of us still need to adjust our jaws after hearing the [jackson] charges and verdicts. let's see,
'the juice'
,
'mickey blake'
and
'peter pan'
all got away scot-free, whereas,
the queen of mean
made one lousy phone call and it was the slammer for her. sure, i'm defending martha stewart... ssheesshh. the thing is, in comparison with the charges against those three, hers was lame. now that michael jackson is free, why not throw a
thriller
party for all? maybe invite
little susie
,
dirty diana
, and
tomkat
for one big,
scream
ride in neverland. i wonder how tom would introduce katie to jacko, "oh yeah,
the girl is mine
.
ain't got no sunshine
without her.
you are not alone
michael, together we will
heal the world
through my
religion
. no
black or white
, not even a
smooth criminal
will
jam
with a therapist again, not on my watch." ooops, my
bad
.
so, wanna be startin' somethin'? try out this off the wall refreshing summery recipe.
Makes about 1 quart
source: Martha Stewart
2 cups shelled pistachios (1/2 pound)
3 cups whole milk
5 large egg yolks
2/3 cup sugar
1 cup heavy cream
1. Preheat oven to 350º. Bring a saucepan of water to a boil. Add pistachios, and cook 30 seconds. Drain pistachios. When cool enough to handle, remove outer skins; discard. Spread nuts on a baking sheet, and toast in oven 5 minutes. Let cool completely, then coarsely grind. 2. Combine milk and ground pistachios in a medium saucepan. Bring to a gentle boil, cover, and remove pan from heat. Let steep 2 hours. Pass through a cheesecloth-lined sieve, pressing hard on solids. Reserve strained milk, and discard solids.
3. Combine egg yolks and sugar in the bowl of an electric mixer fitted with the paddle attachment. Cream at medium-high speed until very thick and pale yellow, 3 to 5 minutes. Return milk to a simmer.
4. Add half of the warm milk to egg-yolk mixture, and whisk until blended. Return new mixture to saucepan with remaining milk. Cook over low heat, stirring constantly, until mixture is thick enough to coat the back of a wooden spoon.
5. Have ready an ice-water bath. Remove saucepan from heat, and immediately stir in cream. Pass mixture through a sieve set over a medium bowl. Place bowl in ice-water bath, and chill.
6. Freeze in an ice-cream maker according to manufacturer's instructions. Store in an airtight plastic container up to 2 weeks.
---
cool change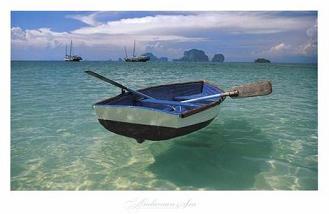 Andaman Sea
If there's one thing in my life that's missing
It's the time that I spend alone
Sailing on the cool and bright clear water
There's lots of those friendly people
They're showing me ways to go
But I never want to lose their inspiration
Time for a cool change
I know that it's time for a cool change
And now that my life is so pre-arranged
I know that it's time for a cool change
my first try at blogging was back in july 2004 which reminds me, it'll be my [blog's] 1st yr anniv next month... whew! it was really just for kicks (or call it "therapeutic purposes", if you prefer) but as i was getting the hang of this blog thing, i've also accidentally (and regrettably) come across a couple of very
crass bloggers
: ms motormouth's chief concern was to bitch about her poor mom 24/7 (and i'd rather not talk about her reasons because they're just full of shit), and this other beastly site just can't stop talking about sex like their lives depended on it. i mean, why be the amoeba that feeds off of the parasites that are hosted by the slime that feeds off of pond scum? (god i love quoting myself tch tch)... i was peeved (the understatement of the year), so i've made it my business to be a true-blooded kid-friendly blogger. i've also begun
writing
for and/or about teens. yeah yeah, most adolescents don't like it when they're referred to as "kids", i know because i have a younger cousin who made my life hell each time i reminded her how old she really was. anyhow, i wouldn't be posting tonight had i not read
this wretched news
.
Washington (Reuters) - According to a study released on Thursday, more than half of America's teens know friends who have experienced physical, sexual or verbal abuse in their dating relationships.
Among those surveyed, 13 percent of teenage girls, admit to being physically injured or hit and one in four report being pressured to perform oral sex or engage in intercourse, according to the survey by the private research group Teenage Research Unlimited.
think of it this way, does anyone have a right to lay a finger on you or pressure you to do something you don't want to do just because you want to please that piece of crap you call your bf/gf? yes, i'm addressing the issue with both boys and girls.
one time, i was shopping and overheard a teenage girl and her mom arguing about the skanky outfit her daughter tried on. apparently, the mom wanted the cheap, sleazy material for her little girl because she "looked fabulous in it." some parents are too cool for their kids' own good. this is probably one of the reasons why kids mature before their time.
well, it's useless to blame each other now -- hollywood, the parents, britney spears, friends or the dog -- rather, preparing adolescents for responsible adulthood is a step toward a better future for most of them.
I've never been romantic
And sometimes I don't care
I know it may sound selfish
But let me breathe the air
If there's one thing in my life that's missing
It's the time that I spend alone
Sailing on the cool and bright clear water
It's kind of a special feeling
Out on the sea alone
Staring at the full moon like a lover.
Little River Band
---
mission: whodunit, smeagol?!
Tom Cruise (c)
Ed Wexler Illustration
The best mind-altering drug is the truth.
-- Lily Tomlin
who woulda thought tom cruise would one day piss the living daylights outta me?! his "
generic tom cruise character
" bores me to tears -- and i'm positive brooke shields would second that motion (if she read this). in one of his recent interviews, tom cruise criticised brooke shields for taking antidepressants. hey, what gives??
Tom should stick to saving the world from aliens and let women who are experiencing postpartum depression decide what treatment options are best for them.
i'm no fan of the actress but i gotta admit, she's right. i have a couple of friends who are undergoing psychotherapy (or "counseling") simply because it works for them. we can't be a bunch of little hitlers and feed people's minds with our own beliefs. it took years to wash away the stigma of therapy, that it isn't necessarily for cuckoos, but for anybody -- rich or poor, young or old -- who needs help and is not afraid to acknowledge it.
watching
smeagol
a.k.a. gollum in "LOTR: The Return of the King" on encore, made me think of tom cruise's "erratic behaviour" nowadays. well no, he isn't like smeagol but i was thinking, "hmm... what if smeagol had counseling and took antidepressants, maybe his
MPD
could've been brought under control."
tom cruise's hodgepodge philosophy should definitely be kept among his precioussss inner circle of [scientology] friends. i could only hope he lightens up, as his fellow co-celebrity, robin williams said, "You're only given a little spark of madness. You mustn't lose it."
---
i'm no man
Which LOTR Lady am I?



The Lord of the Rings: The Return of the King (c) New Line Cinema


What is a youth?
Impetuous fire
What is a maid?
Ice and desire
The world wags on
A rose will bloom,
it then will fade
So does a youth.
So does the fairest maid.
-- Nino Rota Ballad

Eowyn, the shield-maiden of Rohan and daughter of kings, who defeated the King of the Nazgul in the battle for Middle-Earth.
I learned to depend on my own strength and nobility to help Rohan and all of Middle Earth.

i slew the lord of the wraiths. now, why on middle-earth didn't aragorn (and elfie) see this???
---
All entries and pen and ink drawings are protected under U.S. copyright and other laws and are the property of C. Sophia or the party credited as the provider of the content.