sophie's herald-making ballyhoo

(c) Norman Rockwell



A beauty is a woman you notice. A charmer is one who notices you.
-- Adlai Stevenson
It's official. I'm a 'heartthrob' -- to all
toddlers and teens
. i do love kids but why, oh why can't they be
grown men
, for a change?! "go with me to the zoo, or maybe to chuck e. cheese's?", asked a very hopeful, dreamy-eyed 4 yr old -- then offered me the only drink he ever knew in his young life... milk. he was looking at me so intensely that i had to smile and break it to him gently, "well, maybe next time -- when you're older". "oh boy, what a ladies' man," i told his mother while he gazed at me with stars in his eyes. before they left church, he demanded to be hugged, and coaxed me one last time to 'go out with him.' sigh. well at least, i still get to be noticed... c'est la vie!
anyway, before this month ends, i'm posting my list of top 5 pulsating news.
To a philosopher all news, as it is called, is gossip, and they who edit and read it are old women over their tea.
-- Henry David Thoreau
Yes, we know, you're one in a million. But you're much more unique than that, in ways you've probably never imagined. Here are some of the more unusual biometric methods now being explored.
if some of you haven't read this and you're into all that sci-fi hoopla, this is absolutely the news for ya, i guarantee.
PARIS - President Jacques Chirac moved swiftly forward Monday with a widely expected government shakeup to save face at home as European Union officials worked to control damage after French voters rejected the EU's first constitution, dealing a potentially fatal blow to the charter.
The results of Sunday's referendum were a humiliating blow to Chirac and a disavowal of his government, left reeling by the decisive victory of the constitution's opponents.
paris my love! if eet is zee way eet is going to be, stand your ground and be 'eard!
In the Star Wars saga, the Skywalker clan has its roots on the Tatooine -- a desert-covered planet revolving around two suns. A theoretical investigation has explored the likelihood for worlds like this to exist.
And it looks like the nearest Tatooine may be closer than a galaxy far, far away.
Finally researchers have come up with a reason other than pure laziness for why teenagers can't shower and brush their teeth or unload the dishwasher and wipe down the counter.
it seems science now has a plausible excuse for teens after centuries of parent yapping.
CIA is conducting a secretive war game, dubbed "Silent Horizon," this week to practice defending against an electronic assault on the same scale as the Sept. 11 terrorism attacks.
The three-day exercise, ending Thursday, was meant to test the ability of government and industry to respond to escalating Internet disruptions over many months, according to participants.
oh, and while you're at it, can you pleassseee defend your people against pop-up assaults?! CASHBACK BUDDY is one of the freakin' nastiest pop-up ads ever to self-install on my pc!
ok, i honestly don't want to include
this
crap on my list, but what the heck? some might even get a kick out of its gross stupidity.
well, that's all folks! another month, another fresh start.
---
the animal song
Daffy & Taz (c) Warner Bros
Eat what you like and let the food fight it out inside.
-- Mark Twain

nice template, huh? yup, my 7th -- i'm getting the hang of html and css. i also tweaked my
sister
's template and a couple of friends'. anyway, i was going through my past entries and realised it has been awhile since i've last posted a recipe. it's memorial day, and i thought the hotdogs and clams could sit alongside the mushrooms... plus i'm too beat to think tonight... no animal is harmed in this recipe (i can almost picture cow and chicken singin' 'rockin' robin' with great gusto). the recipe below is quite fun to make, actually. meat lovers shouldn't be scared of the word "veggie" -- sometimes they taste real good. so, broaden the chest, lift that spine, be a man and try this out! yadda yadda yadda...
Portobello Burgers with Roasted Pepper Paste and Smoked Mozzarella
Recipe Summary
Difficulty:
Easy Prep Time: 15 minutes
Inactive Prep Time: 15 minutes

Cook Time: 12 minutes
Yield: 4 servings
User Rating: 5-stars
This is a vegetarian menu that is super fun and sure to please meat eaters and meat-free-ers alike.

2 tablespoons (2 turns of the bottle in a slow stream) extra-virgin olive oil
1/8 cup (3 splashes) balsamic vinegar
2 sprigs fresh rosemary, leaves stripped and chopped, about 2 tablespoons
1 lemon, juiced 4 large portobello mushroom caps 2 teaspoons grill seasoning blend (preferred brand: McCormick Montreal Steak Seasoning) or 1 teaspoon combined coarse salt and pepper 1/2 pound fresh smoked mozzarella, sliced
Roasted Pepper Paste:
1 (14-ounce) jar roasted peppers, drained
A drizzle extra-virgin olive oil
A handful flat-leaf parsley leaves
1 large clove garlic, cracked away from skin
Salt and pepper
4 large crusty rolls, split
Suggested toppings:
Whole baby spinach leaves
Thinly sliced red onions
Suggested accompaniments:
Onion and Garlic Yukon Gold Potato Chips, (preferred brand: Terra Chips) Tomato and Onion Salad, recipe under this show number: TM1A04 Pasta Salad with Ricotta Salata and Broccolini, recipe under this show number: TM1A04

Combine first 4 ingredients in the bottom of a large food storage bag. Add mushroom caps, seal bag and shake bag to coat caps, then let the mushrooms marinate for 15 minutes. Grill mushrooms on indoor electric grill, starting with caps down, turning to caps up, 6 minutes on each side. Pan-fry in large nonstick skillet for same amount of time. Season caps while they cook on each side with grill seasoning or a little salt and pepper. Melt the smoked cheese over mushroom caps in the last minute of grill time. To make the red pepper paste, combine the roasted red peppers, oil, parsley, garlic, salt, and pepper in food processor and pulse grind into thick sauce. To serve, place the grilled mushroom caps topped with melted cheese on the bun bottoms. Top with spinach and onion. Spread bun tops with roasted pepper paste. Serve with Tomato and Onion Salad and Pasta Salad with Ricotta Salata and Broccolini.
---
goin' out of my head

Skyscraper heels (c) Katherine & Elizabeth Pope


From: cecilia sophia
Date: May 27, 2005 4:13 AM
Subject: till there was you
It was fascination,
I know
And it might have ended right then at the start
Just a passing glance, just a brief romance
And I might have gone on my way empty-hearted
It was fascination, I know
Seeing you alone with the moonlight above
Then I touched your hand and next moment I kissed you
Fascination turned to love...

hi everyone! thanks very much again for the poignant words/emails/msgs/calls, it feels so good knowing that i also bring a smile to someone's face (esp when needed :) i also wish the best for all.
i have to be up early (ppl are actually wondering how i sleep verrryyyyy late and still wake up early... do that for a week and you'll be doing it for yrs, ha!) i went shopping a couple days ago, i know, it must be every girl's aphrodisiac but my mission that day was a necessity, not the "paris hilton-throw-the-darn-money-away" kind. i actually blogged about this but it was just so funny i'm gonna email it. i was putting on a nice baby pink tank top when i heard a woman in the next room moaning and groaning, i was stifling my laughter to hear what was going on... "oooohhhh... aaahhhh.... ooohh... it's killing me..." -- nope, it isnt what u guys think it is, u bad u jk :) the tortured soul was either giddy that she finally found the right clothes to wear, or was hyperventilating coz they didnt fit. and i wondered, wow i mean, some women really go through extremes to be noticed. cant blame them too... can u picture a size 4 wearing size 0 or a size 14 wearing size 10? dont try to understand, some things are better left alone *sigh* anyway, my teenage cousins are planning to come and visit soon, i feel like maria in "the sound of music" eversince i've heard of the plan from my aunts. i'm very fond of my little *ahem they dont wanna be called that* "younger" cousins but how does one entertain teens these days -- teens as young as 13 -- in a sophisticated, kid-unfriendly environment?? my girl cousin who's a shopaholic specifically told me in many of her emails and phone calls that she wants to go on a shopping spree in new york... tch tch. by the time i was done reading her last email, i had to pick myself up on the floor. and what about the boys? (the other is sporting a rebellious image) the boys would need some entertainment, too. apparently, they also want a "slumber party" while here... my heart jumps to my throat when i think of what to do :p oh well... i miss them, though.
i've been reading motivational books to prepare for their short visit lol ... um, let's see, this is something i wanna share with everyone as well:

The worst possible thing you can do is to fail to make a decision at all... There is only so much time you can spend in deliberation. Yes, you have to make sure the decision is your own and not someone else's opinion. Yes, you have to weigh the benefits and liabilities and determine if the decision is right for you. But eventually you need to act. One of life's greatest tragedies is to arrive at the end of your journey and realize you could have done more, laugh harder, played more intensely, and lived more vivaciously if only you had taken the day by the throat and steered it the way you wanted to go, if only you had made a concious decision about what you wanted to do. (excerpt from "Maximize the Moment, TD Jakes)

omg this is a very long email! gotta go and i'll update u guys again (stop shuddering :) take care and *yawn* sweet dreams. God bless.
all my love.
---
sticks 'n bones

Olive Oyl (c) Paramount Pictures, Inc



... she's the shape of a toothpick... She's perpetually 29 years old, 5'10" and weighs 96 pounds... She wears size 14-AAAAAA shoes so she can't fall over in a strong wind.
Flat as a board, with a pickle-shaped nose and fickle heart to match, Popeye's "goil's" measurements are reportedly 19-19-19!
-- Hy Eisman on Olive Oyl
welcome to the fitting room. yup, i went shopping today... woohoo! anyway, i was putting on a very sweet light pink tank top when i heard a woman in the next room moaning and groaning, "ooohh... aaahhh... it's killing me..." -- the tortured soul was either giddy that she finally found the right clothes to wear, or was hyperventilating because they didn't fit. can anyone imagine that a size 14 gal would wear size 10, or a size 4 would wear size 0? all in the name of beauty.
It is a woman's business to be beautiful.
-- Godey's Lady's Book
i was flipping through channels at 2 am (didn't i say, this girl's nocturnal?) when i saw on E! Entertainment the newest hype in hollywood -- anorexia. as i watched, i became extremely angry that more and more people are actually adulating, emulating, and encouraging anorexics to stay as they are... i am pissed off with such perverts! they're hooting for some wilted, bony creature who's obviously nearing death. wake up, knuckleheads! you boost their egos by making stuff up like "anorexia pride"!
anorexia nervosa
is an illness -- it isn't something to flaunt in anyone's face. it is deadly, very deadly. i once was anorexic, so yes, i know what i'm talking about and no, i'm not flaunting it. it was one of the toughest confessions i had to make. it took a full-length mirror -- and sleepless prayers -- to face that biting reality. what on earth was i doing to myself? i definitely didn't look gorgeous. on top of it, for the first time in my life, i was battling with low self-esteem. i wanted to look attractive but ended up with an almost withered body. i've decided enough's enough. the girl's going to rise up and kick ass again, and i eventually did. nope, it wasn't easy but making the right decision is a huge step to
the
good life. on the other hand, there are folks who persuade others that it's ok to be overweight. are you folks sure you have no ulterior motives behind the "gentle" counsel? let's all pause for a moment and ask ourselves, "is being overweight what i truly desire for myself?" we only have one body, i don't care how much your mother loves you, she can't give you another body to use and/or misuse.
jesse
, chef-extraordinaire, makes his own ice cream, his own yogurt... etc, and i want huge, huuuge portions of whatever he concocts. his sage advice? "everything in moderation."
i think we need to be aware of what we're doing to ourselves. if you don't love yourself, who else would ever love you the way you really want to be loved?
There are no ugly women, there are only lazy women.
-- Helena Rubinstein
enhance your God-given beauty but do not overdo it nor overlook it.
And your fame spread among the nations on account of your beauty, because the splendor I had given you made your beauty perfect, declares the Sovereign LORD.
-- Ezekiel 16:14 NIV
---
the saga is complete
Star Wars: Episode III (c) Twentieth Century Fox
woe, woe, woe, the saga is complete. definitely not my saga, alas, my saga isn't as colourful or elegant as jedi lightsabers... (ok, maybe a little colourful but not as glittery)
"This is the weapon of a Jedi Knight. Not as clumsy or as random as a blaster, but an elegant weapon for a more civilized age." -- Obi-Wan Kenobi
there was an article on "star wars: episode II" that totally cracked me up -- a guy burst into uncontrollable tears on his way home after watching it. he was brutally reminiscing about the early days when star wars was star wars. but in the third and final installment of star wars prequel trilogy, george lucas rules once more.
Critics Review

Bluntly put, Sith's the best Star Wars movie since the best of them all... -- Eleanor Ringel Gillespie, Atlanta Journal-Constitution
A return to the classic space opera style that launched the series. -- Roger Ebert, Chicago Sun Times
This is by far the best film in the more recent trilogy, and also the best of the four episodes Mr Lucas has directed. That's right (and my inner 11-year-old shudders as I type this): It's better than "Star Wars." -- A.O. Scott, New York Times
did you know...
Originally, a young Han Solo was going to make an appearance in the film, living among the Wookies on Kashyyyk.
There are over 2,200 special effects shots in the film, more than Episode I and II combined. Star Wars (1977) only had 350 such shots.
George Lucas played a prank on Christopher Lee, where a puppet of Master Yoda was placed on set, complete with fangs or vampire teeth.
As of this film, Anakin Skywalker/Darth Vader has been played by seven different people. David Prowse in the first three films, classified as Episode IV, V, and VI, inside the suit of Darth Vader. James Earl Jones as the voice for all films containing Vader on up. Bob Anderson as the duelist for the fight scenes in The Empire Strikes Back (1980) and Return of the Jedi (1983). Sebastian Shaw as Anakin Skywalker once Darth Vader's helmet is removed at the end of the "Return of the Jedi" and Hayden Christensen as Anakin Skywalker/Darth Vader in Episode II and III. And finally Jake Lloyd in Episode I as a young Anakin Skywalker.
The Darth Vader mask for this film was rebuilt from scratch, using a new digital design to computer-lathe the base master, from which molds were made to cast the on-screen costume masks. The resulting masks are, for the first time in Star Wars history, truly symmetrical.
Obi-Wan Kenobi says the series' trademark line, "I have a bad feeling about this," during one of the first scenes of the film. See also _Star Wars (1977)_, _Star Wars: Episode V - The Empire Strikes Back (1980)_, _Star Wars: Episode VI - Return of the Jedi (1983)_, _Star Wars: Episode I - The Phantom Menace (1999)_, and _Star Wars: Episode II - Attack of the Clones (2002)_.
Director Cameo: [George Lucas] The blue skinned Baron Papanoida who appears during the opera scene.
---
wild over you
P. Le Pew (c) Warner Bros
Love not me for comely grace,For my pleasing eye or face;Nor for any outward part,No, nor for my constant heart;For those may fail or turn to ill,So thou and I shall sever.Keep therefore a true woman's eye,And love me still, but know not why,So hast thou the same reason stillTo doat upon me ever.
-- John Wilbye
i have written a series based on my friendship with two admirable guys back in november 2004 (two guys, a girl and someone better; two guys, a girl and a birthday suit; two guys, a girl and black friday; two guys, a girl and ever after), and in the process, have learned that one of the toughest decisions in my 'adult life' is choosing mr right. sure, it doesn't take a whole lot of left-brain thinking to handpick the right person. i've laughed again and again at the silliness of pepe le pew's quirky character -- Pepe Le Pew has all the qualities of a great lover. He is a born romantic. His enthusiasm knows no bounds. His ego is as big as the Eiffel Tower. He showers les femmes with flowery come-ons, champagne, and gifts. He purrs. He coos. He cajoles... All in that entrancing French accent. Perhaps Pepe Le Pew would have less trouble with the lovely ladies if he stuck to his own species. Pepe has an unfortunate habit of falling not for skunks, but for discolored black cats with white stripes painted down their backs. Sometimes these cats are escaped wild cats... Sometimes the cats get their stripes by backing up into recently painted poles or benches; other times dye down their backs gives them their skunk-like appearance -- hmm... i wonder, how many can relate to this misguided, lovable skunk? you'd think pepe would've figured out that his "femme fatale" is actually a wild cat with white paint on its back. same goes for people. if you're smart, you'd single out the right person among a throng of wrong people in a heartbeat, but is it possible to have two [mr/ms] rights?
When love is right, he finds in her what he could not find in others. She is in a class so alone that she has no contenders. She has his rhythm and hears his beat. -- TD Jakes
i have yet to find the answer -- or perhaps, it has already found me.
Pepe Le Pew's famous love quotes
"Darling, you found me! How sweet *kiss, kiss*, how clever *kiss, kiss*, we will never part again!"
"You are here to interview about the greatest love of my life, yes? Very well. Come with me to Casbah... a very long time ago...."
"You know, most men would get discouraged about now... fortunately for her, I am not most men."
"Ah, this tempestous one. She is overcome by her emotions at seeing me again."
"You know, it's not just a case of physical attraction, I admire her mind, too."
"I'll tell you what, you stop resisting me, and I'll stop resisting you."
---
le pews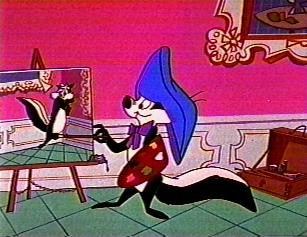 Pepe Le Pew (c) Warner Bros
blogging can be downright
confuzzling
but worth the ginormous amount of time spent. i was debating between posting an entry about star wars (which could turn political
as they say
) and the "le pews" of our time... the le pews win.
i call my fellow artists "pepe le pew". pepe, to some who don't know him, is an impassioned skunk with zee delicious accent, no? anyhoo, don't get me wrong. although he's a skunk, he has class with an uncanny knack and passion for life. he's like a hot lava oozing out from somewhere in the back alley of paris.
i live in a city that is thriving with exceptional artists -- actually, my place is literally swarmed by dozens of glorious, world-renowned art museums (which i am proud of, to say the least). a couple of days ago, i was asked to help in a workshop for struggling artists (no, not the penniless type o' thing, that is an oversimplified assumption), i'm talking about an artist's temperamental makeup. the truly gifted ones are notorious for their ahem... "our" huffing and puffing fits of emotion. but i've also realised that it is no excuse to be insane and maniacal just because "i'm an artist." there are ways to pull one's self together and this is exactly what i'm going to share with my fellow le pews. and to the le pews around the world, who obviously can't make it to the workshop, maybe the guidelines below can help, who knows?

How to Stay Young attributed to George Carlin

1. Throw out nonessential numbers. This includes age, weight and height. Let the doctor worry about them. That is why you pay him/her.
2. Keep only cheerful friends. The grouches pull you down.
3. Keep learning. Learn more about the computer, crafts, gardening, whatever. Never let the brain idle. "An idle mind is the devil's workshop." And the devil's name is Alzheimer's.
4. Enjoy the simple things.
5. Laugh often, long and loud. Laugh until you gasp for breath.
6. The tears happen. Endure, grieve, and move on. The only person who is with us our entire life, is ourselves. Be ALIVE while you are alive.
7. Surround yourself with what you love, whether it's family, pets, keepsakes, music, plants, hobbies, whatever. Your home is your refuge.
8. Cherish your health: If it is good, preserve it. If it is unstable, improve it. If it is beyond what you can improve, get help.
9. Don't take guilt trips. Take a trip to the mall, to the next county, to a foreign country, but NOT to where the guilt is.
10. Tell the people you love that you love them, at every opportunity.
AND ALWAYS REMEMBER:
Life is not measured by the number of breaths we take, but by the moments that take our breath away.
---
look at me, i'm sandra dee

Peter Pan (c) The Walt Disney Co


"
She
wears no makeup except lipstick and eye-liner... At a time when Elvis was putting sex into rock 'n' roll and Marlon Brando and Marilyn Monroe were steaming up the movie screen,
Sandra Dee
emerged as a sweet, old-fashioned, virginal throwback to more conservative values. Sandra brought freshness, a wholesomeness and an innocence which endeared her to
everyone."
this is like reading about myself! well, almost...
25 things about me
1) i only use a cross fountain pen for my artworks.
2) i love "walking" around the city for hours on end.
3) my favourite dessert is not creme brulee but mcdonald's strawberry milkshake, so it's safe to ask me out.
4) my sister and i used to play "blue moon" on the piano. i take the melody so we're always in perfect harmony.
5) i wear a hundred yr old forget-me-not ring on my left ring finger, and my grandmother's ring on my right middle finger.
6) i honestly don't remember birthdays which is why i get my ass whipped several times in a year.
7) i took care of 23 stray cats and 9 mongrel dogs.
8) i can't stand dirty bathrooms.
9) i used to hide behind the stairs (every year) on the morning of my birthday knowing that anytime my mom would be playing the piano while my dad would be singing the birthday song. *cringe*
10) i can't stand copycats.
11) i used to believe that i'd marry peter pan someday.
12) i'm a traveller at heart.
13) i've watched the movie, "glory", 13 times.
14) i'm obssessed with lipstick... pink lipstick.
15) i'm very nocturnal. nighttime is where i'm most creative.
16) my favourite winter coat will be 28 yrs old this year. it was my grandmother's, and she saved it for me.
17) i still watch the disney channel.
18) i always forget my cell phone at home.
19) i was a DJ for one day.
20) i was shirley temple in a one act play and won a prize.
21) i was with a jazz group that front-acted for the russian ballet company.
22) one time, i ran after an alternative folk artist, slipped and was caught by him.
23) my favourite nightwear is an old over-sized tee.
24) i've met the knicks and scott speedman in person.
25) i caught the eye of leonardo dicaprio... well, for two minutes, at least.
---
the gamer's green thumb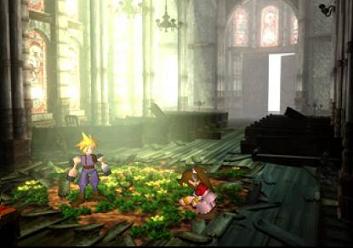 "I pity the fool who don't play this game!"
-- Barret Wallace, Final Fantasy VII
nope. i refuse to overwhelm myself with politics and philosophies these days as i've practically discussed everything under the sun in my previous posts. i'll let other bloggers do the thinking for me -- for now.
what caught my attention was
this
. when i saw my
best friend
(yeah yeah, that entry was all mushy and stuff), he gave me "quite possibly the
greatest game
ever made", according to gamefan magazine, and i'm positive most of the guys would agree. i have been spellbound by the creative use of intellect and skill by grown men who turn into giddy little boys when they start battling the virtual world. take for instance, the mercenary, cloud strife, whose enormous sword can cut almost anything in two -- wouldn't that be every guy's final fantasy? but video games aren't just for able-bodied men (and women). apparently,
when stroke victims played virtual reality games in which they imagined they were diving with sharks or snowboarding down a narrow slope, their ability to walk eventually improved, researchers reported in a small study
.

"This was a group of people that you would not expect to improve, and that's what made it interesting that they did."
-- Dr. Robert Felberg, Ochsner Clinic Foundation in New Orleans
i know final fantasy VII had curative effects on my best friend's uncle, a stroke victim. (btw, the guys were a tad more emotional when a beloved character died). brilliant plot, stunning animation, awesome soundtrack, fascinating characters... moi can't wait to join Avalanche, and give aeris and tifa a run for their money.
did you know... in
1971-72: Computer Space and the Odyssey are released; Atari is officially established; Atari releases first game, PONG; Gregory Yob creates Hunt the Wumpus; Willie Crowther creates original Adventure game
1975: Atari releases home version of PONG
1977: Atari releases VCS; Blank and Lebling co-write original ZORK at MIT
1980: Namco/Midway releases Pac-Man to arcades; Mattel launches Intellivision Master Component; Atari releases Space Invaders for the VCS; Ken and Roberta Williams start On-line Systems; Zork I released for Apple II
1983-84: Atari releases I, Robot and Star Wars; Cinematronics releases Dragon's Lair; Mattel's Aquarius computer hits the market; Nintendo introduces the Famicon in Japan; Coleco's ADAM computer debuts; Sierra releases King's Quest; Jack Tramiel resigns from Commodore; United Artists releases WarGames
---
little reds and big bad wolves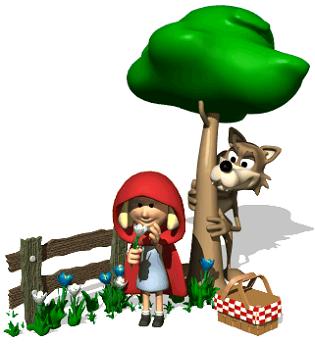 below is my excerpted email to friends:
From: cecilia sophia
Date: May 9, 2005 4:23 AM
Subject: moving on
hello guys, it's mon today so i thought i'd start the week (b)right by emailing and wishing everyone peace and goodwill... yikes... where did that come from. anyway, the "CS" chronicles (or better yet, CSI) continue, i just didnt have the motivation to run my mouth (and fingers) but yes, i'm still alive, thank God. i was just having a bad case of the "blues"... i know, it got me too :(
anyway, as they say, "when it rains it also stops" ... erm whatever... let's see... pigging out didnt shake off the blues but sorta helped (running to the weighing scale afterwards is a good exercise i realised), actually i've found out a few other things, such as keeping your mouth shut when strangers (no matter how good the intention is) try to get u in a conversation with them. i thought at first he was only being friendly... normally, i dont talk to strangers esp when they approach me in the sts (note to all the girls: do not attempt to smile, even if the creep's funnier than jim carrey). when he wouldnt leave, walking with [me] for [how many mins], saying, "if this girl that i'm dating doesnt call me again, then i'm free, actually i'm free on sunday, do u have plans?... any plans for mother's day, my parents and i dont get along, so u have somewhere to go on mother's day, i dont..." it bothered me big time. what do u do when u couldnt shake him off, knowing that he was getting more hyper and aggressive? other people were beginning to stare at us, should i make a scene while the sts are still crowded? well, maybe he's no serial killer but should u shrug off your instinct when it's telling u to run as far away as possible? anyway, my sister was very upset with me... [after it happened]... telling me i shouldnt be running loose on my own if giving my name to strangers has become a habit. no it hasnt, and it never will be, but i was a sucker that day... anyway, other irritating-but-not-altogether-bad things happened but great news hopped my way, too :) at the end of the week, i got a wonderful, surprising, tear-jerking news that i cannot yet say at this point and a girl friend called sunday morning to tell me that she found her "place at last" -- somewhere in ***. we're making plans for a trip around *** sometime this year before one of us erm settles down.
take care everyone and i promise to send the pics soon.
have fun.
all my love.
it is no joke, actually. when a stranger comes up to you (and i'm not just talking to the little girls out there, some adults suck at good role modelling, i.e. "i don't remember the name but s/he sure was good!"), be aware that you have no basic knowledge of them, so it is wiser to trust your gut feeling regardless.
the "teen" commandments according to Sophie
1) thou shalt listen to authority (thy parents).
2) thou shalt not talk to a stranger even if he looks like jesse mccartney.
3) thou shalt not accept anything from a stranger.
4) thou shalt not bat thy eyelashes to attract more attention.
5) thou shalt not flirt with a stranger.
6) thou shalt not accept a ride or go with a stranger.
7) thou shalt walk AWAY.
8) thou shalt be aware of thy surroundings esp if thy parents are not around.
9) thou shalt carry a pepper spray whither thou goest.
10) thou shalt not forget to pray for protection.
---
add two cups of love
Fairy tales can come true
It can happen to you if you're young at heart
For it's hard, you will find
To be narrow of mind if you're young at heart
You can go to extremes with impossible schemes
You can laugh when your dreams fall apart at the seams
And life gets more exciting with each passing day
And love is either in your heart or on its way...
maymie dearest, oh i should've started listening more to you back when i was five! your words have more wisdom than all others' combined.
thank you for not giving up on your daughters (since there are two of us and well, "daughters" are more difficult to handle than "sons"), cooking for us and taking time to tie our shoelaces and hair ribbons. if i had the chance to live over again and pick the mother i wanted, you'd win hands down. i thank God that He chose me to be your child, and guess what, you'll always be my baby.
happy mother's day to my maymie and my grandmother who add colour and spunk to my life. i love you both with all my heart.
Don't you know that it's worth
Every treasure on earth to be young at heart
For as rich as you are
It's much better by far to be young at heart
And if you should survive to a hundred and five
Look at all you'll derive out of bein' alive
And here is the best part, you have a head start
If you are among the very young at heart.
-- Frank Sinatra
Written by Carolyn Leigh and Johnny Richards
---
all that
Mickey's dream (c) Peter Ellenshaw
The Idealist: ENFP (Extroversion / iNtuition / Feeling / Perception)
I love being around people, and I am deeply committed to my friends. I am also unconventional, irreverent, and unimpressed by authority and rules. Incredibly perceptive, I can usually sense if someone has hidden motives. I use lots of colorful language and expressions. I'm quite the storyteller!
Idealists are rare, making up between 20 and 25 percent of the population. But their ability to inspire people with their enthusiasm and their idealism has given them influence far beyond their numbers, according to the
AdvisorTeam
.
one way to bring out (or down) the narcissism in all of us? take a personality test.
i am normal.
Marvin the Martian (c) Warner Bros
Otherwise known as the normal amount of normal. I'm like most people most of the time. But I've got quirks that make me endearing, I'm unique, yes... but not frighteningly so!
my extreme sport is white water rafting.
(c) Jerry Ouelsmann
Get in some lV class rapids... and see if I can stay in the raft.
wanna bet? anyway,
if i were a pup, i'd be a beagle.
Cheerful, energetic, and happy-go-lucky. And my sense of smell is absolutely amazing!
apparently,
my inner european is french.
Paris (c) Andrea Laliberte
Smart and sophisticated. I have the best of everything -- at least, *I* think so.
i supposedly belong in the 70's... groovy!
Scooby Doo (c) Warner Bros
Bold and brash, I take life by the horns. Whether I'm partying or protesting, I give it my all!
i am 35% Left Brained, 65% Right Brained. my right brain rules!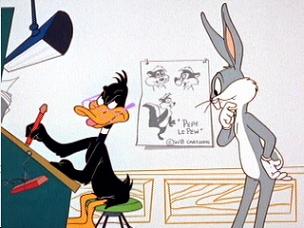 Bugs and Daffy (c) Warner Bros
The right side of my brain is all about creativity and flexibility. Daring, intuitive, right-brained people see the world in their unique way. Since I'm right-brained, I have a talent for creative writing and art. My right brain prefers day dreaming, philosophy, and sports.
i am 50/50 extrovert/introvert
Bugs and Rocky (c) Warner Bros
I'm a bit outgoing, a bit reserved. Like most people, I enjoy being social... But I also value the time I have alone. I have struck a good balance!
guess my lucky number really is 7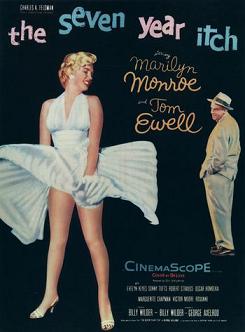 The Seven Year Itch (c) 20th CENTURY-FOX
When I fall in-love, I experience it to the fullest. I am a cheerful, joyful soul -- and I attract people easily. While I fall for people quickly, I also fall out of love quickly. It takes a dynamic, exciting lover to keep my attention long term!
ask my friends.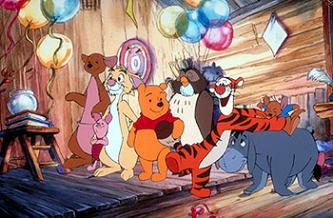 Pooh and friends (c) The Walt Disney Co

I'm always willing to listen or lend a shoulder to cry on. I'm there through thick and thin. Many people consider me their "best friend."
---
o captain! my captain!
i've talked with a buddy (never you mind that he's a first-rate chef/physics major/photographer/poet/computer whiz -- all you fabulous dahlins, eat your hearts out), and almost passed out when i've heard that he already went sailing and i didnt even get a chance to tell him i wanted a postcard from the virgin islands, too -- however, i got a more "personalised souvenir." i asked if i could post photos of his recent travels, i guess he isnt mortified to be included in my blog... erm... right, jesse? besides pestering him with my boy problem(s), i seek his advice regarding photography and yes, motorcycles (but that's for later posting). so, now we see where i got my
"flair"
.
we're both travelers... i roam the land, he navigates the sea. below are some of the photos he has taken himself, oh and fyi, that cute guy in the picture... yup, that's him.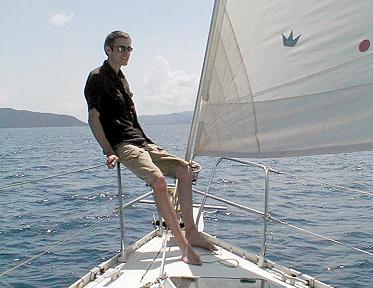 Jack Sparrow: [walks over to the helm and looks around fondly] On deck, you scabrous dogs! Man the braces! Let down and haul to run free. Now...bring me that horizon. [hums and takes out his compass] And really bad eggs... drink up, me 'earties, yo ho.
-- Pirates of the Caribbean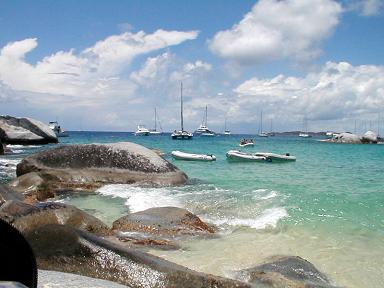 (c) Jesse Fitzgerald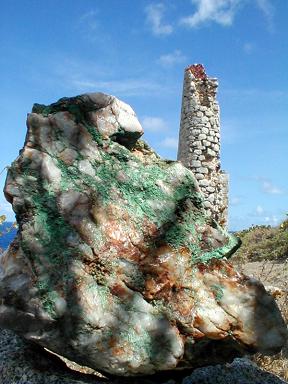 (c) Jesse Fitzgerald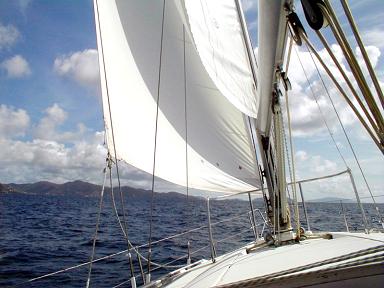 (c) Jesse Fitzgerald

"I dreamt about you the other night. We were walking along Washington in the summer. You picked up a fallen leaf on the street and held it up proudly. You handed it to me and kissed me on the cheek. I blushed and spun the stem in my fingers and you laughed. You surprised me while I was lost in thought by tossing your arms around my neck and trying to hop on my back. You were a big joker that afternoon."
-- Jesse
---
All entries and pen and ink drawings are protected under U.S. copyright and other laws and are the property of C. Sophia or the party credited as the provider of the content.