the US army and me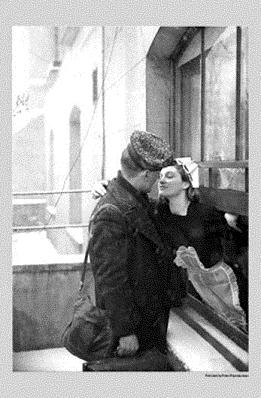 Women at War - a kiss goodbye

"It's Tommy this, and Tommy that, And chuck him out the brute,
But it's 'Savior of his Country,' When the guns begin to shoot!"
-- Rudyard Kipling

From: cecilia sophia

Date: Apr 27, 2005 11:23 PM

Subject: the US army and me

hello everyone, i hope "everyone's" enjoying the week... i'm still on hiatus but i need to come out of hybernation coz i need to finish a lot of deadlines before this week ends. on the brighter side, i have 95% chance of displaying my artworks in 2005 (more details later) and my blog just had a total makeover -- all for my 19,468 viewers (yes, and in less than a year!!!) wooohoooo!!!! oh yes yes yes!!! i thought my days would be crappy considering the deadlines and truth be told, even if there were no deadline, i'd feel crappy -- my parents sent a package filled with food last week and i'm supposed to be gobbling em up by now but oh no, the little pricks havent arrived yet, i've been starving myself to death for a week now, just waiting... waiting for my mother's homemade "supplements".
but the crazy part is, while i'm starving right now, i cooked for 25 or more people and served them hand and foot (figuratively speaking) last sun. ok, wednesday last week john, one of our friends called me and asked if we could meet up at 7 pm to discuss the -- what?? ok, i didnt get that, john... cook for sun? i didnt wait for 7 pm to meet with him, as soon as i got off the shuttle, i met john... well, u know the traffic, people chatting, cars honking... maybe i misheard?? "sophie, you're in-charge on sun"... "excuse me john, um.. this sunday?"... he looked at me and said, "yeah this sunday... sophie, what exactly are u gonna uh prepare?" well, being gallant and all i said, "maybe some mediterranian cuisine or something?" how hard is it to cook anyway? saturday. low, low energy. been busy, hardly had time to sleep, then this cooking thingy. been a photographer, artist, designer, volunteer, sounding board, and now... a chef??? how in the world did i get into this. good thing i have my mother to fall back on. 8 pm. my mother called and asked if everything's ready... um, i havent cooked anything yet. she freaked out. but i mean, how difficult is it to cook anyway? a little bit of this and that and bam!, you're done. 2 am, i was sobbing in the kitchen coz i wasnt even halfway done.
sunday morning. glorious morning, birds chirping and cinderel... actually, no birds chirping, gray skies and cold icy feeling. most of all, no painfully nice cinderella as soon as this girl woke up. after the booze and the delusions of grandeur have worn off, i was bitchy, cranky, tired and about to bite people's heads off if anyone even smiled.
now time for church. i gave everything that was in the bag to gertrude and went to the young adults' class. as soon as i peeped in, 7 men were there, including the pastor. oh dear God, i love men but all 7 of them?? where are the girls?? and where's brad, or mike or ben, u know, the guys i'm familiar with??? like a dead girl walking, i quietly withdrew... too late... the reverend already saw me. "sophia? sophia come in, come here and meet our boys." "uh... hi, reverend minister". (i've been a christian girl practically since birth but to this day i dont know the diff between a rev and a minister). "i'm so sorry i'm late for the nth time rev". but that's ok, considering nobody told me to hire a team of helpers. we (or rather, the guys) talked for sometime while i dozed off, finally, our pastor mentioned something like the army(?) oohh... these men are all in the army? what is it with [clean-cut] men in uniform? anyway, to tell u all the truth, i wasnt thinking anything like that at the time coz my head was practically hanging out. pastor asked me what i thought about -- erm what? a bible passage. i started talking and couldnt stop -- i was telling myself to shut it but couldnt, i just rambled on and on. 15 mins later, i was still yakking. i couldnt believe i girl-talked the army. they were like, "really? why did u cut people off, ppl u care about?" anyway, my last piece of brilliant conversation was, "i was messed up, but i'm not anymore, i mean, i dont need a therapist or anything like that anymore, not that i ever needed one." i hate it. i was supposed to comfort my newfound army buddies, not the other way around.
upstairs in the dining hall, i was in-charge of serving tea. someone gave me a teakettle without the tea yet. people already fell in line to be served. one older woman asked for tea. "young lady, i see water, but where's the tea?" "um tea's not ready yet but the water is." "here, i'll take that for u". it was mattie. good thing there're folks like mattie, i gratefully looked on.
in a nutshell, my cooking ability was a hit and i have no idea why. a miracle or something, probably. i just thank God it's over. but thinking about it now, i realise why of all days, i was put in that position. i guess coz my army buddies would be there and u know, there's a purpose for everything right? at least, i was able to feed them, being grateful for watching over this country. my only regret is that i didnt tell them how much i respect men like them, one of the boys even said he's from WV and a simple, country boy.
i love getting emails from everyone so keep em rolling.
have a great week and God bless.
take care
ALL MY LOVE.
---
pep talk for young girls

Lipstick Girl (c) Abbi Brown


Who is she? Who are you when you're not busy trying to be everything to everybody? ...
I know it takes courage to drop the mask. Suppose you are rejected? Suppose people laugh at you? False friends may be appalled by your transformation, because when you change your role, they might be forced to change their own. Well-meaning family members may be concerned -- after all, why should you change? You were everything they thought you should be. But you can't maintain the status quo at the expense of your destiny. You'll be shortchanging yourself and everyone in your life if you don't fulfill the promise of who you are meant to be.
-- T.D. Jakes
From: cecilia sophia
Date: Apr 23, 2005 4:07 AM
Subject: young girls
hello everyone, hmm.. i'm very surprised to get emails from young girls who read my blog, girls 12 yrs old + (i'm actually pleasantly surprised that people i dont know took the time to read em and email -- not to compliment, but to ask for advice). ladies (i.e. bowlingsoupfreak), u know who u are and i may not be the best person to run to but i'm still glad u did. um well, u girls have the same questions and going through similar stuff, i havent updated my blog since i came back from cali but i will, thanks for reminding me...
i remember the "scott speedman posting", someone also emailed me about him asking me if she could post my blog about scott speedman on her website. anyway, oh boy, well the questions are kinda tough, let's see...
1) yes, tell your parents u need privacy too, i mean, even your pets have privacy right? i think that your cozy bedroom can be a great sanctuary, there u can be creative rather than be destructive out in the sts with pimps and bimbos. there's nothing wrong with going out to parties/movies with friends and have fun, i love going out personally, there's no better way to express yourself than be with people, but choose wisely who u hang out with. who gives a if they're popular, rich, beautiful people, if they pressure u to do something u dont wanna do, well, u can think for yourselves right?
2) u shouldnt worry about your age. a lot of women in their 40s (u know, the ones u think that built the stonehenge?) they'd give everything to be u again, no joke. who cares if people call u a kid or something? i'd rather hang out with u guys than with adults at times. think about this, u dont really need makeup to hide your glow coz it comes out naturally, u dont need to worry about next month, where to get money to pay the bills and stuff, u can eat anything u like (i'm always told that with the junk i put in my tummy, i'll regret it someday) i mean, i see grown men and women dying outside a krispy kreme window. and yes, i love cartoons and i dont need to be ashamed of it.
3) hmm... the eternal boy question.. "does he like me". ok, hmm.. well, i have wonderful guy friends, they're great, funny and charming. guys can be very loyal too, believe it or not. but i also agree that some guys think they're all that when they're not and why? coz some girls love rubbing their egos. i have nothing against giving compliments esp when deserved but sometimes, it's better to hold your tongue. hey, remember the boy who's always there for u, who studies with u and listens to your neverending problems? and u see him as a friend? maybe u should take a really good look at him. maybe, just maybe that's the one who really likes u. but u know what else, its good to be young, at your age young ladies, boys are all eager to show off and fight over u, and when u grow old you'll all be fighting over them. take it easy, let the boys fight over u while it lasts. you'll meet a lot of them as u grow older...
---
nightmare in new york
From: cecilia sophia

Date: Apr 14, 2005 2:15 AM

Subject: nightmare in new york

hi everyone, i hope everything's ok with y'all. i'm so sorry that i didnt respond to emails/return calls (yes, as most of u know by now i always forget to bring my phone with me) but i just got all the notes/msgs and i intend to reply separately soon. i'm brain dead tonight and will go to bed after i finish some stuff, i just wanna relax for a moment and email.
i only have 3 pics of new york to show everyone (might i say, very artless too) and it's all coz of one stupid, senseless mistake. i'm actually pissed off now that i think of it. being queen scatterbrain, i didnt check the weather in ny, it was a beautiful weather so i thought hmm... why not just put on the lightest outfit and enjoy frolicking in ny, probably blend in with the crowd (and new yorkers are the hardest to please), a little picture taking here, a little picture taking there... oh and maybe even watch the "chitty chitty bang bang" matinee?? as soon as i stepped outside of the subway in midtown (manhattan), my legs froze right where i stood. why not, i was wearing a summer outfit for god's sake! short skirt and sleeveless top - the only cover i had was a very light cardigan... and the weather? 48F. what did i do? if one of u ever saw a crazy girl in a summer outfit running around midtown, uptown and downtown nyc, that's me. i was literally running - not jogging. running. i was literally catching the sun, i ran towards madison square garden, towards the empire state building, around times square and yes, even ran up and down the stairs of penn station. people were staring... what, like u never forget to check the weather forecast??? i wanted to ask, only my lips were literally sealed, too hard to speak what with the cold and all. funny, i noticed if one seems to be different, everyone begins to look your way... i wanted to say, should i glue myself to the wall so everybody could have a better look?? finally, i told some ppl to knock it off, quit staring (u wouldnt guess new yorkers stare too). hearing an old man play the theme song from the godfather movie ("speak softly love") was enough to make me have a nervous breakdown. my girl cousin called to confirm our get together.
downtown --- i eventually arrived in downtown in one piece. i made sure i got off the train before it could take me to the bronx, i'd never get out of there alive. i went to check the restaurant (kuma inn - to those who'd like a taste of the bohemian in ny, try kuma inn. not fanciful, or overrated, just plain hip with great food) where my sister, cousins and i would meet up. i was there early so i went inside mcdonald's to buy water and freshen up in the lavatory. less than 5 mins, there was a knock on the door... i said yes, i'm still in here. then another knock, louder this time.. yes, still here!... then... bang! the door broke open and people were all in line by the door looking at me waiting for their turn. hello??? i just got in!!!
i left mcdonald's (and vowed never to return again) and said, NEW YORK NEVER AGAIN! i didnt realise i said it out loud, there was a bunch of cops standing in a corner. my sister and i called our cousin, asked her if i could borrow one of her coats coz i was wearing the stupidest outfit. my cousin was waiting outside of the restaurant with the coat, i ran across the st towards her and she said, "omg you're wearing a summer outfit, u must be cold!" d'uh. i'm forever grateful to her though and i love her to death now. i filled my tummy with all kinds of food (i was so hungry, i didnt eat all day) while she poured her heart out. i was almost too tired to listen but i owe her my lungs (i could've had pneumonia).
oh well. if anyone wants to live in the city that never sleeps, go on, it might be fun but as for me, nope, certainly not i.
i have so much to tell still but this is ridiculously long already, next time, rest your weary eyes for now, everyone *hug*.
i love all of u and God bless always.
---
sonnet for leo

Shoe Girl (c) Jennifer Brinley

From: cecilia sophia

Date: Apr 4, 2005 11:34 PM

Subject: mentoring


... reme and marge, you're both right! i should've kissed him or shaken his hand or whatever, "should have"... those words are now ringing in my ears... thank God i wasnt wearing my travel clothes at that time. if leonardo diCaprio told me to take off my 4-inch stiletto shoes (i'd be happy to oblige, those shoes were killing me every step of the way), juggle and recite a sonnet on the rooftop of the building with a pitbull on my head, i'd do it in a heartbeat (of course, i wouldnt do it for anyone else) ...

"leonardo? shall i compare thee to a thousand yuppie-ish young men, thou art more savvy and temperate."
... sigh. oh well. angels really take on human form huh, one angel even became a moviestar.
i might be heading to new york either this week or the next and while there, i'm going to take pics and try this handpainting technique to add to my art proj. also, probably buy the largest leonardo poster i could find ;) yup, i'll be starstruck for the next 5 yrs or so...
---
All entries and pen and ink drawings are protected under U.S. copyright and other laws and are the property of C. Sophia or the party credited as the provider of the content.