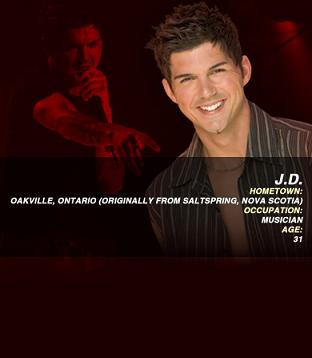 JD Fortune (c) CBS


Rock is young music, it is youth oriented. It just speaks for a generation.
-- Ruben Blades
oh yeah, a handsome chunk, isn't he? definitely
not
so typical rock star. well, INXS has made their decision and the new frontman is
canadian --
watching "Rock Star: INXS" on CBS (fyi, i hardly watch tv with all the reality crap popping up on screen), made me put down my iPod and listen to the final three rockers give their best. "these guys know how to emote," i thought. i knew in my "throbbing" heart who was going to win.
mig
, with the voice of freddie mercury (almost) and the looks of david bowie, was the first to go. he exited with dignity that impressed me. and although
marty
had the voice of a true rock star -- rustic but tastefully melodious -- he too, had to go...
I always wanted to be a rock star. That was my childhood dream. That's what I told everybody I was going to be when I grew up.
-- Chester Bennington
i was flushed with excitement when INXS announced their guy -- i heard
jd fortune
sing and boom!, he took my breath away. there are so many (in fact, too many) rockers and wannabes who turn the stage into their personal interpretation of cirque du soleil simply because they can't carry a tune.
Rock 'n Roll: The most brutal, ugly, desperate, vicious form of expression it has been my misfortune to hear.
-- Frank Sinatra
yes to an extent, frankie, but this new rock star (crooner, if he chose to), is an exception. his voice harmonizes and belts out the music, believe me. oh well, i'm not a rock fan(atic), either. so why am i blogging about this? because... because... *smiles*
Rock groups, by their very nature, are hysterically funny. They are usually a mixture of working class lads and art students which is odd. Then there's the commitment, the sincerity, the pseudo philosophy of a rock group -- it's sexy when you're 21 but absolutely ridiculous when you're 41.
-- Gary Kemp