sophie's choice
Find rest, O my soul, in God alone; my hope comes from him.
-- Psalm 62:5
goodbye, 2004... hello, 2005!
well whaddya know, tomorrow is january 1st! but right now, we can still wax nostalgic. seen these?
sophie likes 'em (fabulous movies):
The Passion
Finding Neverland
The Aviator
The Incredibles
Before Sunset
The Manchurian Candidate
The Phantom of the Opera
Bridget Jones's Diary 2
Closer
Christmas with the Kranks
say what?
grant barrett
writes, "It was the year for FLOPHA, backdoor drafts, and the clear and the cream. If this sounds ridonkulous or crunk, well, it was that kind of year for slang and jargon."
sophie slangs it (from barrett's glossary):
ana
, adj., anorexic. The term came to the fore in 2004 through a mention in "Bergdorf Blondes" by Plum Sykes: "ana = anorexic = thin = perfection."
crunk
, adj., good, fun, fine. A product of the Southern hip-hop scene. Inconclusively said to be derived from crazy drunk.
gorram
, interj., a euphemistic oath, used in place of an actual curse word. From the space cowboy television series "Firefly."
mash-up
, n., a blend of two songs or albums into a single cohesive work. Both the term and trend originated in Britain about three years ago, but stateside, rapper Jay-Z was a 2004 mash favorite. Among other works, his Black Album rhymes were mixed by Danger Mouse with the Beatles' White Album to create the Grey Album.
phish
, v., to acquire passwords or other private information (of an individual, an account, a Web site, etc.) via a digital ruse.
podcasting
, n., the automated distribution of radio-like programming - interviews, music or even content from established broadcasters - to portable digital audio players. From iPod (the most popular portable MP3 player) plus broadcasting.
ridonkulous
, n. (very) ridiculous. Also ridonculous, redonculous, redonkulous, redonculus, redonkulus, ridonculus, ridonkulus, redunculous, redunkulous, ridunkulous, ridunculous, ridunkulus, redunkulus, redunkulus, ridunkulus.
spim
, n., unwanted commercial messages received in an instant-messaging program. From spam plus instant messaging.
wiki
, n., a community-built Web site that allows content to be edited by anyone. From the Hawaiian wiki, which means fast, or wikiwiki, which means very fast.
(this one's from john schwartz)
caffèscienti
, n., half double decaffeinated half-caf, with a twist of lemon.
it is not all banter. the loss had been devastating for so many.
i believe in miracles
...
An Australian woman caught in the tsunami faced an impossible choice. Hit by the force of the water, she was holding her 5-year-old son's hand and cradling her 20-month-old baby. She had to let go of one of them to save the other and herself. Her 5-year-old was swept away. She thought she'd never see him again. Miraculously, he lived. This is him. A man clinging to a pole saw the boy wash by, grabbed him, and for two hours held him in rushing water up to their necks. So many stories like this, small choices to make, choices no one should have to make. Other stories of survival just as amazing.
-- Anderson Cooper, CNN Anchor
(c) The Walt Disney Co
Hope is a thing with feathersThat perches in the soulAnd sings a tune without wordsAnd never stops at all.And sweetest in the gale, is heardAnd sore must be the stormThat could abash the little birdThat keeps so many warm.I've heard in the chilliest landAnd on the strangest seaYet, never, in extremityit ask a crumb of me.
-- Emily Dickinson
---
bling bling! went the strings of my heart
Bugs, Daffy & Tweety (c) Warner Bros
traditionally, today would be the "
third day of Christmas
". my watch, however, says differently! i have been giddily observing this wondrous season for over a month (anticipation-stage not included).
my family and i went to church christmas eve and lighted the candles as we sang, "silent night, holy night." afterwards, we went straight to my uncle's, where a sumptuous feast was waiting for us. between gulps (the food was amazing!), i gave and listened to the family's week-in-review. my aunt related a shocking incident that occurred that afternoon. coming from new york, they decided to drop by jersey city to buy some sweets. the parking lot was full, but my uncle saw a soon-to-be-vacant spot. the thing was, one other guy was coveting the same spot. since my uncle's reflexes were faster, he beat the guy to it. the guy was furious and got out of his car. he walked up to my uncle, cussing! "you f*ckng couldnt f*ckng move etc f*ckng etc you wouldnt f*ckng want to f*ckng mess with me i've had a f*ckng bad day etc etc." what a turd. my uncle took a deep breath, controlling his temper. the guy was half his age! my aunt was in total shock because she isnt used to street slang. after two minutes of nonstop jabbering from the prick, my uncle said, "fine, i'll move." we all broke into laughter, and i said, "if i were with you, i'd have given him a piece of my mind," but my mum, equally shocked, said my uncle did the right thing by not succumbing to a fight because it wasnt worth it. now, thinking about it, i admire my uncle's forbearance. i just cant stop giggling everytime i remember my uber-refined
cousin
's remarks about the creep and his girl, "ghetto* and ghetto's hoe" (*acute accent on the o). the way my cousin said it was funny, not demoralising. story came after story, from the dining table, to the fireside... finally! the opening of presents. yipeeeee!!! i got 3 whopping gift bags.
first, to keep me prettified: a spa facial care assortment consisting of a facial steamer, facial cleanser and pore refiner, and an illuminated beauty mirror (oooohhh yesss, i'm vain!). second, to keep me warm: a luxurious, velvety soft, sueded, 54" x 63" pink down throw (prettified one, pamper thyself!). third, to keep me entertained: 3 dvds, message in a bottle, legends of the fall, and
ever after
(romantic pampered one, relax thy mind).
christmas day. we woke up late, showered, had brunch, and rushed to loews to see
the
phantom of the opera
. the broadway musical-turned-movie was completely mesmerising. as a kid, i used to sing, "think of me", i cant remember, though, which guy was on my mind at the time. as we were all going out of the theatre, i noticed a bunch of people lined-up to watch
the aviator
... like i've said,
that movie would catapult to classicdom
.
we had a superb christmas and i give back all the glory to God -- my most memorable moment was strolling with my sister and cousin around the neighbourhood with the season's first smattering of snowflakes adorning my hair.
since the 12 days of christmas just basically started, i decided to share my blessings with peeps out there who would want to try yummy recipes linked with gmail invites. see below...
Filet Mignon with Mushroom Wine Sauce
recipe from
the tender fillet
1 tbsp
butter
, divided
vegetable cooking spray
1 tbsp low-sodium
soy
sauce
4 (4 oz) filet mignon
steaks
(about 1 inch thick)
1/2 cup finely chopped
shallots
1 tbsp finely chopped
thyme
1 1/2 cups dry red
wine
, divided
fresh thyme sprigs (optional)
1/2 lb fresh shiitake
mushrooms
(no stems)
1 (10.5 ounce) can beef
consomme
, undiluted and divided
2 tsp cornstarch
cracked
pepper
melt 1/2 teaspoons butter
in a nonstick skillet coated with cooking spray over medium heat.
add shallots and mushrooms
.
sauté 4 minutes
. add 1 cup wine and 3/4 cup consomme;
cook 5 minutes
, stirring often.
remove mushrooms
and
place in a bowl
.
increase heat to high
; cook wine mixture 5 minutes or until reduced to 1/2 cup. add to mushrooms in a bowl; set aside.
wipe skillet
skillet with a paper towel.
sprinkle desired amount
of cracked pepper over steaks. melt remaining 1 1/2 teaspoons butter in skillet coated with cooking spray over medium heat.
add steaks
; cook 3 minutes on each side or until
until browned
. reduce heat to medium-low, and cook 1 1/2 minutes on each side or to desired degree of doneness.
place on a serving platter
, and
keep warm
.
combine soy sauce and cornstarch
;
stir well
. add remaining 1/2 cup wine and consomme to skillet;
scrape skillet
with a wooden spoon to loosen browned bits.
bring to a boil
. cook 1 minute. add mushroom mixture, cornstarch mixture, and chopped thyme; bring to a boil, and cook, stirring constantly, 1 minute.
serve with steaks
.
garnish with thyme sprigs
, if desired.
Traditional Pecan Pie
recipe from
the little big book of Christmas
Pastry:
1/4 pound plus 4 tablespoopns unsalted
butter
3 cups all-purpose
flour
3 tablespoons
sugar
2 egg
yolks
, lightly beaten
about 1/4 cup ice
water
Filling:
5 whole
eggs
1 egg
yolk
1 cup packed light brown
sugar
2 tablespoons melted
butter
2 teaspoons
vanilla
extract
2 to 3 tablespoons
bourbon
3 cups
pecan
pieces, lightly toasted
in a mixing bowl,
cut butter into the flour
until it reaches the consistency of fine meal.
sprinkle on the sugar
and
add lightly beaten egg yolks and ice water
.
lightly blend together
.
firm the dough into a ball
,
wrap in waxed
paper, and chill
for at least 20 minutes.
preheat oven
to 350°F. in a bowl,
mix together
all the filling ingredients except the pecans and blend well.
roll out pastry
on a lightly floured surface and fit it into a 9" pie pan.
evenly coat
the pastry with the pecan pieces.
pour filling mixture
over the nuts.
bake for 1 hour
, or until golden brown.
cool to room temperature before serving
.
serves 8 to 10
if you're here looking for more invites, but finding none, take heart, there's more. email me at sophiesfair [at] gmail [dot] com.
---
my true love on Christmas
On the twelfth day of Christmas, my true love sent to me Twelve drummers drumming, Eleven pipers piping, Ten lords a-leaping, Nine ladies dancing, Eight maids a-milking, Seven swans a-swimming, Six geese a-laying, Five golden rings, Four calling birds, Three French hens, Two turtle doves,
And a partridge in a pear tree!
glorious day, Christmas day!
i am loved. flawed but beloved. this is favour.
i wish for you all good things. this day, what was whittled has been restored; what was wretched has been redeemed. let no one take away your joy. allow no one to determine your worth.
be happy, be blessed.
She will give birth to a son, and you are to give him the name Jesus, because he will save his people from their sins.All this took place to fulfill what the Lord had said through the prophet: "The virgin will be with child, and they will call him Immanuel -- which means, "God with us."
-- Matthew 1:21-23
---
his christmas gift
Bugs Bunny (c) Warner Bros
On the eleventh day of Christmas
my true love sent to me:
Eleven Pipers Piping
Ten Lords a Leaping
Nine Ladies Dancing
Eight Maids a Milking
Seven Swans a Swimming
Six Geese a Laying
Five Golden Rings
i'm such a lucky girl to have met such an all-around nice guy, and i'm talking about my friend sean, who's thousands of miles away from me, but still was
soooo
sweet to give 22 gmail accounts as presents! (do you know
how hard
it is to get
just one
gmail
account??) he said to do anything i wish with 'em so i'm giving 'em to peeps who would want 'em, too. look below...
Born in Bethlehem(St. Luke 2:1-16)
And it came to pass
in those days, that there went out a decree from Caesar Augustus, that all the world should be taxed. (And this taxing was first made when Cyrenius was governor of Syria.)And all went to be taxed, everyone into his own city. And Joseph also went up from Galilee, out of the city of Nazareth, into Judaea, unto the city of David, which is called Bethlehem; (because he was of the house and lineage of David:)To be taxed with Mary his espoused wife, being great with child. And so it was, that, while they were there, the days were accomplished that she should be delivered. And she brought forth her firstborn son, and wrapped him in swaddling clothes, and laid him in a manger; because there was no room for them in the inn.And there were in the same country shepherds abiding in the field, keeping watch over their flock by night.
And lo, the angel of the LORD came upon them, and the glory of the LORD shone round about them: and they were sore afraid.And the angel said unto them, Fear not: for, behold, I bring you good tidings of great joy, which shall be to all people.For unto you is born this day in the city of David a Saviour, which is Christ the Lord.And this shall be a sign unto you; Ye shall find the babe wrapped in swaddling clothes, lying in a manger.And suddenly there was with the angel a multitude of the heavenly host praising God, and saying,Glory to God in the highest, and on earth peace, good will toward men.And it came to pass, as the angels were gone away from them into heaven, the shepherds said one to another, Let us go even unto Bethlehem, and see this thing which is come to pass, which the LORD hath made known unto us. And they came with haste, and found Mary, and Joseph, and the babe lying in a manger.
-- The Little Big Book of Christmas
Merry Christmas & God Bless!,
---
ho ho ho-liday bangers
Bugs & Daffy (c) Warner Bros
On the tenth day of Christmas
my true love sent to me:
Ten Lords a Leaping
Nine Ladies Dancing
Eight Maids a Milking
Seven Swans a Swimming
Six Geese a Laying
Five Golden Rings
i already mentioned
here
there wouldnt be any news feeds from me, but it's just plain impossible to stay away from these events, so --
Here are 2004's top 10 stories, as voted by AP members.1. US ELECTION: After vanquishing Howard Dean, John Edwards and other Democratic rivals, Kerry seemed to have a strong chance of ousting Bush...2. IRAQ: Throughout 2004, Iraq was a striking mix of bloody turmoil and tantalizing promise... 3. FLORIDA HURRICANES: Four major hurricanes — Charley, Frances, Ivan and Jeanne — devastated Florida and other southern states in August and September, killing 117 people in Florida, destroying 2,500 homes and causing more than $22 billion in insured losses...
it was indeed a terrible, terrible time. if you've never experienced it, it is unthinkable to grasp
the pain of losing a home
or a loved one. or worse, both. this holiday season, why not share your blessings with others?
there are ways, you know?
4. ABU GHRAIB SCANDAL: Photographs came to light showing U.S. military guards at the Abu Ghraib prison near Baghdad forcing naked Iraqi detainees to pose in humiliating positions...
who wasnt scandalised, anyway? but as there are so many wretched, contemptible, vile, mean, despicable people
all over
the world, there are honourable and upright men and women worthy of our respect.
5. SEPT. 11 REPORT: After painstaking research and dramatic public hearings, the commission formed to investigate the terrorist attacks of Sept. 11, 2001, issued its report...
the investigation led to a belief that america's leaders
failed to grasp the gravity of terrorist threats before Sept. 11 and recommended creation of a national intelligence director to oversee civilian and military intelligence agencies.
as long as they're coming up with solutions to solve terrorism.
i refuse to justify terrorism
.
6. GAY MARRIAGE: From coast to coast, gay marriage was a volatile topic throughout the year... However, each time the issue reached the ballot — in 13 states in all — voters decisively approved constitutional amendments banning gay marriage. 7. ARAFAT DIES: For three decades, Yasser Arafat was a hero to most of his fellow Palestinians but considered unreliable — or worse — by leaders in the West and Israel...
arafat was the father of modern terrorism
. 'nuff said.
8: REAGAN DIES: Alzheimer's disease had kept Ronald Reagan out of the public eye for a decade... His stately funeral in Washington brought the country together at least briefly in a year otherwise marked by bitter partisan divisions.
there is another way to resolve the conflict
: we cannot afford to be ignorant. when the damage is done, there cant be any room for regrets.
9: RUSSIAN SCHOOL SEIZURE: Even in a world grown all too accustomed to terrorism, the drama in the Russian town of Beslan was shocking because children were so clearly prime targets...
what happened in beslan deeply affected me.
there's no excuse for the more than 350 lives that were taken
.
10. MADRID BOMBINGS: Another stunning terrorist strike occurred in March, when 190 people were killed after bombs hidden in backpacks exploded on four commuter trains during Madrid's morning rush hour...
hatred has been sown for 10 centuries
. if we divide the land further, will they stop?
oh yeah,
the red sox's world series victory
was voted no.13 and was among 10 stories that received at least one first-place vote.
c'est la vie.
---
come on, aileen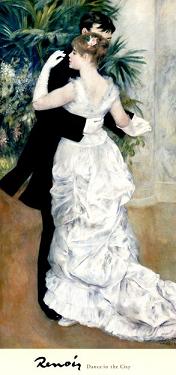 Dancing in the City (c) Pierre-Auguste Renoir

On the ninth day of Christmas
my true love sent to me:
Nine Ladies Dancing
Eight Maids a Milking
Seven Swans a Swimming
Six Geese a Laying
Five Golden Rings

The meaning of Aileen

Origin: Irish
Meaning: Light. From the name Eibhlin

Origin: Scottish
Meaning: From the green meadow
An Irish female name. Some translate it as "light." If so, it may be a form of Helen; but it is more probably from the Erse "ail", "noble, beautiful"; or from "aille", meaning "handsome, fair"; or corrupted from "ailgean", meaning "noble offspring."

it's my sister's birthday. we went to church and were chosen to light the final advent candle on friday, christmas eve. after the two dozen tulips from her "babe" yesterday, he got her, our mum and me tickets to paris (talk about a package deal!)...
a molecular biologist and poet, she strings words like DNA sequences (as i've told our editor-friend). now, if only i could write like that! i have to sit on my ass and squeeze my brains out to get the words to flow, but she does it with no effort!

The undefinable joy of two-way communication
when lines cross connecting voices, thoughts, halves.
What would she have done
if light were never deflected by the sun
if there were only flat space and free fall
and two lines lying side by side
were destined to lie side by side
not ever touching
She must have said something
someone altered his course.
On curved space,
parallel lines do meet.
-- from Sophia by AVI

see what i mean?
---
prelude to a birthday

Cathy (c) Cathy Guisewite

On the eighth day of Christmas
my true love sent to me:
Eight Maids a Milking
Seven Swans a Swimming
Six Geese a Laying
Five Golden Rings

my fabulous only sister aileen, is celebrating her birthday tomorrow. i asked her what she wants, but this girl has to save up [big bucks] to afford it. so i thought, i would blog, instead. obviously, she's blessed to have me... i love my sister's picture with our grandmother taken in england when she was still living there. anyhow, my sister's friend gave her a comic book titled, "cathy". it was as if the cartoonist created the comic strip entirely for her because in many ways, aileen is cathy.

Cathy is a daily comic strip drawn by Cathy Guisewite. Featuring a single woman who struggles through the "four basic guilt groups" of life—food, love, mom and work—the strip gently pokes fun at the foibles of modern women's lives. Initially, the strip was based largely on Guisewite's own life as a single woman, but after her marriage and motherhood, Guisewite could no longer relate to the character as much as she had before... Ms. Guisewite breathed new life into her work by having Irving, Cathy's longtime boyfriend, propose marriage on Valentine's Day 2004.
-- Wikipedia

my sister and i are polar opposites, yet we have shared so many things... makeup, clothes (well, not all the time, i'm a size 2), hopes, and dreams. i'm looking forward to the day she marries the man who would make her completely happy. as a matter-of-fact, he's already doing that -- today, he sent her two dozen tulips.

Although her eye be not of blue,
Nor fair her locks, like English lasses,
How far its own expressive hue
The languid azure eye surpasses!
-- Lord Byron, George Gordon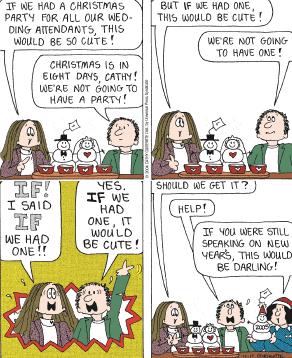 May he give you the desire of your heart
and make all your plans succeed.
We will shout for joy when you
are victorious and will lift up our banners
in the name of our God.
May the LORD grant all your requests.
-- Psalm 20:4-5
---
he calls me "patel"
Snow White (c) The Walt Disney Co.
On the seventh day of ChristmasMy true love sent to me:Seven swans a SwimmingSix Geese a LayingFive Golden Ringspatel
's my dad's pet name for me. only a few more days til christmas, but since he's on the west coast, he decided to bring christmas here. my sister and i received a whole package of sweets from
the swiss colony
. i indulged myself with
this
and
this
after walking 3 miles around the city on a frosty [9°] afternoon. my dad's a great guy -- when i was a teenager, it was totally inconceivable to admit it, but now that i'm all grown-up, i can see clearly why my mother married him. i think that those people (balding heads and all) who still have issues with their parents have got to stop shitting on their childhood or how their parents are driving them nuts... so not cool.
There was a little girl,Who had a little curl,Right in the middle of her forehead.When she was good,She was very good indeed,But when she was bad she was horrid.
-- Henry Wadsworth Longfellow
parents are no less perfect than the rest of us bratty kids. as for me, i'm just thankful i have my dad to tolerate my every whim and i take comfort in that all the time.
Disney Characters (c) The Walt Disney Co
The train of cars that Santa brought is out of kilter now;While pa was showing how they went he broke the spring somehow.They used to run around a track--at least they did when heWould let me take them in my hands an' wind 'em with a key.I could 'a' had some fun with 'em, if only they would go,
But, gee! I never had a chance, for pa enjoyed em so.The automobile that I got that ran around the floorWas lots of fun when it was new, but it won't go no more.Pa wound it up for Uncle Jim to show him how it went,And when those two got through with it the runnin' gear was bent,An' now it doesn't go at all. I mustn't grumble though,'Cause while it was in shape to run my pa enjoyed it so.I've got my blocks as good as new, my mitts are perfect yet;Although the snow is on the ground I haven't got em wet.I've taken care of everything that Santa brought to me,Except the toys that run about when wound up with a key.But next year you can bet I won't make any such mistake;I'm going to ask for toys an' things that my pa cannot break.
-- Edgar Albert Guest
---
the boy who wouldn't grow up
Peter Pan (c) The Walt Disney Co
On the sixth day of Christmas
my true love sent to me:
Six Geese a Laying
Five Golden Rings
i was passing by an upscale shop when i caught a glimpse of a large poster of
peter pan
and it read, "Peter Pan showing at the so-and-so Theater on March so-and-so". naturally, it piqued my interest. if there was ever a girl version of peter, that would be me.
Peter Pan is hardly the stereotypical hero. He's an almost ambivalent character. In early drafts of the play he started as the villain before Captain Hook came in. I also think Barrie came up with a wonderful idea - a boy who decides not to grow up as he doesn't like what he sees in adults. That speaks to us all.
-- Andrew Birkin, author of JM Barrie and the Lost Boys
"there's our little girl, but she isnt a little girl, anymore," a group of older ladies exclaimed, pointing at me. i was in church today getting fidgety, my ass half-off the seat silently praying that this guy at church wouldnt ask me out -- my stomach's twisted up in jumbles. what was i supposed to say?? i hate it when i have to say no to anyone, but i cant lie, either. after church, the guy was already waiting to have "a word with me"... i held my breath, "here goes nothing, oh dear God, whatever happens, i'm going to be a good friend, i promise, just pls spare us both"... then, he asked, "hey sophie, can i get your contact number and email addy so we could reach you if you would like to volunteer at church?" that's it??? that's it??? that
IS
it??? prayer answered, i hopped away...
...
ICE sparkled
under the feet of London theatre-goers as they arrived outside the Duke of York on the bitterly cold evening of 27 December, 1904. If any slip-up was expected, however, it was to be on the stage. JM Barrie, born in Kirriemuir, Angus, was nervous about the debut of his play. Originally titled The Great White Father, one of the most celebrated playwrights of the Edwardian age had settled on a new name: Peter Pan Or the Boy Who Wouldn't Grow Up. What we now know as a winning formula of children, pirates and the magic of Neverland had been dismissed by its author, only weeks before its stage debut, as a "dream-child" with little prospect of commercial success. During rehearsals Barrie was informed by a stage-hand, unimpressed by the children flying out of the window, that "the boys in the gallery'll never stand for it", while Herbert Beerbohm Tree, the London stage's most successful actor and manager, predicted a catastrophic flop. Tomorrow evening, the same London theatre will echo once more to the sound of Peter Pan, Wendy and Captain Hook as Simon Callow, Denise Van Outen and Juliet Stevenson join a charity reading for Great Ormond Street Hospital to mark the 100th anniversary. Eight years before his death, Barrie made a gift of the Peter Pan copyright to the hospital, which has since earned millions of pounds...
This film [Finding Neverland] is a love story, but it isn't a conventional love story because there's no kiss, no clinch, no love scene; there are none of those obvious moments, and it's a love story between a whole family and one man. I always really liked that. The reality is that there was a romantic attachment between Sylvia and Barrie. But as it is in the movie, I think you know that they love each other.
If there had been a kiss or one of those moments between Johnny Depp and myself, the movie would have immediately become about something else entirely. It would have taken away from the important parts of the story, which are how inspired J.M. Barrie was by Sylvia's boys and by Sylvia.
-- Kate Winslet, Finding Neverland
i can definitely relate to peter pan. in many respects, i know i still cant let go of girlhood. and i think that all of us feel the same, it's just that not everyone is brave enough to admit it.
Happy 100th Birthday to the boy who refused to grow up.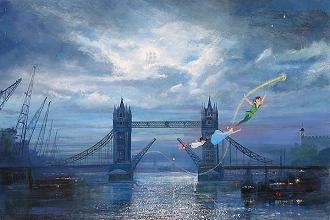 Think of the presents you've broughtAny merry little thoughtThink of Christmas, think of snowThink of sleigh bells Here we go!Like a reindeer in the sky
You can fly! You can fly!You can fly! You can fly!
-- Sammy Fain & Sammy Cahn
---
"i yam what i yam": ethics of blogging

Popeye (c) 2002 King Features Syndicate, Inc.

On the fifth day of Christmas
my true love sent to me:
Five Golden Rings
Four Calling Birds
Three French Hens
Two Turtle Doves
and a Partridge in a Pear Tree

popeye turned 75! being an avid fan of cartoons long before i could even say, "dada", i know by heart all about popeye and his gang -- his first mate (and archenemy) bluto, his looonnngtime girlfriend olive oyl, swee'pea ("my brad's" pet name for me), and wimpy (my fellow hamburger lover).

Popeye is an icon.
"What adult cares whether some star does a voice? And especially what kid cares? The kids don't give a hang if Brad Pitt's doing a voice. No mortal actor can do what a voice person can do."
-- Billy West

you said it, buddy. if someone were to ask me about the voices behind the classic cartoons i've been watching, i wouldnt know what to answer! as long as it's good animation, i'm up for it.
anyhoo, i promised myself my blog wont have anything remotely political or distastefully wicked this holiday season, but i cant help it. quite a number of bloggers provoked me, i'm just about ready to bite their freakin' heads off.

As web logs proliferate -- the boundaries between public and private are being transformed. Unconstrained by journalistic conventions, bloggers are blurring the lines between public events and ordinary social interactions and changing the way we date, work, teach and live... citizens will have to develop new understandings about what parts of our lives are on and off the record... 70 to 80 percent [of blogs] are varieties of personal journals. A few have broken into the Technorati Top 100: for example, dooce, No. 39, advertises herself as ''that girl who lost her job'' and ''managed to alienate her family because of her Web site.'' Although men and women blog in roughly equal numbers, personal bloggers are more likely to be women than men. And the favorite topic of personal bloggers is sex.

i accidentally (and regrettably) came across a couple of very crass bloggers: ms. motormouth's chief concern was to bitch about her poor mom 24/7 (and i'd rather not talk about her reasons because they're just full of shit), and this other beastly site just cant stop talking about sex like their lives depended on it. if we really wanted self-promotion, there are smart ways to go about it, why be the amoeba that feeds off of the parasites that are hosted by the slime that feeds off of pond scum?
---
can't buy me love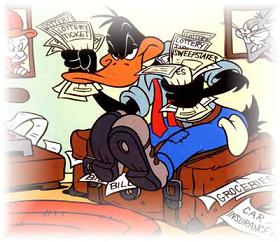 Daffy Duck (c) Warner Bros

Money

It can buy a House... But not a Home
It can buy a Bed... But not Sleep
It can buy a Clock... But not Time
It can buy you a Book... But not Knowledge
It can buy you a Position... But not Respect
It can buy you Medicine... But not Health
It can buy you Blood... But not Life

So you see money isn't everything.
And it often causes pain and suffering.
I tell you all this because...
I am your Friend, and as your Friend I want to take away your pain and suffering...

So send me all your money...

and I will suffer for you.

CASH ONLY PLEASE!!!
-- Money Poem

On the third day of Christmas
my true love sent to me:
Three French Hens
Two Turtle Doves
and a Partridge in a Pear Tree

i was browsing through a magazine that had a lovely picture of brad pitt and jennifer aniston (i dont normally pay attention to "junk" periodicals, but i couldnt take my eyes off of brad pitt -- maybe because he reminds me of my own brad), and i thought, these hollywood stars have everything -- money, power, prestige -- yet, they still arent satisfied. i read, while aniston was out partying at a london club til 5 am, brad pitt almost burst into tears when asked about his dream of having his little jens. i was wondering, how could a girl not be advertent (and be all ears) concerning her husband's needs (esp if her husband happens to be brad pitt) ... but see, i dont know the whole story, neither do you, and even if we did, it's none of our bizzwax. it's such a pity that we -- the ordinary, normal, boring people -- easily envy folks like them, and if they mess up, we become a bunch of cackling fiends. take this article about a lottery winner whose life has turned topsy-turvy.

CHARLESTON, W.Va. - The wife of the lottery winner who took home the richest undivided jackpot in U.S. history says she regrets his purchase of the $314.9 million ticket that has thrust her family into the public spotlight.
"I wish all of this never would have happened," Jewel Whittaker told The Charleston Gazette for Tuesday's editions. "I wish I would have torn the ticket up."
Since winning the lottery two years ago, her husband, Jack Whittaker, has been arrested twice for drunken driving and has been ordered into rehab. He pleaded no contest Monday to a misdemeanor assault charge for attacking a bar manager, and is accused in two lawsuits of making trouble at a nightclub and a racetrack.
There have been several thefts involving Whittaker's vehicle, his office and his house in Scott Depot. One of the thefts occurred at his home in September on the same day an 18-year-old friend of Whittaker's granddaughter was found dead there. The death remains under investigation.
Last week Whittaker, 57, reported his granddaughter missing. Putnam County sheriff's Sgt. Lisa Arthur said the granddaughter is not considered a kidnapping victim.
Whittaker took his winnings in a lump sum of $113 million after taxes. He has donated more than $20 million to charity, said his lawyer, Norm Daniels.

money itself isnt evil. i wouldnt be coy if someone gave me a $$$ million right now. money is a blessing that comes from God. it becomes a bane because of unwise decisions. i just get so pissed off when some people judge swiftly: "That's probably the unfortunate situation of maybe having too much money, too much time on [Whitaker's] hands." ... aahh the scaremonger strikes again.

Wisdom is a shelter as money is a shelter, but the advantage of knowledge is this: that widom preserves the life of its possessor.
-- Ecclesiates 7:12
---
grinch flew with a wingperson on christmas
The Grinch (c) Universal, Donald Duck (c) The Walt Disney Co., Gepetto (c) The Walt Disney Co., Looney Tunes (c) Warner Bros.
On the second day of Christmas
my true love sent to me:
Two Turtle Doves
and a Partridge in a Pear Tree
grinch. flew. wingperson. christmas. doesnt make sense, does it? guess i've got a lot of explaining to do. i read three articles that i find interesting and i would like to start off with
how the politically correct grinch is stealing christmas
.
"Holiday trees" instead of "Christmas trees," "Season's Greetings" instead of "Merry Christmas." We seem to be editing Christ right out of Christmas and it is getting pretty ridiculous.
A New Jersey high school brass ensemble was not allowed to play Christmas carols at their annual concert, this year, even instrumentals, which made a lot of students and parents angry.
One female student said, "This is censorship at its most basic level, and political correctness to the extreme. You are supporting ignorance and I think it's very sad."Across the nation, Christianity is under attack by those who do not want religion in the public square.One Chicago school dropped the words "Merry Christmas" from a traditional holiday favorite, singing it as "We wish you a swinging holiday."A Christian church was told they could not enter a religious float in Denver's holiday "Parade of Lights." Many Americans are outraged at the growing trend that takes Christ out of the holiday that celebrates his birth.
-- Darla Sitton, CBN News Producer
as i wrote
here
, christmas is
not
about us. others think that
Holiday celebrations where Christian music is being sung make people feel different. And because it is such a majority, it makes the minority feel uncomfortable.
not everyone who belongs in the minority feels the same, dude...
one jewish parent says it is ok with him if his son plays Christmas songs in the ensemble.
another observed, "We need to look at the center. The center in this country is vanishing."
The virgin will be with child and will give birth to a son, and they will call him Immanuel -- which means, "God with us."The Word became flesh and made his dwelling among us. We have seen his glory, the glory of the One and Only, who came from the Father, full of grace and truth.
-- Matthew 1:23, John 1:14
NEW YORK - A British philosophy professor who has been a leading champion of atheism for more than a half-century has changed his mind. He now believes in God — more or less — based on scientific evidence, and says so on a video released Thursday.
-- Richard N. Ostling, AP Writer
he's talking about antony flew,
a famous atheist who now believes in God
.
At age 81, after decades of insisting belief is a mistake,
Antony Flew
has concluded that some sort of intelligence or first cause must have created the universe. A super-intelligence is the only good explanation for the origin of life and the complexity of nature, Flew said in a telephone interview from England.
Yet biologists' investigation of DNA "has shown, by the almost unbelievable complexity of the arrangements which are needed to produce (life), that intelligence must have been involved," Flew says in the new video, "Has Science Discovered God?"
Prometheus specializes in skeptical thought, but if his belief upsets people, well "that's too bad," Flew said. "My whole life has been guided by the principle of Plato's Socrates: Follow the evidence, wherever it leads."
although flew
only accepts a "minimal God"
, a God who is distant and doesnt show concern for his creation, at least, he now acknowledges the fact there really is a God -- and that's a start.
Not many of you were wise by human standards; not many were influential; not many were of noble birth. But God chose the foolish things of the world to shame the wise; God chose the weak things of the world to shame the strong. He chose the lowly things of this world and the despised things -- and the things that are not -- to nullify the things that are.
1 Corinthians 1:26-28
now on to the lighter side:
what first comes to mind when we hear the word "wingperson"? sound ludicrous? wait til you read the following paragraphs...
CHICAGO
- Two friends are at a party when one sees a potential love interest across the room. Immediately, the other friend swoops into action, making an introduction and helping to keep the conversation going — all so the buddy can score a phone number.
It's long been a ploy in the flirting arsenal. But now, those who ride shotgun for the sake of love have a name: They are the "wingmen" and "wingwomen" of the dating world.
"Every guy's gotta play the role of the wingman at some point in his life. It's the unwritten guy code," says Steve Dybsky, a 25-year-old Chicagoan who works in advertising and has been a wingman for friends — and had them do the same.
It's become such a popular concept that people are even posting ads online, looking for wingpeople to accompany them on a night on the town.
"If a guy talks to a girl, she knows she's being hit on," Forbes says, even if that guy is a wingman.
Jay O'Sullivan, a 28-year-old software developer in Montreal, can attest to the advantages of having a wingwoman along, especially with a group of guys.
"When you throw a woman into the mix, guys get competitive and try to be funnier," he says. "So the whole night just sort of takes off."
-- Martha Irvine, AP Writer
wow, how come i didnt know that?? frankly, i was surprised by the growing number of
singletons
who would go through hell and high water just to have someone to cuddle with on a cold winter weather. i dont have anything against this kind of arrangement ('though i wouldnt do it myself, honest!) -- if it makes people happy this christmas, go ahead and get a date with destiny. just make sure he/she isnt
alex forrest
reincarnate.
did you know...
Everything in the film "The Grinch" revolves around a swirl, the same as in the original drawings of the book. This includes the clouds. If you look closely at in several scenes, several times the initials "C.H.", "J.C.," and "R.H." briefly form as the clouds move. This stands for actor Clint Eastwood (Whobris), actor Jim Carrey (The Grinch), and director Ron Howard.
---
winning the heart of a virgin
The Aviator (c) Miramax
the start of my christmas countdown --
On the first day of Christmas
my true love sent to me:
A Partridge in a Pear TreeStanding 6-foot-1 and sporting a goatee and slicked-back hair, DiCaprio carries himself deliberately. He doesn't walk; he saunters. He speaks intensely, mulling his words while locking his eyes on you. He looks all of his 30 years, if not more. There's only a trace of the boy who starred seven years ago in the biggest box office hit of all time.
-- Scott Bowles, USA Today
o romeo, romeo wherefore art thou romeo? ...
i just had to say it, after all, leo dicaprio also played "romeo" in the 1996 version of
romeo and juliet
. i'm sure a lot of girls will swoon over him (including yours truly) after watching the not-yet-released-but-much-talked-about film
the aviator
. it is among AFI's (American Film Institute) list of 2004's top ten movies.
Both
[DiCaprio and Scorsese] may find redemption this year. Industry analysts are calling the film Scorsese's best work since 1990's Goodfellas, thanks in part to the director and actor having an unusual aging effect on each other.
But where to start - or stop - such a film? Hughes was as much a force in Hollywood as he was in aviation. He broke speed records while financing some of the industry's most expensive films, including the $4 million Hell's Angels in 1930. He was commandeering TWA while courting the film industry's biggest stars, including Ava Gardner, Jean Harlow and Katharine Hepburn.
Indeed, DiCaprio became obsessed with the part in a manner that might have made Hughes proud. He spent days with a man who had obsessive-compulsive disorder so he could observe the facial tics and mannerisms. He read a half-dozen biographies and watched hours of archival footage of the brash Hughes. He even insisted that Scorsese include a song by Django Reinhardt, a jazz guitarist from the 1930s, in the movie.
has anyone seen the real howard hughes? he was a splendiferously handsome philanthropist and hell-raiser.
In 1972,
Hughes
was approached by the CIA to help secretly recover a Soviet nuclear submarine which had sunk near Hawaii four years before. He agreed. Thus the Hughes Glomar Explorer, a special-purpose salvage vessel, was born. Hughes's involvement provided the CIA with a plausible cover story, having to do with civilian marine research at extreme depths. In 1974 the Glomar Explorer successfully raised the Soviet vessel, which yielded two nuclear-tipped torpedoes and some cryptographic machines.
Unfortunately though, during the recovery a mechanical failure in the grapple caused half of the submarine to break off, falling to the ocean floor. This section is said to have held many of the most sought after items. But despite the official report of the lost portion, much controversy surrounds this rumor. Some conflicting reports say that the entire submarine was recovered and that the CIA released disinformation to leave the Soviets with the impression that the mission was unsuccessful.
how could you not fall for this heaven sent, exquisite man, playboy though he was...
I think Howard thought of women the same way he thought of planes. He wanted the fastest thing, the newest model. That is not how I approach dating.
-- Leonardo DiCaprio
the story is fascinating,
a life too big for one movie
. i read an article on
virgins rallying to promote abstinence
, which i totally agree with but oh my goodness, it would take total self-control (and lots of praying!) to abstain from such men as hughes and dicaprio.
You know what it is like when you eat a young, unripe mango? That's right. It is very, very bitter.
-- Sam Ruboga
it didnt take too much coaxing on howard's part for some women to fall in-love with him, why should the moviegoers be exempted?
GATHER ye rosebuds while ye may, Old time is still a-flying : And this same flower that smiles to-day To-morrow will be dying.The glorious lamp of heaven, the sun, The higher he's a-getting,The sooner will his race be run, And nearer he's to setting.That age is best which is the first, When youth and blood are warmer ; But being spent, the worse, and worst Times still succeed the former.Then be not coy, but use your time, And while ye may go marry : For having lost but once your prime You may for ever tarry.
-- Robert Herrick
in select theatres december 17th, everywhere christmas day.
---
starry, starry night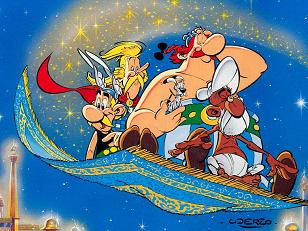 Asterix the Gaul (c) René Goscinny & Albert Uderzo
here's a good chance for people away from city lights to make a long wish list and feast their eyes tonight as the geminid meteors illuminate the skies with dazzling brilliance.
The
Geminid meteors
are usually the most satisfying of all the annual showers, even surpassing the famous Perseids of August. Studies of past displays show that this shower has a reputation for being rich both in slow, bright, graceful meteors and fireballs as well as faint meteors, with relatively fewer objects of medium brightness.
Geminids typically encounter Earth at 22 miles per second (35 kilometers per second), roughly half the speed of a Leonid meteor. Many Geminids are yellowish in hue. Some even appear to form jagged or divided paths.
The Earth moves quickly through this meteor stream. Rates increase steadily for two or three days before maximum. So over the weekend, viewers between midnight and dawn might see a shooting star every few minutes. The number of meteors drops off sharply after the peak. Renegade forerunners and late stragglers might be seen for a week or more before and after maximum.
The Geminids begin to appear noticeably more numerous in the hours after 10 p.m. local time Monday, because the shower's radiant is already fairly high in the eastern sky by then. The best views, however, come around 2 a.m. Tuesday, when their radiant point will be passing very nearly overhead. The higher a shower's radiant, the more meteors it produces all over the sky.
From Jimmy Westlake:
"Back in 1985, I was teaching and directing the Rollins Planetarium at Young Harris College at the base of Georgia's highest mountain peak, Brasstown Bald (Yes, Georgia has mountains!).
"The 4784-foot mountain often served as my private observation spot at night, as it did on the night of December 13-14, 1985 during the Geminid meteor shower. I aimed my tripod-mounted Nikon FE-2 camera toward the celestial pole and stopped down the lens to f5.6 for a 60-minute exposure. Several meteors flashed by during the hour, but none were bright enough to record at f5.6.Two airplanes, headed for parts unknown, left their silent trails across the film. The silhouette of the tower housing the Information Visitors Center and observation deck is visible atop the peak, 200 feet above me.
"After the hour-long exposure, I placed my gloved hand over the 50 mm lens, carefully opened the aperture ring to f1.8, and waited for 5 minutes. I then removed my hand from in front of the lens for a final 30 second exposure to punctuate each star trail with a bright dot. As fate would have it, during that 30-second interval, the brightest Geminid fireball of the night shot right across the center of the image! My main concern was not bumping the tripod as I jumped up and down in excitement!
"The result, as you can see, is a striking portrait of a Geminid meteor."
Take the advice of a man whose teeth have chattered on many a winter's night - wrap up much more warmly than you think is necessary.
-- Henry Neely, lecturer at New York's Hayden Planetarium
give yourselves 15 mins to adjust your eyes to the darkness, dont forget the hot cocoa/coffee to take the edge off the frost, a comfortable chair to sit on, and friends to watch with you and keep you awake. have fun stargazing!
---
a taste of new england
Eggnog Express (c)
The
Boyds Collection
east coast is where my heart is -- i love the crisp, cold air and the delightful faces that i am extremely fond of.
i enjoy the many advantages of living in a city. a friend invited us for brunch at an italian restaurant, and boy, was i stuffed! the salad was scrumptious, i ordered my favourite dressing (russian), and for dessert i had chocolate almond amore coated with italian gelato ice cream and bailey's irish cream. i really have so much to thank God for. and this i know, christmas is all about Christ coming to earth bringing hope to the future. i dont give a crap about political correctness (other states are trying to ban the word "Christmas", replacing it instead with, "Happy Holidays"), i laughed my head off when another friend said, and i quote, "Next it will be an androgynous thin Santa that can't say ho so as not to upset either sex, fat people or hookers... ha ha ha Happy 25th of the 12th just doesn't work for me."
i'm sharing a traditional holiday drink recipe that many of us would enjoy serving this christmas. cheers to my newborn nephew, isaiah, who weighs 9 lbs and is a helluva cute little darling!
New England Eggnog
This is, of course, the traditional Christmas party punch. Here, with ice cream thrown in, we suggest serving it as an after-dinner drink.
4 eggs
1/4 cup sugar
1/2 cup bourbon
1/4 cup dark rum
1 quart French vanilla ice cream, softened
1 cup whole milk
1 cup heavy cream
Nutmeg
1) Beat the egg yolks and the sugar until they are a mellow creamy yellow. Stir in the liquor, the soft ice cream, and the milk. Put the mixture in the freezer.
2) When ready to serve, whip the heavy cream and the egg whites. Fold into the mixture, thin with more milk if necessary, spoon into cups and sprinkle with nutmeg.
Serves 8 to 10
(
courtesy
The Little Big Book of Christmas)
In the bleak mid-winterFrosty winds made moan,Earth stood hard as iron,Water like a stoneSnow had fallen, snow on snow,Snow on snow,In the bleak mid-winter,Long ago.
Our God, Heaven cannot hold HimNor earth sustain;Heaven and earth shall flee awayWhen he comes to reign:In the bleak mid-winterA stable place sufficedThe Lord God AlmightyJesus Christ.
-- Christina Rossetti, A Christmas Carol
did you know...
The
first stockings
filled were of 3 poor girls, who had them drying by the fire,
and
The 12 Days of Christmas song was actually a secret message song.
---
[don't] ask men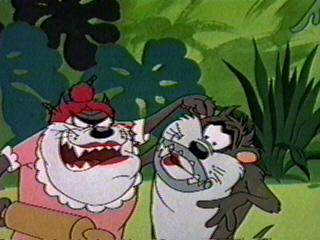 Taz (c) Warner Bros
ten "brilliant" gifts for us from
askmen.com
--
pissed off is NOT what i'm feeling right now, i'm beyond that! i am outraged by the insensitivity of (some) men whose gift ideas are unimaginative, careless, offensive, and downright cheap!
oh, but it's the thought that counts
-- cut the crap and spare me your sob story. you dont ever treat your girlfriend/wife like your 10 yr old niece or your fling... you give them the best you have, you brutes! i treasure every gift that people give me, anything to remember them by. but as for you guys, you had 11 months to save up for this, and the best you can come up with is a LINGERIE??? no wonder you dont score.
Buy Her Gifts for under $100
10) Glamour Magazine Subscription
If you have a friend who may become a potential bedmate, and want to show that you've been thinking about her, why not purchase a subscription of her favorite magazine? This gift is ideal for that new friend, a sister or even a colleague.
no potential relationship for this one, but that's ok, you can cry on your sister/friend's shoulder after your "girlfriend" has torn the first five pages with her bare teeth.
9) Wild OrchidUse the power of music to bring the magic back to your relationship. This holiday season, show her your romantic and rhythmic side by giving her the soothing sounds of Wild Orchid, The Best of The Gipsy Kings and George Michael.
if you really want to "bring magic back to your relationship", give her what she wants --
for herself
, not what you think you
both
would want. if you havent seen
love actually
, go and watch it, for crying out loud, and watch as karen bursts into tears when her senseless, nincompoop of a husband gave her what you're suggesting for christmas.
8) What Men Really WantSure you've got the looks, now impress her with your intellectual side by giving her a set of books worth reading. I recommend that you fill her stocking with these three books; What Men Really Want, Men are from Mars, Women Are from Venus, and Daily Word for Women: 365 Days of Love, Inspiration, Guidance.
ok, tell me you're just joking and we'll all forget about this! not only would you look like the stupid, cocky, egotistical, self-serving bastards that you are, but these gifts are
not
what women would want from their boyfriends/husbands!!! these are gifts we'd expect from girl-friends, sisters, and yes, even moms! her world doesnt revolve around you, so get that straight.
7) Francesco Biasia WalletGive her a new reason to never forget her wallet again, and maybe next time she'll even pay for dinner. This is a great gift for that special woman in your life.
do not, i repeat,
do not
embarrass yourselves further. if you have to give her a wallet, leave your credit card inside.
6) Arsho's Y-Two Picture FrameCapture the lasting memory of your love by giving her this beautiful aluminum base with glass frame, along with a picture of the two of you. Don't make the mistake of giving her a picture frame without a photo. The idea is to show her that you're thinking long-term.
yeah, right. personally, i prefer getting picture frames/photo albums from family & friends, but c'mon, from a boyfriend??? if the idea is to let her know that you're thinking long-term, give her an engagement ring.
5) Kosta Boda Blue Moon Candle HolderInvite yourself into her home with this elegant blue moon candle holder. Who knows, if you're lucky, you might even be invited to see the glowing flame inside her bedroom. It's customary to give two candle holders -- but that'll exceed your budget -- so just tell her that she'll get the second one after the two of you are married.
keep the damn candle. and no, you're not invited to come in.
4) Bouquet of FlowersA woman loves flowers, especially when they're delivered unexpectedly to her place of work -- where she can show them off to her colleagues. White lilies are the ideal gift for a friend. If she's your lover, then add the vase and a box of chocolate truffles to melt her heart.
that is just for ordinary days, we're talking about christmas, c'monnn!
3) Cultured Pearl PendantConsider this the little I was thinking of you gift. Normally, this one would top the list. Unfortunately, to score high with jewelry, you have to spend a little more than one hundred dollars. This beautiful pendant is the perfect gift to adorn that special woman in your life with.
i understand that you have a fixed budget, but i just wonder... how come you guys, can afford your own luxury items, e.g. an xbox that costs more than a hundred bucks???
2) Lingerie: Velvet Knit Sarong SetWomen love clothing, so if you're going to buy her some, you may as well buy her something that she will appreciate and you will enjoy at the same time. As long as it fits comfortably, and doesn't make her look ridiculous, you can never go wrong with lingerie.
ok, this is the kind of gift i would throw to the dogs!
joan
would definitely agree that it is the most unoriginal, most selfish piece of holiday trash that you could
ever
come up with! give something to cover her not expose her, asshole!
1) Chocolate DelightsIf the way to a man's heart is through his stomach, then exotic chocolate is the way into a woman's panties. No woman can resist the magic lure of delightful chocolate treats. Send your woman a box of her favorite candy and you'll be rewarded tenfold.
funny, i just blogged about
chocolate
yesterday... but you know what guys, we can buy our own chocolates, thank you. chocolates are
not
for scoring. we have our friends & other loved ones to supply us with ballotin boxes of godiva, you however, will just have to go to the
nearest store
and buy us a
real
present for putting up with you.
now, if you truly want shopping suggestions,
this is how it really works
.
you scums wear me down.
---
All entries and pen and ink drawings are protected under U.S. copyright and other laws and are the property of C. Sophia or the party credited as the provider of the content.