sophie's tales for tiny tots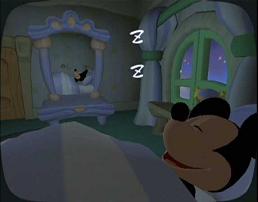 Mickey (c) Walt Disney Co
i would rather my baby cousins read these than watch scary tv.
Half Baked Stories
,
Nick by Night
,
The Tale of Peter Rabbit
,
The Velveteen Rabbit
to the
little
gentleman, jacob, whom i may never see again.
Why are there so many songs about rainbows And what's on the other side?Rainbows are visions, but only illusionsAnd rainbows have nothing to hideSo we've been told, and some choose to believe itI know they're wrong, wait and seeSomeday we'll find it, the Rainbow ConnectionThe lovers, the dreamers, and me.Who said that ev'ry wish would be heard and answeredWhen wished on the morning star?Somebody thought of that, and someone believed itLook what it's done so far.What's so amazing that keeps us star gazingAnd what do we think we might see?Someday we'll find it, the Rainbow ConnectionThe lovers, the dreamers, and me.All of us under its spell,We know that it's probably magic.Have you been half asleep and have you heard voices?I've heard them calling my nameIs this the sweet sound that calls the young sailorsI know it's one and the sameI've heard it too many times to ignore itIt's something that I'm s'posed to beSomeday we'll find it, the Rainbow ConnectionThe lovers, the dreamers, and me.
dst ends, trick-or-treat begins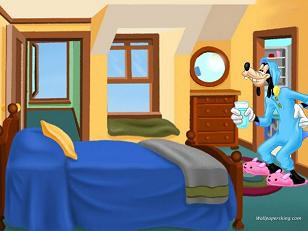 Goofy (c) Walt Disney Co
At 2 a.m. on October 31, groggy Americans will turn their clocks back one hour, marking the end of Daylight Saving Time (DST). But for others around the world (and in Indiana) things aren't that easy.The federal law that established "daylight time" in this country does not require any area to observe daylight saving time. But if a state chooses to observe DST, it must follow the starting and ending dates set by the law which since 1986 have been the first Sunday in April to the last Sunday in October.--
John Gettings
which means, i still have oh, about half an hr to dillydally before i coax myself to sleep. anyhoo, here are some interesting facts about countries around the world that observe DST in some form.
In Canada, every province except Saskatchewan observes
DST
. It remains on standard time all year long.
It wasn't until 1996 that our NAFTA neighbors in Mexico adopted DST. Now all three Mexican time zones are on the same schedule as the United States.
Also in 1996, members of the European Union agreed to observe a "summer-time period" from the last Sunday in March to the last Sunday in October.
In the winter months, Russia, which spans over 11 time zones, is always one hour ahead of standard time. In the summer, Russians turn their clocks ahead one more hour.
Most countries near the equator don't deviate from standard time.
In the Southern Hemisphere, where summer arrives in what we in the Northern Hemisphere consider the winter months, DST is observed from late October to late March.
Three large regions in Australia do not participate in DST. Western Australia, the Northern Territory, and Queensland stay on standard time all year. The remaining south-central and southeastern sections of the continent (which is where Sydney and Melbourne are found) make the switch. This results in both vertical and horizontal time zones Down Under during the summer months.
China, which spans five time zones, is always eight hours ahead of Greenwich Mean Time and it does not observe DST.
There is no DST period in Japan either.
so, before i shut up and pass out, i'm sharing a little bit of halloween history... ok, not
just
a
little bit, but nevertheless
, still
very
intriguing.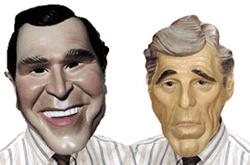 Bush & Kerry Halloween political masks
Hundreds of years before the birth of Christ, the Celts, inhabitants of Britain and Ireland, observed a festival on October 31.
Unlike modern-day Halloween, theirs was no children's holiday. The Celts and their priests, the Druids, celebrated Samhain, a festival that marked the eve of the Celtic New Year, which began on November 1.
The fall harvest was complete and the winter loomed ahead. The Celts believed the power of the sun was fading. For the next several months, darkness would prevail.
The Celts believed that during Samhain the veil separating the living from the dead was at its thinnest. They believed that on the evening of October 31 evil spirits and the souls of the dead passed through the barrier and entered the world of the living. Departed family members would revisit their earthly homes.
The thought was frightening – and exciting!
The Celts believed these spirits and dead souls could torment the living. Crops might be destroyed, babies stolen, farm animals killed. But this was also an opportunity to commune with the spirits – and divine the future. The devil, the lord of darkness, was ordinarily feared, but during Samhain, his power would be called on to foretell the future.
The Druids were charged with appeasing the goblins and preventing harm to the people. Huge Samhain bonfires were lit to guide the way of the spirits. Various sacrifices – including human – were performed to assure a good year.Several ancient authors commented on the gory religious rites of the Druids.It is believed that, like many pagan cultures around the world, the Celts left food out for the spirits, hoping that a "treat" would prevent an evil "trick."Centuries later, descendants of the Celts continued to observe the Samhain festival by dressing as evil spirits. They roamed from house to house demanding food in exchange for the "spirits" leaving the home unharmed. They carved demon faces in hollowed-out turnips and lighted them with candles.That night, they also practiced many customs designed to divine the future. Young people roasted nuts in Samhain fires to see which would crack first – and tell them who they would marry. The person who retrieved the apple by his mouth from a tub of water was assured of a lucky year. Obviously, some of these customs (like "apple bobbing") have remained with us, strictly as amusement.

When Christianity began to spread through Europe in the third and fourth centuries, the pagan temples were torn down. But pagan worship never completely disappeared. The festival of Samhain remained a primary pagan festival.Belief in spirits may have waned, but many of the old Samhain traditions continued to be practiced – especially by the children. Primarily in Ireland, children dressed as spirits went from house to house demanding a treat. If they received none, they performed an unwelcome trick. They were play-acting the part of evil spirits that had to be appeased, just as in the old Samhain festival the people believed they really did have to appease spirits. In the 700s, the Church decided to combat this festival by replacing it with a celebration of the Lord of life. Instead of honoring evil spirits and the souls of the dead, the Church chose to recognize the saints – or hallowed ones – who had lived godly lives. The Church seemed to be saying, "All right, if you must have a day to celebrate the dead, then celebrate those who died and are now with the Lord."So November 1 came to be called All Saints' Day, also called All Hallows' Day. The evening before was called All Hallows' Evening. From that, we get the modern name of Halloween.But pagan customs continued. And with the growth of witchcraft in the Middle Ages, additional symbols became associated with Halloween – black cats, witches, bats, and skulls.

Witches and Satanists are, of course, a small minority. Few people who celebrate Halloween these days ever think about the darkness that underlies most Halloween practices.A beaming child dressed in a black pointed hat and matching gown -- with a wart carefully drawn on her nose and trick-or-treat bag held tightly in her hand -- is hardly thinking of death or the spirits of departed relatives. Nor should she be.She's thinking of candy and fun. She's glowing because of her delight in her special costume. And she's anticipating the adventure of her house-to-house pilgrimage.Merchants also look forward to October 31. The sale of candy, costumes, decorations and party goods make Halloween one of the major retail seasons of the year.Sure, no one can deny children or adults all the Halloween fun simply because of its unsavory history. Can there really be anything wrong with this lighthearted revelry?Does the Bible have anything to say about celebrating Halloween?In Corinth, meat that had been sacrificed to idols was sold in the market. People who bought it then ate it in honor of that particular pagan god. Speaking of his freedom to eat food that a pagan had dedicated to an idol, the apostle Paul said, "Everything is permissible" (1 Corinthians 10:23). After all, he didn't believe the pagan gods really existed.If we apply Paul's statement to the celebration of Halloween, then one could argue that Christians can dress in ghostly costumes and practice the traditions that have been passed down from the ancient Celts. After all, the supernatural powers they tried to appease don't have power over those who belong to Christ.The Bible says that Jesus destroyed the power of death when He went to the cross. By Jesus' death and resurrection, anyone who gives his or her life to Jesus doesn't need to fear evil.But Paul didn't stop with a statement of his freedom. He said, "Everything is permissible" -- but not everything is beneficial" (1 Corinthians 10:23).It is in this light that Christians need to examine how to observe Halloween.
hmm... it seems political masks are a hit among the kids... whoa scary!
goodnight, sleep tight, dont let the bed bugs bite.
---
harvard chipmunks
Chip & Dale (c) Walt Disney Co
what a glorious day! not even the kerry campaign (visible everywhere now -- on people's hats, bags, coats and yes, even strollers) could dampen my spirit. it was déjà vu getting a glimpse of the autumnal park. the feeling was very much like the one I had the first time I walked in the Yard, revelling in the poignancy of the day... when i noticed a couple of chipmunks rolling on the ground, playing. boy, were they having the time of their lives... i thought, if i were to grab someone and wrestle them to the ground, it wouldnt be cute at all. those harvard chipmunks were certainly making the most of their cuteness. lucky chaps.
i really couldnt resist giving them nuts. which chipmunks/squirrels hoard. sounds scroogey, but that's part of nature's grand design -- their stashes help preserve the world's ecosystem.
now, if only the pigeons werent so aggressive. they flew towards us, one right in my face. i was petrified (i saw hitchcock's
the birds
). i shrieked, breaking the day's poetics... i must have really hit the high note because everyone stopped what s/he was doing/thinking, and stared. but that's for another posting.
did you know...
One reason
squirrels
come to the ground is to bury and retrieve food. In the fall you can often see them digging small holes in the ground called caches, into which they deposit food, especially nuts and acorns. They may cache thousands of nuts and acorns during a season. On warm days throughout the winter, then, when food is scarce, the squirrel descends to the ground and digs up its treasures. Many nuts and acorns are never retrieved, so they sprout in the spring, and develop into trees. Thus one important job the squirrel does in the ecosystem is to plant trees.
---
let's go, red sox!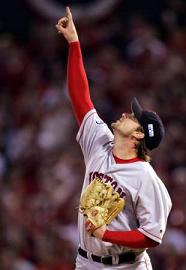 Boston Red Sox Derek Lowe (c) Reuters
my best friend called 2 minutes before 8 to remind me that the hit tv show, "
lost
" would be on in a couple mins. i knew that the world series would be on at the same time and wanted to scare him by telling him i'd rather watch the game. but i have a heart so i didnt say anything. (as if by rooting for the red sox, i could jeopardize the whole thing!)
anyway, two reasons why i'm glad:
a) at long last, there's a tv show (that isnt a
reality
show) where
real
actors know how to restrain themselves on camera. reality show stars are the worst actors in television history.
lost
may be the dark version of gilligan's island, but reality shows definitely scare the hell out of me. i mean, how can you
not
act when the camera is focused on you?
b) at long,
long
last the red sox won the world series for the first time in
86 years
! imagine that. actually, i wanted to tell my best friend that i had a feeling his favourite team would win but i zipped my mouth about it (didnt want him to have seizures over that).
the boston red sox, ridiculed and humiliated since their last win in 1918,
defeated their mortal enemy, the new york yankees
then beat the st. louis cardinals (owners of the best record in baseball) taking their first crown in 86 yrs.
I'm so happy. I'm happy for the fans in Boston, I'm happy for Johnny Pesky, for Bill Buckner, for (Bob) Stanley and (Calvin) Schiraldi and all the great Red Sox players who can now be remembered for the great players that they were.
-- Curt Schilling, pitcher
nailing the title with a 3-0 game 4 win, the 2004 world series is one unforgettable event for the red sox and their fans. cbn news interviewed a couple red sox players who were so candid about their faith in God, not only hoping but truly believing that they'd win.
We know people who are 90 years old who have just said: 'Just one championship before I die'.
-- Tom Werner, Red Sox chairman
cheers to the boston red sox and all the fans who can sleep like a
babe
now that it's over.
All of our fans have waited all their lives for this night, and it's finally here. These guys did it for you, New England.
-- John Henry, Red Sox owner
hodgepodge philosophy
Wile E. Coyote (c) Warner Bros
"Thank you, Red Sox!" fans chanted their neverending gratitude as the red sox finished the game with a jaw-dropping victory last night. i was laughing my brains out over these comments (left on
dean
's blog):
At long last, no more complaining about a curse...
Perhaps the Cubs fans can have their turn soon.
-- Final Historian
Chicagoans will officially be able to say they are the
world's most frustrated baseball fans.
-- Dean Esmay
Go go go!
-- John Irving
2 outs left... c'mon Sox!
-- John Irving
YEEEHAAA!!!!!!!
4 game sweep, yeah!
-- John Irving
Finally, Bostonites can stop with the carping.
-- Final Historian
now this one's my personal favourite:
After waiting for only 50 years for this, I'm certainly
pleased.
But the best part is:
The Universal Law of Karma
Only one group of Boston idiots gets to win the big one in any given year. Thus, JF Kerry will have to postpone his inauguration for another, oh, 86 years! Now THAT rocks!
-- Hatcher
I was watching Dennis Miller last night and he summed up how he felt about the "curse". Iparaphrase:
"Boston, you weren't cursed when you traded the Big
Bambino to the Yankees. It's just that for the past
86 years you've sucked!"
It was awesome.
-- Kevin D
Hatcher: I hope that law holds true :-)
-- Dean Esmay
Well my father will be pleased. I bet the ambulance
services were very busy in Massachusetts last night.
-- Andrew Ian Dodge
There are baseball fans left in Chicago after all these despairing decades? (How quaint. Like turning up a 160 year old civil war veteran.)
-- Arnold Harris
As a St. Louisan and homer galore I can't say the sweep made me happy, as a matter of fact it miffed
me to all get out. I can say this though if anyone was to be able have the joy of victory while I was tasting
defeat I am happy that it was Boston. Long awaited and now it's over. It will be interesting to see how they handle "winner" status now. Without the curse
against them and the loveable loser tag the whole
city may implode.
Besides, it also opens the possibility for me to make
fun of the Cubs fans more.
-- James Doney
---
my man, henry
Sir Laurence Olivier's The Chronicle or King Henry the Fift with His battel Fought at Agincourt in France, 1944
Then we call this field of Agincourt,Fought on the day of Crispin Crispianus.
-- Henry V Scene Vll
october 25th is st. crispin's day. i was looking forward to this date so i could talk about my man,
henry.
i was a day late, though. the english still celebrate st. crispin's every year for henry V's miraculous win at agincourt against france in 1415. shakespeare immortalised him in 1599 to the delight of his then audience, queen elizabeth I.
Come, go we in procession to the village.And be it death proclaimed through our hostTo boast of this or praise from GodWhich is his only.
-- Henry V Scene Vlll
responses to the play are shaped by the times. by people who view war as just or unjust. the playwright, too, had been subject to criticism, to suggestions that the nationalistic interpretation of henry V was to please the queen at the time. i do not claim to be a writer. i do not claim to be a critic. i read as i am moved. by words and by the images they conjure.
Now, fie upon my false French! By mine honour, intrue English, I love thee, Kate: by which honour Idare not swear thou lovest me; yet my blood begins toflatter me that thou dost, notwithstanding the poor and untempering effect of my visage. Now, beshrewmy father's ambition! he was thinking of civil warswhen he got me: therefore was I created with a stubborn outside, with an aspect of iron, that, whenI come to woo ladies, I fright them. But, in faith,Kate, the elder I wax, the better I shall appear:my comfort is, that old age, that ill layer up ofbeauty, can do no more, spoil upon my face: thouhast me, if thou hast me, at the worst; and thoushalt wear me, if thou wear me, better and better:and therefore tell me, most fair Katharine, will youhave me? Put off your maiden blushes; avouch thethoughts of your heart with the looks of an empress;take me by the hand, and say 'Harry of England I amthine:' which word thou shalt no sooner bless mineear withal, but I will tell thee aloud 'England isthine, Ireland is thine, France is thine, and HarryPlantagenet is thine;' who though I speak it beforehis face, if he be not fellow with the best king,thou shalt find the best king of good fellows.Come, your answer in broken music; for thy voice ismusic and thy English broken; therefore, queen ofall, Katharine, break thy mind to me in brokenEnglish; wilt thou have me?
-- Henry V Scene ll
love, too, is a form of heroism. it is what gets us through a war.
Do we all holy rites; Let there be sung 'Non nobis' and 'Te Deum;'The dead with charity enclosed in clay:And then to Calais; and to England then:Where ne'er from France arrived more happy men.
Exeunt.
-- Henry V Scene Vlll
Non nobis, Domine, non nobis,sed nomini tuo da gloriam,sed nomini tuo da gloriam.Non nobis, Domine.Not to us, O LORD, not to usbut to your name be the glory,because of your love and faithfulness.
-- Psalm 115
the miraculous military victory commemorated in 'non nobis' is the core event of salvation in the bible, the model of all of God's interventions in human history.
there is honour for the king and the playwright who honoured their God.
did you know...
The scene with Henry V (Kenneth Branagh) carrying the body of his dead page has been named as #84 on the Observer's February 6, 2000 list of Cinema's 100 most Memorable Moments.
---
cracker jacks & tiffany's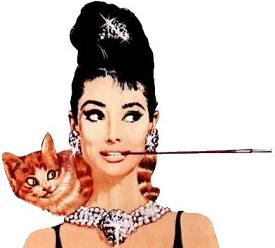 Audrey (c)
Yale Diva
Moon River, wider than a mile; I'm crossing you in style some day. Oh dream-maker, you heartbreaker, Wherever you're goin', I'm goin' your way. Two drifters off to see the world; There's such a lot of world to see. We're after the same rainbow's end... Waitin' 'round the bend... My huckleberry friend, Moon River... and me...
breakfast at tiffany's must be "fabulous", provided your date isnt another hollywood
mongrel (or is it mogul?), but a
paul varjak
who gives you an engagement ring from a cracker jack... of course, i'm not breakfasting outside tiffany's right now and no hollywood
mongrel
around to treat me out. it's a normal early morning and i havent slept yet. why? besides curing my insomnia by watching movies in the wee small hours of the morning, my mind has been on other stuff, too. i was very guilty about not keeping in touch with friends especially when it was pointed out to me by an upset buddy. but there are times when we all need a breath of air -- even away from people we care about -- i mean, has anyone felt the same? i think it's a phase that everyone goes through once in a while. how can one explain it without actually being redundant or offensive to the person who means a lot? well, that's just one of the things going through my head, the other is,
movies
. and i'm not talking about cheap, lousy, stinky films -- movies boring and/or disgusting enough to make the jaws lock (take michael moore's fahrenheit 9/11, for instance). i'm almost positive that moore cackles everytime his movie is mentioned, poor review or not, it's free advertising, so forget that. anyhow, i think that watching a good movie at home where you can curl up and pig out is way better than going to the movie theatre where you might end up arguing with cacofonix sitting three rows behind you.
our generation is big on special effects but usually the synopsis just stinks. there are definitely modern-ish
classics
still but very few actors that can truly
act
. i'm amazed at times when i realise that the movie i am watching for the first time is actually a remake. i dont mind, though, as long as the copycat is as good or even better than the original, take for example, mel gibson's "ransom", the original was filmed in 1956 with the same title.
the audience has become more sophisticated through decades that filmmakers concentrated more on special effects rather than the story line. screenwriters, it's time to bring out the axelrod or mankiewicz (joseph, herman, or tom) in you. it doesnt matter if the movie is lowbudgeted as long as the story is excellent, it would be like a tiffany diamond pulled out of a cracker jack box.
top 5 recommended modern-ish classics to watch in random order:
Glory (1989)
The Shawshank Redemption (1994)
Le Fabuleux destin d'Amélie Poulain (2001)
Dead Poets Society (1989)
Donnie Brasco (1997)
did you know...
When Indy (Indiana Jones and the Last Crusade) is at Walter Donovan's, his wife enters the room begging Donovan to join the party, in the background the Star Wars (1977) theme commonly dubbed Storm Trooper march can be heard in the background being played on a piano.
---
the luck of the bambino
i'm back... with a vengeance (like the red sox). i feel that i have
hybernated
enough, i was a little irresponsible and kinda got caught up with the events in my life that i set aside my blog and just posted what i wanted without thoroughly exercising my brain (thoughtlessly putting my readers to sleep).
so, what better way to warm up my brain than to start off with the boston red sox?... yea, you go, you sexy thing!
no amount of chanting, or cursing could stop the red sox. "it was the greatest comeback in baseball history", red sox owner john henry said.
yankee fans were stunned as the greatest night drew to a close. wearing a t-shirt with a logo
"Hey Red Sox... who's your daddy?"
--
and screaming it, didnt help the yankees to tie the score. and i guess, since halloween is just around the corner, yankee fans wanted to scare off the red sox "reminding" them of the curse of the bambino with babe ruth's life-sized pictures held in midair.
Nothing whacky happened. No ball through someone's legs, no errant throw, no sudden breeze from the supposed ghosts of Yankee Stadium. Just a simple throw by Pokey Reese to first and the Red Sox were the American League champions.
-- Steve Wilstein
well, it seems the curse is finally broken, and about time. people were talking and already theorizing on the eve of the game. on my way home, i said a little prayer that God must've heard, i prayed the red sox would win.
May the Lord grant all your requests.
-- Psalm 20:5
i almost felt sorry for the bewildered yankees as the boston red sox turned history on its head for the very first time after decades of losing. almost, but not quite. after all, the yankees had instilled so much heartache and pain among the boston fans and team players for such a long time that the torture has got to end... and it did end last night with the "evil empire" crumbling before their fans' very eyes.
All empires fall sooner or later.
-- Larry Luchino, Boston president
the red sox was to become the first major league team to overcome a 3-0 postseason series deficit. the feared yankees (already humbled after
game 7 in a 10-3
shocker) watched the red sox hugging and leaping on each other on the mound.
They had a lot of heart. They never gave up. That team never dies. I give them a lot of credit.
-- Brian Cashman, Yankees general manager
now that the babe's team has been defeated by no less than the red sox, boston has a fairer chance to reverse the curse and turn it into luck, win the world series for the first time since 1918 and make the hub's joy complete. i can almost hear my best friend, a die hard red sox fan, agreeing with me. when he learned that i was watching the game, he asked me to watch a movie, instead. when i told him the red sox would win, he stressed out that i also said that last year about the red sox and they lost -- and almost hung up on me. i simply replied, "that was a fluke. the red sox will win."
hey joe... who's your lucky charm now, huh?
Boston blew away decades of defeat with four sweet swings. Believe it, New England, the Red Sox are in the World Series. And they got there with the most unbelievable comeback of all, shaming the New York Yankees, the Evil Empire to the south.David Ortiz, Johnny Damon and Derek Lowe made sure of that.
-- Ronald Blum
did you know...
the 1948 film "The Babe Ruth Story", was rushed for release while Babe Ruth himself was still alive, which is why the movie ends the way it does. Ruth died shortly after the premiere, which he attended.
and
The scene at Yankee Stadium was shot hours before the real game was scheduled, and Babe came from his death bed to see it.
---
orchard symphony in red
Still Life lV (c) P. Chaban-Raget
if it's not milkshake, it's cider for me (otherwise, there's good ol' H2O). and since cider day draws near, i'm sharing a brief history of cider and a couple of mouthwatering recipes that can be served over the holidays.
History of Cider
Hard cider became the traditional drink of New England not long after the first settlers arrived.
Then and until recently, "Cider" meant "hard cider". Legally it still does. It was on the table with meals in town houses and farm cottages. Presidents and farm hands drank it. Cider was traded between countryside and town. Orchardists looked for apple varieties suited for cider. The apples were then pressed in the neighborhood, put in casks and brought to the cellar to ferment and age. Our farm neighbors still carry on this tradition.
Cider is a world wide tradition.
In France the traditional cider is light and sparkling and is poured from a champagne bottle. The complex ciders of the Basques and Asturians in Northern Spain come in a corked wine bottle. In England the traditional ciders are kegged like a beer and served on tap at the local pub.
In this country the cider tradition is being renewed. Cider can be found on tap, in six packs, and in wine bottles. Cider is flowing from large scale producers as well as the cellars on New England farms. It is made from generic apple concentrate as well as carefully selected fruit from varieties grown especially for cider. It can provide cool fruity refreshment on a hot afternoon, or complement fine food.
Cider is not wine and it is not beer.
Like wine it is fermented from fruit and can capture the complex flavors of fruit. Like beer, cider has under six or seven percent alcohol and tastes best with some sparkle. It is different from both: a unique beverage. Because of the lower alcohol it is much less intense than wine. To expect the mouth feel of wine when tasting cider ends in disappointment. The smooth taste of grain based beer is contradicted by the aggressive tang of the apple based cider.
What are the characteristics of a good cider?

In Spain, France and England they will tell you with certainty and pour a glass of their local cider to demonstrate. The tastes are wildly different. The only clear guide is that there are different styles and traditions with new ones emerging.
There is the same variety in the making of cider. The scale ranges from an orchardist with a cellar full of barrels to large scale production facilities. The technology ranges from medieval to Victorian to state of the art. Underlying this is the same dictum that winemakers use: it takes good fruit to make good cider. The future in this country is exciting as both orchard-based artisans and large-scale producers experiment with new technique, and orchardists plant traditional and newly developed varieties.
Saturday and Sunday November 6 & 7, 2004
10th Annual Franklin County Apple & Cider Day
Cider Apple Wine
1 gallon fresh pressed cider or apple juice, no preservatives
1 quart water
1 1/2 lbs. sugar or 2 lbs. honey
1 tsp. acid blend (1/2 tsp. if apples are tart)
1/4 tsp. tannin
1 tsp. yeast nutrient
1/2 tsp. pectin enzyme
1 Campden tablet, crushed (optional)
1 packet champagne wine yeast
Put aside 1 quart of the apple juice or cider to drink later. Put the water mixed with the sugar or honey on the stove to boil.
Now pour the hot sugar water over the apple cider. You can do this in a secondary container if you use a funnel and are careful. The cool cider will bring the temperature down quickly. Add the acid, tannin, and yeast nutrient, but wait until the temperature comes down to add the Campden tablet if you choose to. Cover and fit with an air lock. Twelve hours after the Campden tablet, add the pectic enzyme. If you don't use the tablet, then merely wait until the must cools down to add the pectic enzyme.
Check the PA (Potential Alcohol) and write it down. It should be within a reasonable range (10 to 13 percent, depending on how sweet the cider was).
Twenty-four hours later, add the yeast. Stir daily for about two weeks. Check the PA. When it is down to 3 to 4 percent, rack the wine into another glass fermenter.
Rack at least twice during the secondary fermentation. It might take a while to clear. Keep for at least six months. Serve chilled.
from
The Joy of Home Winemaking by Terry Garey
Apple Salad with Blue Cheese Croutons and Cider Dressing

2 slices French bread, cubed (about 1 1/2 cups of 1/2-inch cubes)
2 tablespoons olive oil
4 ounces blue cheese
3 tablespoons unsalted butter
1/2 cup walnut pieces
1 tablespoon light brown sugar
1/4 teaspoon Essence, recipe follows
2 medium sweet apples, such as McIntosh or Fuji, cored and thinly sliced, with the peel on
5 tablespoons soft apple cider
1 tablespoon plus 1 1/2 teaspoons apple cider vinegar
1 teaspoon Dijon mustard
1/2 cup canola oil
1 tablespoon minced shallots
1/4 teaspoon salt
Pinch ground black pepper
6 cups mesclun
1/4 pound prosciutto or Serrano ham, thinly sliced then shredded
Preheat the oven to 350 degrees F.
In a bowl, toss the bread with the olive oil. Add 3 tablespoons of the cheese and a pinch of salt and pepper and toss to coat the bread evenly.
Place on a baking sheet and bake until browned, stirring occasionally, 10 to 15 minutes. Remove from the oven.
In a skillet, melt 1 tablespoon of the butter over medium-high heat. Add the walnuts and cook, stirring, until fragrant and lightly toasted, 2 to 3 minutes. Add the sugar and Essence, and cook, stirring, until the sugar is caramelized and the nuts are evenly coated, about 2 minutes. Remove from the pan and spread on a waxedpaper lined plate. Separate with a fork and let cool.
Add the remaining 2 tablespoons of butter to the pan and add the sliced apples. Cook, stirring, until lightly caramelized on both sides, about 5 minutes. Remove from the pan.
In a small bowl, whisk together the apple cider, vinegar, and mustard. Slowly drizzle in the oil, whisking constantly until it emulsifies. Add the shallots, salt, and pepper, and adjust the seasoning, to taste.
In a large bowl, combine the lettuces, prosciutto, and croutons and toss with enough dressing to lightly coat. Adjust the seasoning, to taste. Place the apples in a small bowl and add enough dressing to coat.
Divide the lettuces among 6 salad plates and arrange the apple slices on top. Sprinkle the walnuts and remaining cheese over the apples. Sprinkle with freshly ground black pepper and serve.
Essence
(Creole Seasoning)
2 1/2 tablespoons paprika
2 tablespoons salt
2 tablespoons garlic powder
1 tablespoon black pepper
1 tablespoon onion powder
1 tablespoon cayenne pepper
1 tablespoon dried leaf oregano
1 tablespoon dried thyme
Combine all ingredients thoroughly and store in an airtight jar or container.
Yield: about 2/3 cup
Recipe courtesy
Emeril Lagasse
---
a pine hope chest and a potpourri of precious memories
sweet 16 started off quite remarkably. that was when i seriously started collecting mementoes. memories of my childhood were packed away in the small chest that my grandmother's sister gave me. in that chest were bits and pieces of what i liked and hoped to be.
All the officials and all the people brought their contributions gladly, dropping them into the chest until it was full.
-- 2 Chronicles 24:10
long time ago, a groom pays a "dowry" or "bride price" to the bride's family in return for her hand. a daughter was an asset and an integral part of the family, so to cope with the loss of a daughter, the family would need some form of comfort. the "dowry" a groom paid would help her family to hire someone that would fill in their daughter's work.
If Isabella wept in the privacy of her chambers for the loss of her son, she represented the face of an indomitable queen to the world. At the height of her grief, she prepared to surrender another child for the glory and prestige of Spain.Henry Vll was still eager for the betrothal of his son and heir, Arthur, to Catalina. The dowry was finally agreed upon:200,000 crowns, half of which would be paid on the wedding day, 50,000 to be paid six months later and 50,000 within a year, the latter payment made up of 15,000 in cash and jewels and the remainder in plate valued at 35,000 which Catalina was to bring with her.On Whitsunday, 1499, Catalina and Arthur were married by proxy with the Bishop of Coventry and Lichfield representing the Prince and Dr. Rodrigo de Puebla the Princess. Catalina was nearly fourteen and Arthur thirteen.
-- Catherine the Queen by Mary Luke
centuries later, the customs and manner of dowries changed. although it's hard to say at what point this changed, after 1000 A.D., references show that the bride's family was no longer paid for the bride, but that the bride took with her a dowry (her inheritance) of either money, land, material possessions, or even all three.
It is not hard to imagine how the hope chest idea grew out of the custom of the dowry. Young girls realized the part money and possessions played in winning a husband. Thus in Rumania, for instance, girls begin at a very young age to make their bridal finery and the linen they will require for their homes. It was even customary, at one time, for the bridegroom to examine these trousseaux and determine whether or not they were complete. The choice of the bride depended in many cases upon the value of her outfit.
-- The New Etiquette, 1924
the hope chest became the symbol of the parents' love and concern for their daughter's future; in it were items wrapped and meticulously packed, set aside for the time when their daughter moves into her new home.
The old-fashioned trousseau was planned by indulgent fathers and zealous mothers to last a lifetime. It included stout linens and embroideries that would give a generation of service without showing signs of wear, laces and brocades intended for household possessions to be handed down from mother to daughter, velvets for winter draperies and sheer fabrics for summer curtains. Even people in modest circumstances felt it their duty to outfit their daughters for marriage so that they would not find it necessary to purchase a napkin or towel for years.
-- The New Etiquette, 1924
i remember being fascinated by the wonderful odd things that were lovingly kept in my grandmother's belle armoire. i would longingly gaze at the souvenirs that my grandmother must have acquired when she was younger. my own hope chest continues to preserve my potpourri of childhood treasures and trifles. it's probably not an appropriate bridal trousseau, but it embodies a tradition of hope and love that i would want to pass on to my future granddaughters and great-nieces.
If you would preserve your children from the pernicious influence of indolence and all its corrupting tendencies, you must be earnest in purpose, active, energetic, and fervent in spirit. Earnestness sharpens the faculties, indolence corrodes and dulls them. By the former we rise higher and higher, by the latter we sink lower and lower. Indolence begets discontent, envy and jealousy, while labor elevates the mind and character. Cultivate in your children habits of thought which will keep their minds occupied upon something that will be of use or advantage, and prevent them from acquiring habits of idleness, if you would secure their future well-being.
-- Our Deportment by John Young, 1881
collecting is a great hobby. it keeps us physically and cerebrally active. it is a continuation of the interests we developed at an early age. my friend's watercolour painting, my artworks and calligraphy, the clay pots and spoons, and my miniature china teaset were all part of my hope chest collection. maybe unconsciously, i was really preparing for the future.
And Jacob loved Rachel: and said, I will serve thee seven years for Rachel thy younger daughter. And Laban said, It is better that I give her to thee, than that I should give her to another man; abide with me. And Jacob served seven years for Rachel; and they seemed unto him but a few days, for love he had to her.
-- Genesis 29:18-20
---
dream a little dream of me
Dear Felicity,
Here it goes. I watched you for four years, always wondered what you were like, and what was going on in your mind all that time when you were so quiet, just thinking. Drawing in your notebook. I should've just asked you, but I never asked you. So now, four years later, I don't even know you. But I admire you. Well, that makes me sound crazy, but I'm okay with that. So take care of yourself.
Love, Ben
P.S. I would've said, "Keep in touch," but unfortunately, we were never in touch.


To those who can dream there is no such place as faraway.
-- Anon

when i started watching "felicity", and was introduced to the characters of the show, i was awestruck with 'ben'. it seemed like he was the epitome of a modern guy, and yet, he wasnt pompous at all. so, having a girlish heart, i thought it would be wonderful to meet ben in person, i mean, come on... who wouldnt want to meet such a cute, all-around nice guy?? there's just one problem: the odds were against me. geographically, it wasnt possible for me to even get a glimpse of the guy, plus, even if i knew which state (or country) he currently lived in, the odds of getting that far from where i was just to get an autograph, were less than 1 percent. i had to be content with daydreaming.

All dreams can come true -- if we have the courage to pursue them.
-- Walt Disney

one summer, i was shopping at whole foods minding my own business when my eye wandered off from the gallery of tiramisus and cheesecakes in front of me, to the lone figure in a blue shirt looking around for some healthy snack. i was staring (and i dont stare) at the familiar face, trying to place it. i completely blushed when it looked back at me. imagine when my brain started working again, and i realised who it was... to think i just put on my old blue shirt, and a pair of old pants that day (of all days). the only good thing was, we were both wearing blue...
embarrassed, i hid behind the pasta section gathering enough courage to walk up to scott speedman and be all over him. i felt that everyone was watching my every move as i came up to him, shyly. yes, shyly. i didnt have the heart and guts to go nuts, even to flutter my lashes. he was already smiling when i finally stood in front of him. the only piece of paper i could find was the back of a book of stamps... and i didn't have a pen. he had to ask the guys in the meat section for one. ok, so we went through the routine -- i asked for his autograph, and he signed it as everyone can see in the picture -- but what was special about it was, he was exactly like i imagined him to be, courteous, down-to-earth, not patronising, and definitely not pompous. i guess, in many ways, he is 'ben'. by then, people were staring at us, but i didnt care. i was having fun talking to the guy i naively asked God to let me meet, even just once.

Thou art gone from my gaze like a beautiful dream.
-- George Linley

dreaming about something, no matter how shallow, or grand it is, can really come true if we have faith and ask God to grant our requests. actually, there is nothing shallow about a dream. people are different, and every dream that we have, represents us therefore, it is unique. it took a couple of years before i eventually met scott speedman, sometimes that's the way life goes. it doesnt mean that just because what we wait for takes a long time in coming, we would give up on it. remember, patience is a virtue.
i still dream a lot, knowing that my great expectations for the future would one day be realised.

For nothing is impossible with God.
-- Luke 1:37
---
your little voice

Ariel & Flounder (c) The Walt Disney Co




your little voice
Over the wires came leaping
and i felt suddenly dizzy
With the jostling and shouting of merry flowers
wee skipping high-heeled flames
courtesied before my eyes
or twinkling over to my side
Looked up with impertinently exquisite faces
floating hands were laid upon me
I was whirled and tossed into delicious dancing up
Up
with the pale important
stars and the Humorous
moon
dear girl
How i was crazy how i cried when i heard
over time
and tide and death
leaping
Sweetly
your voice
-- e. e. cummings
---
All entries and pen and ink drawings are protected under U.S. copyright and other laws and are the property of C. Sophia or the party credited as the provider of the content.