sophie's strauss and scent
French Bouquet (c) Jane Carroll
my favoured scent...
Floral and feminine
'Most people like floral fragrances - they go right across the board - but the sort of woman who really loves florals is feminine, charming, a little flirtatious and probably quite traditional. You don't like provoking or upsetting people and you're usually pretty easy to please,' says Christopher Craven. 'You're also likely to be sophisticated and well groomed, with a hint of mystery - something that people can't quite pin down,' believes perfumer Arthur Burnham.
levi's products for my personality: Lowrise Bootcut Jean (Juniors) and Signature Jacket (Misses).
show what you're really like with
products
they've selected just for you.
"Denim is one of the world's oldest fabrics, yet it remains eternally young."
-- American Fabric magazine, 1969
did you know...
denim was derived from a twilled cotton cloth from france called "serges de nimes" which levi strauss used for his copper riveted overalls. in the 1890s, these pants were assigned the number
501®
.
and...
the
oldest perfume
was obtained by soaking byrone in olive oil. in
modern perfumery
, top notes provide the initial impact; middle notes produce the bouquet for the body of the perfume; base notes contain the lasting ingredients that provide the tenacity.
---
pilgrim's progress

Winnie the Pooh & Friends (c) The Walt Disney Co

anyone who knows me knows this: i love travelling. i'm proud that i have friends scattered around the globe, so it isnt shocking that i spend money on calling cards to pour my heart out to these intimate friends (and family -- i esp like hearing my grandmother's voice and my father's chuckles). when i cant be there to literally reach out to them, the internet and phone are powerful instruments to knock some sense into these "fabulous" people and vice versa, or just let them know that i'm peachy. this is why i love travelling in the first place, spending time with that special person makes all those hrs on plane, train, or automobile worthwhile. even if the purpose of travelling is to be alone in the wilderness, inhale the salt sea air, or gasp at the colossal structures of city architecture.
"Twenty years from now you will be more disappointed by the things that you didn't do than by the ones you did do. So throw off the bowlines. Sail away from the safe harbor. Catch the trade winds in your sails. Explore. Dream. Discover." -- Mark Twain
one of my habits is curling up on the couch, just letting my mind wander off. can anyone relate to it? when the weather outside is unfriendly, and there's not much to do on a lazy saturday, it is tempting to get cozy and relive past memories with someone who shared most of it with you.
"Most of my treasured memories of travel are recollections of sitting." -- Robert Thomas Allen
travel is a great teacher. to see the world, mingle with different kinds of people, taste their culture and culinary specialty, broaden our understanding of the various forms of life outside our own. every nation has its charm, and if we realise that, i dont think discrimination would even exist. i love that i have feasted my eyes on what i consider the most beautiful cities in the world. i live in a place where, just by looking out the window, i can see city lights everywhere that remind me of christmas décors. someone invited me to go fishing in the canadian wilderness, that is an experience worth savouring. but i know that wherever i am, God is taking care of me, all the more why travelling is so delightful.
He protected us on our entire journey and among all the nations through which we traveled. -- Joshua 24:17
did you know... Damascus (or Dimashq) has the reputation of being the oldest city in the world, perhaps being settled as long ago as 8,000 BC. and... the Eiffel Tower was built for the Universal Exhibition held in Paris in celebration of the French Revolution.
---
ani ma'amin

Images from Luther College / Antique Maps and Prints

I believe.
The discovery of the Ebla archive in northern Syria in the 1970s has shown the Biblical writings concerning the Patriarchs to be viable. Documents written on clay tablets from around 2300 B.C. demonstrate that personal and place names in the Patriarchal accounts are genuine. The name "Canaan" was in use in Ebla, a name critics once said was not used at that time and was used incorrectly in the early chapters of the Bible. The word "tehom" ("the deep") in Genesis 1:2 was said to be a late word demonstrating the late writing of the creation story. "Tehom" was part of the vocabulary at Ebla, in use some 800 years before Moses. Ancient customs reflected in the stories of the Patriarchs have also been found in clay tablets from Nuzi and Mari.

The Hittites were once thought to be a Biblical legend, until their capital and records were discovered at Bogazkoy, Turkey. Many thought the Biblical references to Solomon's wealth were greatly exaggerated. Recovered records from the past show that wealth in antiquity was concentrated with the king and Solomon's prosperity was entirely feasible. It was once claimed there was no Assyrian king named Sargon as recorded in Isaiah 20:1, because this name was not known in any other record. Then, Sargon's palace was discovered in Khorsabad, Iraq. The very event mentioned in Isaiah 20, his capture of Ashdod, was recorded on the palace walls. What is more, fragments of a stela memorializing the victory were found at Ashdod itself.

Another king who was in doubt was Belshazzar, king of Babylon, named in Daniel 5. The last king of Babylon was Nabonidus according to recorded history. Tablets were found showing that Belshazzar was Nabonidus' son who served as co-regent in Babylon. Thus, Belshazzar could offer to make Daniel "third highest ruler in the kingdom" (Daniel 5:16) for reading the handwriting on the wall, the highest available position. Here we see the "eye-witness" nature of the Biblical record, as is so often brought out by the discoveries of archaeology.
Higdil Adonai la'asot im eleh.
Higdil Adonai la'asot imanu
Hayinu s'mechim.

The Lord hath done great things for them.
The Lord hath done great things for us;
whereof we are glad.
-- Psalm 126:3

a lot of us think that since the bible is a devotional book, it is partial and metaphorical, unless there is validation from outside sources to confirm the biblical record. my desire to learn more about Y'shua and the bible led me to increase my readings on near eastern archaeology. the discoveries of archaeology since the mid 1800s have demonstrated the reliability and plausibility of the bible narrative. archaeology plays an important part in history, the corroborating evidence that archaeologists present to the world separates fact from fiction. indiana jones (chronicles), though a made-up story, has convinced millions of viewers that the archaeological field connotes fun -- living a life filled with exotic adventures, and romance not far behind (if you find digging for a thousand yr old antiquity romantic... of course, there's also the harrison ford look alike hero who comes to save your ass while bathing around 16-20 ft. nile crocodiles, but that's beside the point).
i'm glad that we have archaeology to back up our beliefs that others would have pointed out as old wives' tales. the discovery of the dead sea scrolls of qumran [copies of books of the hebrew bible, e.g., isaiah, of which two almost complete scrolls have been found; copies of books now collected in the old testament apocrypha and pseudepigrapha, e.g., tobit, 1 enoch, and jubilees; and documents composed by an ascetic community, e.g., a book of community rules called the manual of discipline, an allegorical account of the community called the war of the sons of light with the sons of darkness, a group of devotional poems called the thanksgiving psalms, a commentary on the book of habakkuk, and an extensive work, known as the temple scroll, containing ritual law] for instance, was enough evidence that the bible is legitimate and all too real. what happened to the men of qumran that ultimately led to the discovery of the scrolls, was no accident. things fit together because an intimate, personal God watches over his creation.
---
ode to joy: grandpa's little girl becomes the elfin bride
Grandfather's Little Ballerina (c) Norman Rockwell
i was my
grandfather
's little girl. we were kindred spirits and i felt it from the moment i could even learn how to walk.
when he was in his workshop, i'd hand him his screwdriver (the only tool i knew); when he turned on the stereo he just fixed, i'd tap my feet and dance; when he played solitaire, i would be watching; when he was engrossed with work, i was a chatterbox... i was here, there, and everywhere like some sort of a guardian angel. the beauty of it is that, i never outgrew the things we were both so fond of -- my grandfather loved earle stanley gardner books, remington typewriters, homemade phonographs, vintage cars, all cameras, the 1948 deutsche bundespost phone, and my grandmother... he was so in-love with her. i often wished that when i grew up, a guy like my grandfather would come into my life and sweep me off my feet.
he loved teasing me with boys, and oh did i enjoy it! he would jokingly tell his friends that he would require a dowry from my "future husband" before giving me away... i'm in-love with someone and i'm pretty sure he loves me too, i know my grandfather approves... but like the first elfin bride, i have to go through momentary uncertainties (
'the elfin bride'
dates back to late mediæval times; i knew the modern lyrical interpretation, but the old verses i came upon by accident. in the ballad, "the writer goes on to assign his true love impossible tasks, to try and explain to her that love sometimes requires doing things which seem downright impossible on the face of it. he is asking his love to do the impossible, and then come back to him and ask for his hand. this is a highly unusual suggestion, because in those days it was a grave faux-pas to people from all walks of life for a lady to ask for a man's hand. yet it fits in well with the rest of the lyrics, as nothing seems to be impossible in the song...").
my grandfather who loved music, would be playing 'the desert song' for me now; my grandfather, who was organised and responsible and always concerned about my future and my health, would have told me the dowry was paid... here is
someone
who will walk with me all the days of my life.
Pages of the Past (c) Maureen Love
The glory of young men is their strength, gray hair the splendor of the old.
---
qui m'aime aime mon chien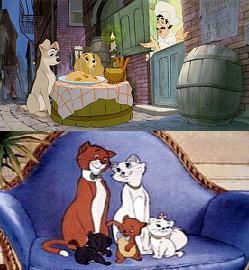 Lady and the Tramp & The Aristocats (c) The Walt Disney Co
as the french say,
"love me, love my dog".
whoever's the current apple of my eye has to love my pets... or else...
that was what went through my head when i had 23 cats and 9 dogs. let me name some of them as this is my tribute to my precious little ones --
dogs first:
chibi:
my japanese looking sister gave our terrier a japanese name -- which means "small and cute". he was very affectionate, cuddly, and a real looker. always hungry for affection, he often ran wild in the living room to get our attention, jumping from one end of the couch to the other. he taught us the true meaning of loyalty.
sam:
i was inspired by the movie "sleepless in seattle", hence, the name sam. sweet sam was beautiful, with golden flecks on his chest. all he wanted to do was to lie flat on his back all day letting people take advantage of his cuteness.
annie:
sam's sister, and his exact opposite. hyena-looking annie was feisty, self-centered, and paranoid. i adored her. once, when my sister was playing the piano, annie started howling, hopelessly covered her ears and scratched the paint off the kitchen door to get out and stop the torture.
indiana:
you guessed it right -- indiana jones. indy was my companion. he was as beautiful as sam, as fiercely loyal as chibi, and as feisty as annie. whenever my dad scolded him, he'd hide behind me, then bark so loudly, trying to look savage.
dumbo:
a guy friend gave her as a present to me. i came home one time, and saw this dalmatian-looking puppy, looking back shyly at me. i always felt protective of dumbo since she seemed very melancholic.
then, annie and dumbo both gave birth...
how we were able to take care of cats and dogs together in one roof is a marvelous story. adopting a cat all started with the very lovely, very regal kitty...
kitty:
she simply wanted a home. she would come either to the front or back door asking for food and love. the day we officially adopted her was the day when i popped my head out of the front door to call her -- i was reading a book called "kitty" (by lena kennedy) at the time, and decided this was the perfect name for the newest member of the family -- seconds later, kitty came running all the way from the garage to where i was, in eager anticipation. i loved her dearly.
three spots:
one, one spot!, two, two spots!, three, three spots! ha ha ha ha ha!... remember 'the count' in sesame street?? well no, i didnt get the name from 'the count', but i just loved scooping three spots up in my arms, counting the spots on her little flexible body... she hated it. but she was a very sweet, unusual kitten. she was as gorgeous as her mummy cassandra, with pink little paws and a pink little nose that wiggled like a rabbit's. she loved flowers, yes even fake ones, and was the only cat i know who sang as she played.
francesco
(or france for short)
:
france is the epitome of fat. his body was simply pure fat. whichever way he turned, he was fat. his favourite place was the kitchen, his plate was bigger than mine, he was as spoiled as spoiled could be. but he also had a big heart. he never used his claws even when we gave him a bath. he was the gentlest cat i ever knew (and he was afraid of mice). the two of us enjoyed watching the christmas lights around our christmas tree.
cassandra:
the beauty in the family... she was the scarlett o'hara of tabbies. this blue-eyed cat would make anyone pay for cuddling her if she didnt want to be held. if her mother kitty was the matriarch of the clan, cassandra was definitely the princess -- no wonder, the two beauties always clashed. cassandra was grace and royalty personified. i was in awe of her. i felt like curtsying whenever she passed me by.
observing our pets -- from our cats and dogs, to my aunt's doves, and the fish in our pond -- i have realised that animals are like humans, with unique behaviours and characteristics.
Man's fate is like that of the animals; the same fate awaits them both: As one dies, so dies the other. All have the same breath; man has no advantage over the animal.
-- Ecclesiastes 3:19
i'm not a fanatic animal rights activist, but i'm an advocate of promoting compassion and respect, extending beyond our species. the misconception that the bible doesnt care for other living things exasperates me. the welfare of animals concerns God as much as our happiness and well-being [Deuteronomy 22:1-12].
The greatness of a nation and its moral progress can be judged by the way its animals are treated.
-- Mahatma Gandhi
i'm against any form of torture toward animals, as michael w. fox stated,
"Farm animals can be kept five to a cage two feet square, tied up constantly by a two-foot-long tether, castrated without anesthesia, or branded with a hot iron..."
when i read about
bears
locked in coffinlike cages, with a catheter in their body that continuously absorbs the liquid from their gall bladders to produce shampoos, aphrodisiacs, and "miraculous remedies", my heart broke. i have heard that kindness is innate (as cruelty is), but consider this: if we were in the same position as the animals, how'd we take it? we could scream and cuss and beg for mercy, but what about them whose language we cant understand?
The time will come when men such as I will look upon the murder of animals as they now look on the murder of men.
-- Leonardo Da Vinci
did you know...
It was discovered on a space mission that a frog can throw up. The frog throws up its stomach first, so the stomach is dangling out of its mouth. Then the frog uses its forearms to dig out all of the stomach's contents and then swallows the stomach back down again.
---
athens 2004 - olive leaves and laurel wreaths
Photo (c) Reuters
"I press on toward the goal to win the prize for which God has called me heavenward in Christ Jesus."
-- Philippians 3:14
a touch of greek history
[saturday, august 14, 1:58pm]: The first medallists in Athens were crowned with olive wreaths on Saturday, reviving a tradition going back to the Olympics' ancient Greek origins... In the ancient Olympics, a crown of olive leaves was the winners' only prize. Later laurel wreathes were used. When the Games were revived in Athens in 1896, champions also received an olive wreath as well as a silver medal and a diploma. The familiar Olympic gold, silver and bronze medals were introduced eight years later in St Louis. Medallists' crowns come from an olive grove in Athens. But the winners of the men's and women's marathons will have special wreaths crafted from trees dating back to antiquity on the island of Crete.
Highlights of Saturday's Olympics Action
August 14, 3:52 PM ET
~ American swimmer Michael Phelps won the men's 400 individual medley with a world record time of 4:08.26. It was the first of a possible eight golds the 19-year-old will try to win. If he succeeds, he would eclipse Mark Spitz's 1972 record of seven at one Olympics.
~ Tadahiro Nomura of Japan won a historic third consecutive gold medal in men's 132-pound (60kg) judo, beating Nestor Khergiani of Georgia.
Australia won gold in the women's 400-meter freestyle relay with a world-record time of 3:35.94.
~ Ian Thorpe of Australia won the 400-meter freestyle, an event he almost missed after he fell off the starting block and was disqualified at trials. Teammate Craig Stevens gave up his spot for Thorpe.
~ Lauren Jackson, the WNBA's MVP last season with Seattle, scored 27 points to lead Australia to an 85-73 win over Nigeria.
~ Middleweight Andre Dirrell got the U.S. boxing team off to a strong start, beating China's Ha Dabateer 25-18.
~ Li Du of China won the first gold of the Athens Games, in the women's 10-meter air rifle competition.
~ Ryoko Tani of Japan, nicknamed for a comic book character who happens to be a nearly invincible judo specialist, won the women's 48-kg judo event for her fourth Olympic medal since 1992.
~ Italy's Paolo Bettini pulled away in the final 100 meters to win the men's cycling road race.
FIRST PITCH
~ Former President Bush borrowed a glove and threw out the ceremonial first pitch before Australia played Japan in the opener of the eight-team softball tournament. He received a warm ovation from the crowd.
SPRINTERS SUSPENDED
~ Kostas Kenteris and Katerina Thanou were suspended from the Greek team for missing drug tests and police began an investigation into their motorcycle crash, which happened just after testers failed to locate them at the Olympic Village.
EDWARDS APPEAL
~ An appeal by U.S. sprinter Torri Edwards in her two-year drug ban will be heard Monday by the Court of Arbitration for Sport. The result will determine whether the world champion in the 100 meters competes in Athens.
UP NEXT
~ The U.S. men's basketball team makes its Olympic debut against Puerto Rico. ... The U.S. softball team takes on Australia, the only foe with a winning Olympic record (2-1) against the Americans. ... Phelps and Thorpe face off, along with their teammates, in the 400-meter freestyle relay.
WEATHER
~ Hot, hot, hot. Sunny and clear with a high of 96 degrees at Olympic stadium. Unshaded stretches of the road cycling course reached 104. Sunday's forecast is for partly cloudy morning skies, then afternoon and evening thundershowers and an expected high of 87.
SPEAKING
~ "I'm a little bit less nervous. I've got one off my shoulders and can relax a little bit."
Phelps, on winning the first of a possible eight golds.
~ "Even though the bout was slow, I still gave everybody else something to look at. I believe if I stick to my game plan, I'm going to get a gold medal. Can't nobody stop me."
Dirrell after his opening win.
~ "He's rubbish. I don't even want to say his name. We will never forget this insult."
Pin and trinket salesman Petros Papaioannis, on Kenteris.
---
the elfin bride
The Elfin Bride (c)
Sophie
The speaker in this ballad, by mentioning
parsley, sage, rosemary, and thyme
,
wishes his true love mildness to soothe the bitterness which is between them, strength to stand firm in the time of their being apart from each other, faithfulness to stay with him during this period of loneliness and, paradoxically, courage to fulfill her impossible tasks and to come back to him by the time she can.

BOTH
Are you going to Scarborough Fair?
Parsley, sage, rosemary and thyme,
Remember me to one who lives there,
For she once was a true love of mine.

MAN
Tell her to make me a cambric shirt,
Parsley, sage, rosemary and thyme,
Without a seam nor fine needlework,
And then she'll be a true love of mine.
Tell her to wash it in yonder dry well,
Parsley, sage, rosemary and thyme,
Which never sprung water nor rain ever fell,
And then she'll be a true love of mine.
Tell her to dry it on yonder thorn,
Parsley, sage, rosemary and thyme,
Which never bore blossom since Adam was born,
And then she'll be a true love of mine.
Ask her to do me this courtesy,
Parsely, sage, rosemary and thyme,
And ask for a like favor from me,
And then she'll be a true love of mine.

BOTH
Have you been to Scarborough Fair?
Parsley, sage, rosemary and thyme,
Remember me from one who lives there,
For he once was a true love of mine.

WOMAN
Ask him to find me an acre of land,
Parsley, sage, rosemary and thyme,
Between the salt water and the sea-sand,
For then he'll be a true love of mine.
Ask him to plow it with a sheep's horn,
Parsley, sage, rosemary and thyme,
And sow it all over with one peppercorn,
For then he'll be a true love of mine.
Ask him to reap it with a sickle of leather,
Parsley, sage, rosemary and thyme,
And gather it up with a rope made of heather,
For then he'll be a true love of mine.
When he has done and finished his work,
Parsley, sage, rosemary and thyme,
Ask him to come for his cambric shirt,
For then he'll be a true love of mine.

BOTH
If you say that you can't, then I shall reply,
Parsley, sage, rosemary and thyme,
Oh, Let me know that at least you will try,
Or you'll never be a true love of mine.


"You have stolen my heart, my sister, my bride; you have stolen my heart with one glance of your eyes, with one jewel of your necklace."
-- Song of Songs 4:9
---
henrietta goes to harvard
Henrietta illustration (c) Elizabeth Dahlie;
Food photos (c) Charles Hotel, BostonChefs
"In a restaurant one is both observed and unobserved. Joy and sorrow can be displayed and observed 'unwittingly', the writer scowling naively and the diners wondering, 'What the hell is he doing?'"
-- David Mamet
henrietta's table has a nice courtyard view in the elegant charles hotel of harvard square, cambridge. the restaurant is an expansive country style dining room with oversized cupboards, wood floors, harvest photos, and rustic linens. the brunch set-up displays huge cast-iron pots along the lengthy kitchen counter and islands of tiered food.
so what else do i love about henrietta's table, besides the ambience and chocolate bread pudding with caramelized bananas and vanilla bean ice cream... hold on, i'm straying... henrietta's table owes its name to
henrietta
, a precocious pig whose dream is to attend a certain law school in cambridge. to prove her worth, henrietta has to rise above all obstacles, following the true calling in her heart. it is an enchanting, uplifting fable that encourages children to dream big... to focus on their dream, and be challenged by that dream -- to go the distance, overcoming fear of failure.
henrietta
[the children's book] has ticked off some critics who believe that, it
puts Ivy League angst in the heads of babes.
well, what's wrong with that? see, not everyone could study at a prestigous school, but every child is entitled to dream and go after it... this other lovable babe tenaciously held on to her goals, not allowing the prejudices of others to hinder her.
below is a 'fresh and honest recipe' from chef peter davis of
henrietta's table
:
Chocolate Bread Pudding, Caramelized Bananas

Caramel Sauce (serves 10)
2 lb. Brown Sugar
4 oz. Butter
1 teaspoon Lemon Juice
4 oz. Water
1 qt. Heavy cream
6 Bananas, sliced

Chocolate Bread Pudding (serves 10)
8 Croissant, day old
1 qt. Heavy Cream
8 oz. Sugar
3 Egg Yolk
3 oz. Cocoa Powder
6 oz. Bittersweet chocolate
1 teaspoon Vanilla
7 Eggs
salt

Preparation for Caramel Sauce:
1. Bring sugar, butter, lemon juice and water to a boil and simmer until golden brown.
2. Add cream and return to a boil.
3. Cover bananas with sauce and keep warm.

Preparation for pudding:
1. Cut croissants into large cubes and place in 1/2 of large baking pan.
2. Mix cream, sugar, eggs, yolks, cocoa, and vanilla and pour over croissants. Allow to soak for five minutes.
3. Mix in chocolate and bake in water bath at 350 degrees.
4. Serve with caramelized bananas and vanilla bean ice cream.
Henrietta's Table
1 Bennett St.
Cambridge, MA 02138
(617) 661-5005
American cuisine
Breakfast: Mon-Fri 6:30 am to 11 am
Breakfast: Sat 7 am to 11 am
Breakfast: Sun 7 am to 10:30 am
Lunch: Daily 12 noon to 3 pm
Brunch: Weekend 12 noon to 3 pm
Dinner: Sun-Thu 5:30 pm to 10 pm
Dinner: Fri-Sun 5:30 pm to 11 pm


Henrietta
by David Mamet, illustrated by Elizabeth Dahlie
(Hardcover)

ISBN: 0618004165
Publisher: Houghton Mifflin Company
Date: November 1999
Page Count: 32
Reading Level: Ages 4-8
---
afternoons and teaspoons
The Secret (c) Chantal Poulin
You are tangible proof of God's love for me. He must have known how badly I would need a sister ... Faith, loyalty, compassion ... these three I learned from you.Love, A.

Afternoons and Teaspoons
- for Cecilia who is sometimes called Sophie


Pink cashmere for borrowed affections
soft hands on flowered china teacups
shortcake, strawberries, sunlight
small talk pictured like art.
Frayed skirts
blemished skin
the past and its shadow
the noises in between.
Fruit tea, chamomile,
earl grey, honey and milk
the scent of leaves brewing
a welcome Indian summer
like mother before child
on afternoons at rest.
Thin layers, frosty mornings
the late package
unfolding jumpers, scarves
and one good pair of boots.
The wooden table
an old piano
glass vase, grandfather clock
like things found in the old house
unconsciously bought, moved, placed
the chirality of two pasts.
Folded paper
sepia prints
uncovered bed
the present absence.
Scented candles
white lace curtains
the ballerina in a music box
the open hope chest.
The smell of bread baking
clove, cinnamon, Sundays
women at afternoon tea
spinning wheels, proverbs, life bits
grandmother stories
for the Lladro bride.
Inverted continuum
the point between strangers
an ode to the cat
two fates in a shroud.
Watercolour afternoons
cool breeze and drafted sun
one pink solitaire and one beloved girl.
The variables are moving.
--
Aileen
---
the laws and loss of humanity
The Conversion of Saul
(c) Michelangelo Buonarroti (1475-1564)
"It is strange. You see, my mother was so beautiful." --
Joseph Carey Merrick
God help the outcasts...
there was a man who suffered from hansen's disease, he religiously attended the church my family and i went to and every sunday, i'd see him sitting about 3 rows away from me, always alone. several times i thought of sitting next to him, just so he wouldnt look so lonely but i never did. like all the others, except for one guy who sang at church (he would sit with him once in a while), i couldnt bring myself to do it. i was young (probably 12), i dont remember why i didnt, perhaps i was scared. i'd fix my eyes on him the whole time, asking myself if he was alright... asking myself if he was happy... the day finally came when i got to shake his hand. as the church was singing and greeting one another, i went over to him (or maybe he went over to me) and touched him. i never felt so happy. he didnt shake a lot of hands, he went back to his seat and quietly sang. that day became special to me.
i was born with a kidney problem, and lived in the hospital for 5 yrs (since i was a week old). my mum was beside me 24/7, refusing to lose the battle. i loved having people around, my sister was my favourite visitor (i didn't know she was my sister... the first time she was allowed to visit, she came in her school uniform. aileen said she couldn't forget the smile on my face as i touched her ribbon shyly... i'm glad for fondly remembered patches of childhood...), but most of the time, it was just my mother and me -- and my almost forgotten guardian angel whom i claimed to be my playmate.
i'm well now, thanks to my two champions -- God and my doctor
jack.
scientists look for answers to cure diseases and stop the ageing process. there's even a legend that the vessel (chalice) used by Christ at the last supper is the elixir of life. of course it's all baloney, the cup of Christ is a symbol and shouldnt be taken in the literal sense (watching indiana jones and the last crusade was a treat for me, nonetheless.)
the world tries to rationalise why tragic things happen. who knows the unforgettable story of joseph carey merrick also known as
"the elephant
man"
?
"His head became enormous, the 3 feet circumference was that of a man's waist, with large bags of brownish spongy skin hanging from the back of his head and across his face. Subject to papiloma, the skin had many folds of excess tissue, and an odious smell came from the cauliflower-looking sac, which hung down.Deformation of the jaws rendered him incapable of showing facial expression or speaking in more than a splutter that was difficult to understand. His left arm was normal and delicate to look at. His right arm, however, was discoloured and grotesque, ending in a 12-inch wrist and a finlike hand. The legs imitated the deformed arm, and a defective hip caused such lameness that Merrick could walk only with the aid of a stick... In November 1884, when he was 21, Joseph Merrick met Dr. Frederick Treves. Seated in the dim light, among old cans and furniture grey with dust, Treves saw a bent figure. It was the Elephant Man whose disfigured frame was open to view. Dr. Treves was appalled. When Joseph rose, on the dictates of the showman, the doctor saw a downcast and degraded figure. A sign in front of Merrick read "
The Deadly Fruit of Original Sin."
This disturbed Treves greatly; and he decided to move Merrick to London Hospital... The doctor found Joseph Merrick intelligent. He could read and his speech was progressing. The Bible and Book of Common Prayer were his favourites and far different from the newsprint or odd novel he picked up."
merrick spent his last few years with his friend, doctor frederick treves. he was also in regular communication with then princess of wales alexandra, later queen alexandra.
everything on earth that has a life (yes, even the likes of joseph merrick and the unpopular kid at school who is often referred to as an outcast) needs the warmth of human contact. i think that to go through life's hardknocks with the will to live and come out unblemished, is what defines a man. society would be losing its humaneness if it only sees what is outwardly beautiful. i find that the most uncomely person often has the most beautiful smile. there's a song that nat "king" cole popularised in 1954 called,
smile. Smile, tho' your heart is aching, Smile, even tho' it's breaking When there are clouds in the sky, You'll get by If you smile Through your fear and sorrowSmile ~ and maybe tomorrow You'll see the sun come shining through For you. Light up your face with gladness, Hide every trace of sadness. Although a tear May be ever so near That's the time you must keep on trying, Smile ~ what's the use of crying? You'll find that life is still worthwhile If you'll just smile. ~interlude~ That's the time you must keep on trying Smile ~ what's the use of crying? You'll find that life is still worthwhileIf you'll just smile.
-- Charles Chaplin (1889-1977)
an outcast is someone who is unwanted. we should never forget that most of us have been this at one point.
---
"say as you think, and speak it from your souls." -- henry Vl part ll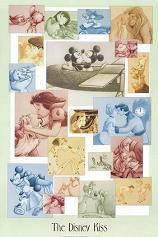 The Disney Kiss (c) The Walt Disney Co
here's something you can forward to your friends/significant others:
1. Who are you?
2. Are we friends?
3. When and how did we meet?
4. How have I affected you?
5. What do you think of me?
6. What's the fondest memory you have of me?
7. How long do you think will we be friends?
8. Do you love me?
9. Do you have a crush on me?
10. Would you kiss me?
11. Would you hug me?
12. Physically, what stands out?
13. Emotionally, what stands out?
14. Do you wish I were cooler?
15. Give me a nickname and explain why you picked it.
16. Am I loveable?
17. How long have you known me?
18. Describe me in one word.
19. What was your first impression?
20. Do you still think that way about me now?
21. What do you think my weakness is?
22. Do you think I'll get married?
23. What makes me happy?
24. What makes me sad?
25. What reminds you of me?
26. If you could give me anything what would it be?
27. How well do you know me?
28. When's the last time you saw me?
29. Ever wanted to tell me something but couldn't?
30. Are you going to put this on your blog and see what I say about you?
---
throwing out the garbage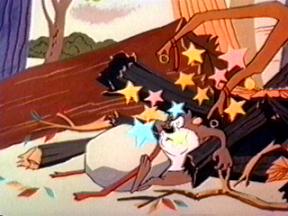 Taz (c) Warner Bros.
this one's a prreett-tyy funny picture. i like taz. watching looney tunes was the highlight of my saturday mornings (sometimes, it still is). taz is a lean, mean, fighting machine, but bugs' spunk eclipses his apoplectic temper. i can relate to both characters, when i'm angry, i can definitely be
like
taz. but really, who wants to be like taz?? sure he's cute and cuddly (just dont look at the huge fangs)... but he's a cartoon, if he were real, we'd be petrified. we all forget ourselves every now and then, turning into a tazmanian devil. why? because we're human. people make mistakes. nobody's perfect (only God is). we try putting our best foot forward wanting to impress and yet, we cant help but reveal the "other side" of us... that side we want (over and over) to lock away in the dungeon (if we had a dungeon -- now let's not get kinky, i'm wholesome). i was evaluating my life last night, contemplating on the bad vs the good things i've done and in all honesty, i wasnt proud of myself. everyone's guilty of something like say, not fulfilling a promise or hurting someone's feelings. and when all's said and done, the irony of it is that not only do we hurt the people we care about, we hurt ourselves in the process.
emotions are like a mask. when we're happy, we put on a happy face (even if we arent, we still stretch those facial muscles) and when we're sad, those pearly, white teeth are a no show.
controlling our emotions is a huge task. i think that only a
few people have crossed the boundary where not a single emotion exists (like serial killers, for example). one pastor,
gregory dickow
, lectured on "mastering your emotions" and boy, was i completely blown away. for someone whose emotions are like a pendulum, i sat there meditating, realising for the nth time (only this time it hit me quite hard) that i'm a grown-up and grown-ups are responsible for their actions. yup, i have my childish moments (almost always, actually) and when i think about the hooplas i've caused... let's not get into that... it's embarrassing, really. life is complicated, isnt it? i think that's the beauty of life. we commit mistakes and learn from them, commit them again, and again learn from the same mistakes until the day we become full-pledged adults and stop the cycle.
after seeing my mistakes, guilt wasnt far behind. doesnt anyone experience both? if we continue holding on to our guilt, we'll miss out on a lot of stuff. people sometimes, add up to our guilt... some can be vindictive little creeps who would go on accusing us of something we've done 5 centuries ago. this is another challenge for an
adult
like
myself
. somehow, i have to find a way to get rid of both [perennial mistakes and subsequent guilt]. when you leave the garbage in the kitchen overnight, chances are the next day, your friendly neighbours -- mouse and roach -- have already scurried away leaving their filth -- YUCK! -- this is exactly what happens if we hang on to our past mistakes and guilt. why not throw out the garbage before it gets too dark? the saddest part is if we cant forgive ourselves, we become hardened, unable to love fully.
O Captain! my Captain! rise up and hear the bells;
Rise up--for you the flag is flung--for you the bugle trills,
For you bouquets and ribbon'd wreaths--for you the shores a-crowding,
For you they call, the swaying mass, their eager faces turning;
Here Captain! dear father!
This arm beneath your head!
It is some dream that on the deck,
You've fallen cold and dead.
-- Walt Whitman
caring for other people's feelings (and mine) is one way to be happy, that's why i check my heart. anyone need an EKG?
Matthew 18:21-22

Then Peter came to Jesus and asked,
"Lord, how many times shall I forgive my brother when he sins against me? Up to seven times?"
Jesus answered,
"I tell you, not seven times, but seventy times seven."
---
nursery rhyme and the stem cell story
Wrinkles (c) Anne Geddes
Wynken, Blynken, and Nod one night
Sailed off in a wooden shoe ~
Sailed on a river of crystal light,
Into a sea of dew.
"Where are you going, and what do you wish?"
The old moon asked the three.
"We have come to fish for the herring fish
That live in this beautiful sea;
Nets of silver and gold have we!"
Said Wynken,
Blynken,
And Nod.
i watched larry king interview
joni eareckson tada
. she is truly an amazing woman with the faith of a child. as the evening progressed, they discussed another serious issue, it is called,
embryonic stem cell research
.
The old moon laughed and sang a song
As they rocked in the wooden shoe,
And the wind that sped them all night long
Ruffled the waves of dew.
The little stars were the herring fish
That lived in the beautiful sea ~
"Now cast your nets wherever you wish ~
Never afeard are we";
So cried the stars to the fishermen three:
Wynken,
Blynken,
And Nod.
i've been reading the stem cell debate, balancing both opinions in my mind. there is one particular article that struck me:
"
human life begins at the union of sperm and ovum.
during that first day, this is properly termed a 'fertilized egg'. however, this single-celled human body divides, divides, and divides again, so that nearing the end of the first week this embryo, now called a 'blastocyst', numbers several hundred cells. to obtain an embryonic stem cell, the researcher must cut open this embryo, thereby killing him or her and extracting stem cells... during the first week, this tiny new human floats freely down his or her mother's tube, dividing and sub-dividing as the journey is made. at about one week of life, he or she plants within the nutrient lining of the woman's uterus. in about three more days, having sent roots into the wall of the uterus, this new human sends a chemical hormonal message into the mother's blood stream and this stops her menstrual period. four days later, the embryonic heart begins to beat and three weeks after that, brain waves are measurable. the biologic fact is that from day one, inside and then outside of the uterus, this is one continuous, uninterrupted period of growth and development. it is impossible to draw a line in time and to say that before this time, this was not a living human, and after this, it is."
human embryos are killed in the process of stem-cell harvesting. it doesnt matter whether the embryo is frozen or not, it is morally and deplorably wrong. in the embryonic stage, we werent just "potential" human beings, we already had a life, and thereby deserved a future.
All night long their nets they threw
To the stars in the twinkling foam ~
Then down from the skies came the wooden shoe,
Bringing the fishermen home;
'Twas all so pretty a sail it seemed
As if it could not be,
And some folks thought 'twas a dream they'd dreamed
Of sailing that beautiful sea ~
But I shall name you the fishermen three:
Wynken,
Blynken,And Nod.
those who support embryonic stem (es) cell research believe that es cells are very flexible and capable of growing into different kinds of tissue (as opposed to adult stem cells), giving more room for research. these proponents also believe this may lead to a cure for AIDS, parkinson's, alzheimers and others. [
researchers say the field is promising, though no cures have been developed from es cell research
]. the potential of embryonic cells is lopsided. in the race for answers, we have called what is alive "not yet alive", compromising on moral questions, because the
theory
is promising.
Wynken and Blynken are two little eyes,
And Nod is a little head,
And the wooden shoe that sailed the skies
Is a wee one's trundle-bed.
So shut your eyes while mother sings
Of wonderful sights that be,
And you shall see the beautiful things
As you rock in the misty sea,
Where the old shoe rocked the fishermen three:
Wynken,
Blynken,
And Nod.
-- Eugene Field
there is another way to resolve the conflict:
"Adult stem cells obviously have a universal program for division that is common to all kinds of tissue stem cells, and makes them mutually interchangeable. This was discovered by Alexei Terskikh at Stanford University School of Medicine in California. He was able to prove that adult stem cells of blood-forming tissues, and of the brain, activate the same genes, in order to preserve their status as stem cells."
a major advantage is
"there are no rejection reactions, because the cells are from the same body".
it thus makes sense to pour all resources in a field that has already given positive results, than in one that is full of uncertainties (remember dolly the sheep?). we cannot afford to be ignorant. when the damage is done, there cant be any room for regrets.
"The word of the Lord came to me, saying, Before I formed you in the womb, I knew you, before you were born I set you apart... "
-- Jeremiah 1:4-5
to find out more about embryonic stem cell research:
prof. robert p. george, princeton university
dr. jc wilke, md
dr. wolfgang lillge, md
---
my love affair with my grandmother's mechado
Country Kitchen (c) Jo Moulton
i have told my future husband that in addition to forsaking all others, i intend to bring to our dinner table all my grandmother's recipes. i also promised to always possess a fruity floral scent (with top notes of citrus, quince, blackcurrant, pineapple, and honeydew; middle notes of rose, jasmine, muguet, lotus blossom, and waterlily; and base notes of orris, vetiver, sandalwood, peach, mulberry, and amber) even as i leave the kitchen. in exchange, i expect him to bring me orange juice every morning. 16 ounces, freshly squeezed, without the pulp.
my grandmother's mechado* recipe:
*mechado or beef pot roast is an iberian-influenced tomato-based dish.

ingredients:
3 lbs chuck stew meat cut into 2-inch cubes
2 c water
5 tbsp olive oil
2 large tomatoes, halved
2 8-oz cans tomato sauce
1 large laurel leaf
1/4 c soy sauce
6 potatoes, peeled and quartered
1/2 tsp ground black pepper
fish sauce or salt to taste
optional: 1/2 cup red wine (i use Dourthe No 1 Bordeaux Rouge 2001, it is "round and well-balanced, with integrated barrel ageing characters.")

preparation:
marinate the beef in soy sauce overnight. to cook, brown meat in olive oil. in a four-quart pot, combine meat, water, and laurel leaf. cover and bring to a boil. adjust heat and allow to simmer until meat is tender. add tomatoes, tomato sauce, potatoes, pepper and fish sauce/salt. cover and simmer. add wine and reduce sauce. serve with rice. yummy!
the Master's touch
Anne (c) Sullivan Entertainment, Inc.
Pots of Roses Panel (c) Cheri Blum
Voyage Round the World (c) Schindeler
dear Jesus, nothing can beat the first time i've ever known you. you know my highs-and-lows, ups-and-downs, top-bottom, head-foot, inside-out. i have no idea why a lot of folks have a misconception of you, so many brains and yet so uninformed. i reckon some will be looking smug over this posting but, c'est la vie ... i wont be there to see it... maybe you could wipe the smirk off their faces or something? i just want to say that i love you with my whole heart -- thanks so much for reciprocating that love. i know you arent a man who changes his mind every so often. you are omnipotent, omnipresent, omniscient... timeless.all my love and life i lay down before you, cecilia sophia
---
in the eyes of the illustrious norman rockwell
Artworks (c)
Norman Rockwell
Norman Rockwell [American Illustrator, 1894-1978]
Merriam-Webster Online Dictionary: One entry found for
illustrate.
Pronunciation: 'i-l&s-"trAt also i-'l&s-
Function: verb
Etymology: Latin
illustratus
, past participle of
illustrare
, from
in-
+
lustrare
to purify, make bright
1 obsolete a : ENLIGHTEN b : to light up
2 a : archaic: to make illustrious b : obsolete (1) : to make bright (2) : ADORN
3 a : to make clear : CLARIFY b : to make clear by giving or by serving as an example or instance c : to provide with visual features intended to explain or decorate

4 : to show clearly : DEMONSTRATE
intransitive senses : to give an example or instance

illustrators depict our lives. they capture our imagination, and expose the very core of our souls embellishing a little with every stroke. i have great admiration for these extraordinary artists who colour our world with their creativity.
norman rockwell's artworks move me. when i came across his paintings, i imagined him to be warm and sensitive. i dont know if it's just me but when i look at a painting, i also see the person behind the masterpiece. art may not be everyone's cup of tea but rockwell's immortalized characters could command attention even from the most critical observer. his illustrations were the highlights of the saturday evening post for over 40 years. he also worked for other notable periodicals like judge, collier's, st nicholas, life and look. we see the heartfelt humour and innocence of bygone days, at times wishing that the world's still just as simple.
some of rockwell's works [that caught my eye] include, "soda fountain", "the prom dress", "boy's life", "grandpa's little ballerina", and "saying grace". one look at a rockwell painting and you'll know it's his without looking at the signature. actually, his artworks are his signature.
before finally settling down in stockbridge, massachusetts, he made his home in arlington, vermont, where many settings of his famous illustrations can be found, as well as some of the folks who modeled for him.

museums are second home to me. if you care to see his artworks, visit the
rockwell collection
at stockbridge.
---
All entries and pen and ink drawings are protected under U.S. copyright and other laws and are the property of C. Sophia or the party credited as the provider of the content.