girl talk
Tinkerbell (c) The Walt Disney Co
let's talk
girl talk
this time -- we know what that means --
boys... guys... men...
we love peeking into their world and making a fairy tale of it. we have no idea why when there's not much to look at except for a cluttered room and a boob tube -- try flipping through channels and by the end of the night, we figured we'd seen a dozen exposed breasts (coupled with chopped heads); men rule the television and remote control so it's no surprise that our beloved TV is named after a body part -- the fascination is there, we simply cant keep our minds off of tom, dick and harry.
when we fight with them, we cry our little hearts out through the night while the object of our affection is fast asleep. disillusioned females huddle around a website that says, "men suck". male haters put up larger than life signs so men's nearsighted eyes would notice. we make rules that they never follow. we have movies made expressly to educate them which they call "chick flicks". so why painstakingly go through all this? three words,
we love men.
if we just start seeing them as budding friends rather than potential husbands, we'd be amazed at how much they could give. it's a great advantage having them on our side, once we win a guy's friendship, not only could we take a peek into their private world, they'd let us in. who knows, they might even give the answer to every girl's ultimate question...
how to put his ring on this finger
. which reminds me, i was walking along the sts with someone when a group of guys shouted, "put a ring on that finger man, put a ring on that finger!" ... too bad, i wasnt with the right guy, maybe next time!
did you know...
that the best guy movie of all time is
dirty harry
and the best chick flick(??)
an
affair to remember
.
there she goes... the disney girl
Disney Girls (c) The Walt Disney Co
Daisies (c) Latenight Designs
there she goes, there she goes again,
racin' thru' my brain...

yup, here i go again. let's get it straight, this is my blog so let's talk about
me
for a change. i was told that when we pray, we have to be very specific with our requests. that's what i did, i prayed to God for the guy of my dreams... one who's funny, charming, smart, with straight crew-cut hair, dimples (maybe a cleft chin if it isnt asking too much), boyish looks... in other words, a cutie. God has granted my wish, only it was in the form of an 8 yr old boy. i'd get calls from him day in, day out asking if
i
could visit him (and bring presents too, like maybe a turtle?), flattering but hmm... a bit young for me, dont you think? he has an older brother whose goodlooks surpass that of adonis', and once when his brother and i were watching cartoons together laughing our brains out, my admirer was sulking in a corner concocting plans to make me jealous. there was also a time when i went shopping with a friend, tired of all the fuss, i sat on a bench when lo and behold!, a boy (
another
little boy) stood in front of me flashing his most winning smile holding out a fake flower (which he got from the home & garden section). "ok this is getting weird", i mused... i wanted to find out what was happening, i opened my bible and my eyes rested upon this verse:
"Do not arouse or awaken love until it so desires."
-- Song of Songs 2:7
back when i was a little girl -- you know, like my 8 yr old beau -- i'd daydream about being heidi, or cindy, or lili (often humming the classic song
hi-lili, hi-lo!
), i would make believe that my bedroom was a tower and the dining area was a banquet hall. always, our study was a haven for me. the study would transform into a secret garden, a ballroom where all my favourite waltzes were played and every character in my books came to life, or just about anything that my precious little heart pleased. i wanted to be a disney girl where happy endings arent far off. i still want to be a disney girl -- readers, stop rolling your eyes for a second -- society i think, has long enough misjudged those poor girls, brainwashing today's little girls into thinking that waiting for the right person is wrong. sometimes, it's good to wait. let's consider the lives of these fairy tale women, 1) they got their prince (a real prince for that matter), and 2) they lived happily ever after.
exactly, it's just a fairy tale...
no one gets the prince, and there arent too many happy endings, but that's the cynical
adult
thinking. it never hurts to dream especially for young girls and boys. besides, a growing number of princes marry
commoners
nowadays. i'm not saying that could come true for every little girl, but hey, let them dream while they're still at that age where mermaids are real and fairy tales come true.
did you know...
snow white, which premiered on 21 december 1937, is Disney's first animated movie. walt came up with the idea for "Snow White" when he was only 15, working as a newsboy in kansas city.
---
GQ review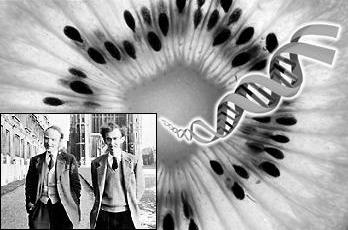 Dr. Francis Crick and Dr. James D. Watson (c) Associated Press
Fruitful DNA Extraction (c)
Exploratorium
"I used what I call the 'Gossip Test' to decide what I wanted to do. The gossip test is simply that whatever you find yourself gossiping about is what you're really interested in."
-- Francis Crick (June 8, 1916-July 29, 2004), Winner, 1/3 of the 1962 Nobel Prize in Physiology or Medicine for the discovery concerning the molecular structure of nucleic acids and its significance for information transfer in living material.
i am writing in honour of two gentlemen, dr. francis crick and dr. james watson whose scientific discovery made a great impact in the 20th-century. dr. francis crick passed away on 29 july 2004 at 88. even as a young boy, he was highly inquisitive, interested mainly in the nature of the galaxy, chemistry and how things were made of atoms. his parents, harry crick and annie elizabeth wilkins, presented their son a children's encyclopedia that contained extensive subjects, from history and music to science. drs. crick & watson met and
hit it off
at cambridge university where the two worked in the cavendish laboratory. it was in that same lab where they uncovered the structure of DNA. the intense friendship and youthful pranks they shared are fondly remembered by dr. watson -- one of which was a woman in a birthday suit marking dr. crick's 50th birthday.
the
'gossip test'
helped with francis crick's decision to pursue his main interests which in the future would be called molecular biology. dr. crick inspired me to tackle the gossip issue here:
Pinocchio & Jiminy Cricket (c) The Walt Disney Co
psssst!!!
what is
GQ
??
G
entlemen's
Q
uarterly? no,
G
ossip
Q
uotient!
have we asked ourselves what automatically comes out of our mouths? where does our line of thinking lead us -- the double-helix structure of deoxyribonucleic acid or the neighbour's catastrophic lifestyle?
"great minds talk about ideas, average minds talk about things, small minds talk about other people."
we babble on what enthralls us, never mind if it's about the rest of the world as long as it's entertaining. the inclination to choose our conversation also has to do with
numbers
.
we have more than 5 billion people on earth so the topic of
people
is broad and very diverse. the word
thing
branches out in 5 categories in accordance with roget's 21st century thesaurus: a
thing
could mean something felt or perceived, it might be an act or a deed, an aspect or characteristic, an idea or obsession, or it could very well mean personal possessions. the bible often referred to things as the stars in heaven (Gen 22:17) or the sands on the seashore (Is 10:22). well, how about
ideas
? how many quotes or simple thoughts can be constituted using only the english language? look into the pages of a book or dictionary and we'll get about 615,000 english words with the exception of technical terms and slang. phrases and thoughts summarize our ideas, no matter how ridiculous they seem.
whatever subject we come up with, it is up to us to make ourselves sound at the very least, interesting. perhaps even wait for the battery to die -- that is, if we could hold our conversation well.
---
romancing riesling and the art of the bubbly
Riesling (c)
Beverly's Wine
"You have only so many bottles in your life, never drink a bad one."

-- Len Evans
they say that wine is good for the heart. i say, it depends on the quality of the wine, naturally. i'm not a wine connoisseur but i can appreciate fine living and wine is an art. wine speaks of the person who drinks it and my personal favourites are sparkling wine and riesling.
"It would be a narrow and fanatical wine lover who would exclude white wines from his appreciation, though in certain respects they cannot claim equality with the great red wines. They have, however, their own appointed times and moods... "

-- H. Warner Allen
rieslings are "both
floral and fruity
, and can be delicate, subtle, and low in alcohol, making for a very nice summer wine...
true riesling grapes
are the source of some of the best wines of europe, including germany's rhein and mosel river regions as well as alsace in france... they can range in
style
from very dry to very sweet. typically, they have a lively fragrant, fruity and floral bouquet."
riesling
is the most noble and expressive of white wine grape varieties.
"My only regret in life is that I did not drink more champagne."
-- John Maynard Keynes
champagne is the best wine to be served at any celebration. the original french methode champenoise, developed in the early 1700's, is a painstaking, laborious, and expensive multi-step process, but the most critical step is the winemaker's choice of grapes for blending. the exact blending process remains the secret patent of each winemaker. "eventhough effervescent wines abound throughout the world,
true champagne
comes only from france's northernmost wine-growing area, the champagne region, just 90 miles northeast of paris. this renowned region consists of four main growing areas -- montagne de reims, côtes des blancs, vallée de la marne, and the aube -- and a fifth area that's evolving, côte de sézanne... the name champagne has become a
blanket term
for sparkling wine, [but] any variety made anywhere other than the champagne region of france, where the style originated, is not true champagne." 'bubbly' or sparkling wine is a great apéritif -- luscious, enticing, flavoursome -- a most companionable drink.
"Other countries drink to get drunk, and this is accepted by everyone; in France, drunkenness is a consequence, never an intention. A drink is felt as the spinning out of a pleasure, not as the necessary cause of an effect which is sought: wine is not only a philtre, it is also the leisurely act of drinking."
-- Roland Barthes
the first thing that calls to mind when we talk of wines & spirits, is social drinking. social drinking refers to casual complimentary drinking, for the most part without the intent to get drunk. oftentimes though, that isnt the case. many people are classified as binge drinkers where alcohol is entirely used for the purpose of intoxification. free drink[ing] is a liturgy which has existed at assorted times and within several cultures and traditions. interestingly, it characterizes the human need and capacity for customary societal gatherings and basic greed.
"For in the hand of the Lord there is a cup, and the wine is red."
-- Psalm 75:8
however we define it, drinking will always be part of our natural existence. it is both a religious and traditional ceremony. choosing the right beverage was a zilch considering that riesling and champagne speak of me in distinctive ways.
did you know...
the oldest, still-living wine ever tasted was not red -- it was a
german riesling
from the 1540 vintage. it was tasted in 1961, after 420 years, and had not yet perished.
and

champagne was accidentally discovered by french monk
dom pérignon
. in his management of wine cellars, he discovered that the bubbles were the result of an incomplete fermentation process, which stopped during the cooler months and resumed when the weather began to warm.
---
la grand-mère de jesse
to my friend jesse whose grandmother passed away yesterday. words cannot comfort what is now missing. i know how it is, j'ai perdu mon grand-père. même alors, ils resteront dans nos coeurs à jamais.
---
the story of fidgety ernie
Dalmatian Pup (c) The Walt Disney Co
i have never met anyone sweeter than my darling little man, ernie. the first time i met my baby cousin, my heart went out to him. our moments together were made up of gazing through a shop window filled with souvenirs, bric-à-bracs and widgets; drawing his cherished character -- himself; pushing all the elevator buttons while folks patiently looked on; dancing the night away in our grandmother's room; playing hide-and-seek giggling like crazy. when i first held him in my arms, i thought to myself,
"what are little boys made of?"
What are little boys made of?
What are little boys made of?Frogs and snails and puppy-dogs' tails,
And that is what little boys are made of.
What are little girls made of?
What are little girls made of?
Sugar and spice and all things nice,
And that is what little girls are made of.
What are young men made of?
What are young men made of?
Sighs and leers, and crocodile tears,
And that is what young men are made of.
What are young women made of?
What are young women made of?
Ribbons and laces, and sweet pretty faces,
And that is what young women are made of.
---
racing with destiny
Pepe Lepew (c) Warner Bros
awww my neck hurts. i didnt have much sleep last night. i woke up with a migraine this morning. i'm totally spaced out. my head throbs. i cant turn my head to the right or to the left, moving it only worsens the problem. i hate headaches. i hate migraines. i hate stiff necks. i'm whining. i'm pathetic. at this rate, i might as well have a pacifier.
i suppose my topic for today is just perfect for my current condition. athletes (no, i am not one of them, i can only hope) must undergo training and exercise twice as much as health buffs who spend time at the gym anywhere from 2 to 9 hrs each day. we picture these exceptional beings (the athletes, i mean) pushing themselves to their limits in silence, hardly complaining.
the olympic games began in 776 BC, the prize was an olive leaf, deification by poets, and recognition as an eternal hero. hordes of spectators would pile up in the local amphitheatre boosting the athlete's confidence (needless to say, they were the first ever sports fanatics in history). we could only speculate if the modern-day fans' enthusiasm could topple the ancient zealots' passion. we are mesmerized by both athlete and fan's adrenaline rush during a tough game. we laugh at the childishness of the fans' undivided loyalty, often ending up in a brawl. sports is such a treat. whether it be football or figure skating, every athlete is racing with destiny as each goes for the gold. never mind the pain, after all, their dream's just a heartbeat away.
did you know...
in 1892, french educator baron pierre de coubertin proposed a renaissance of the ancient greek competition. in 1896, his dream was realized as england, greece, italy, russia, spain, sweden and the US opened the games. james b. connolly won the triple jump, the first first-place medal in modern
olympic
history.
---
won't last a day without you
Wendy (c) The Walt Disney Co
today is sunday. the tv is on TBN.
"so what the heck is TBN??"
, to those who have yet to find out what it is, it's Trinity Broadcasting Network, a c
hristian
channel... uh-huh... there it goes... that offensive word again! why on earth is christian doctrine so annoying that the world savagely tries tearing down its roots while it condones the other 5 widely spread religions? i'll take a guess, christianity does
not
compromise. when we make mistakes, the bible doesnt butter us up, instead it tells us straight off what we dont want to face.
Jesus
(the one and only true God) has a zero tolerance to sin. "oh drop it, you are so narrow-minded! you cant go yakking on a thing like that!", is how some would react. the 17th-century mathematician and philosopher blaise pascal, who struggled with issues of faith, concluded that it sometimes resembles a wager,
"If I believe in God and life after death and you do not, and if there is no God, we both lose when we die. However, if there is a God, you still lose and I gain everything."
when i was a little girl, i used to pass the time at the chapel in my school to be alone with God. then it was time for me to leave my sanctuary and step into an unguarded world. i kinda swerved in different directions since then, but he was there at the end of the road, and brought me back home. i'm no saint, but i have great compassion for everyone, regardless of race and religion. i dont count my transgressions as there are many. one thing's certain, though, i love God with all my heart. being confident of this, that he who began a good work in me will carry it on to completion until the day of Christ Jesus.
---
twin towers
Twin Towers (c)
Erik Dobbelsteijns
i'm re-printing here excerpts from an article i submitted to a london-based newspaper after 9/11.
September 2001:
Days after the terrorist attacks in New York, DC and Pennsylvania, I received an enormous volume of mail from friends and acquaintances from all over the world. Most were filled with concern; a few connected our horror with tasteless jokes.
It is no joke to see the World Trade Center literally collapse after a couple of commercial airplanes flew directly towards the upper floors of the two massive structures. The WTC was a compound of buildings with the Twin Towers (North and South) dwarfing all other structures in a city already known for its skyscrapers...
...I feel sorry for future generations who would never get to see the towers except in pictures. I feel sorry for the young man who couldn't find his father; everybody assumed he was looking for a top executive working on the 105th floor. The young man said his father is a window-washer, and that he would not leave the building without letting the others go first. I feel sorry for the Fordham University freshman whose mother was working in the North Tower. He is still looking for her. They were in the same city, 60 blocks away from each other when it happened...
New York City was the place where practically all immigrants passed through at the turn of the century. People go here in pursuit of life, dreams and happiness. It is a psychologically terrifying city for those with great ambitions. It makes them feel insignificant. New York City is like any other city -- big, impersonal, scary. It will call to you and welcome you; ignore you and push you to your limits. It will make you or break you. Then it becomes your city and your home.
I cannot comprehend the hatred that pushed the terrorists to plan the attacks and carry them out. In four strokes, we have lost so much. Invaluable, irreplaceable people and property. People here have promised themselves it will not happen again. Each one is on the other's watch. Including you.
-- Cecilia Sophia,
New York City: In Retrospect
---
vanity fair
Bugs Bunny & Sir Loin (c) Warner Bros
"Arise! Sir Loin of Beef! *whack* Arise! Duke of Ellington! *whack* Arise! Earl of Cloves! *whack* Milk of Magnesia! *whack* Quarter of Ten!" - Rabbithood, Looney Tunes 1949
rabbithood is a real classic, bugs is pretending to be the king and beats the stuffing out of the sheriff by "knighting" him up a treat, whacking him good for each new title... how many of us are dying to beat the crap out of some conceited, self-important jackass whose narcissism puts everyone to sleep? there's only one person who can get away with it and he only acts his role... watching the lovable, pretentious [snob] frasier crane turn his nose up at anything or anybody that isnt in his class brought roars of laughter from his fans. together with his equally lovable, overbearing brother niles, seattle is turned upside down by their pompous ways. but as i said, it's only an act. in real life, insincerity has become a nasty disease. some people brag about their
humble
beginnings which makes the rest of us think, "are they for real??". others mouth their pedigrees, and the rest we dont even know why they show off as there is nothing to flaunt.
"I cannot describe the mysteries of freemasonry, although I have a shrewd idea that it is a humbug." - WM Thackeray
why do some people feel the need to belong in a circle? why's there a
leader
in every group who consider one another as "bestfriends"? correct me if i'm wrong, but friendship isnt about hierarchy, is it? exclusiveness only drives out potential friends. as thackeray put it, "vanity fair is a wicked, foolish place, full of all sorts of humbugs and falsenesses and pretensions" -- i say bravo to him who defined it accurately. usually, the beautiful are accused of being supercilious. but what about the not so goodlooking wannabes? they are as guilty of egotism... maybe even more.
"Vanity Fair—Vanity Fair! Here was a man who could not spell, and did not care to read—who had the habits and the cunning of a boor; whose aim in life was pettifogging; who never had a taste, or emotion, or enjoyment, but what was sordid and foul; and yet he had rank, and honors, and power, somehow; and was a dignitary of the land, and a pillar of the state. He was high sheriff, and rode in a golden coach. Great ministers and statesmen courted him; and in Vanity Fair he had a higher place than the most brilliant genius or spotless virtue."
-of Sir Pitt, WM Thackeray
each of us plays a part in vanity fair. the question is, when do we finally shut up about our worth? now that is a point to ponder.
did you know...
king james I was so taken by a tasty loin of beef he was eating at Houghton Tower (a 16th century castle in Lancashire, England) that he drew his sword and knighted it, creating
sirloin of beef
.
---
brent's workshop
i cant believe that my friend of 5 yrs has a workshop and i never even knew! brent is my favourite person in the world... he reminds me so much of someone close to my heart who also had a workshop where i hung out most of the time. he has just finished working on a table when i gave my two cents' worth. being brent, cute things dont impress him -- he works on steel lumber which marks his practicality. not i, i see things diversely. i see poetry in every little thing and someday, if or when i get to see his workshop i know that i would love to hang out in his shop as much as i loved hanging out in my grandfather's.
oddly, brent and i are like night and day -- he's cool, calm and collected, i'm scatterbrained, flighty and hysterical. numerous times i ran and cried to him over petty, trivial stuff. i amuse him and he confuses me.
in a nutshell, we're two ships passing in the night but i think that's what makes friendship refreshing. there's truth in the saying, "opposites attract".
did you know...
in 1928, a new period of style known as
"
Renaissance Oak
"
became the first truly "American period of furniture."
---
PenAndInk1997
Daughter of Glamis Castle (c)

Sophie


a lot of people would ask me, "ok, so what does penandink1997 mean??" my grandfather introduced art to me when i was around 5 yrs old. i was fascinated by caricatures, portraits, still art and anything that had to do with drawing. always in my hand was a pencil or coloured chalk (which i'd use to draw on the walls) , and i loved showing my work of art to my grandfather where i received critical acclaims. nobody else minded my artworks except when i drew on the walls of the house. this is why part of me will always be partial to my grandfather -- he never saw my flaws, and i never saw his, probably never will.
in 1997, i joined a summer art class (the other option was a girls' camp) hoping to advance my talent. by the end of the 3rd session, i quit... partly because of my teacher who didnt seem to recognise my gift... one time he asked the students to draw a circle -- yep a circle, you know orb, loop, round figure -- he checked each drawing and when it was my turn to be scrutinized he asked, "is that a pear or a kiwi?". oh well...
i have no formal training (everyone assumed i read art at university). one boring night, i looked for a pencil, finding none i grabbed the nearest fountain pen... and so, pen and ink drawings became my signature...

did you know...
A.T. Cross is America's oldest manufacturer of fine writing instruments and was established in 1846.
prankster in a music box

Music Box (c)
The San Francisco Music Box Company
my grandmother loved her music box, i loved it too. i used to watch the stiff ballerina as she glided on the surface of the red music box. i think my love for knickknacks and other whimsy objets d'art started with that little thing that played a neverending tune. growing up, i had this silly dream about seeing the right guy coming from a mile away based on what he could give -- i thought to myself, "well a music box isnt as expensive as the hancock red diamond, he [whoever he is] is fortunate indeed as i only ask for a trinket that plays a neverending tune" -- someone did give me what i asked for, only he wasnt the one.
i remember getting lots of prank calls
esp
in the wee hrs of the morning a while back and i hated it still do, i mean doesnt anyone?? i get prank calls to this day, just yesterday i almost threw the darn phone answering a call from someone who's determined to stay anonymous. suddenly my thoughts flashed on one particular incident, sometime in the wee hrs of the morning i answered the phone and heard a music box playing (that sounded like
this
) and when it stopped, i heard a boy maybe about my age whose voice cracked as he said, "i love you" then hung up.
my prankster
never called again after that (or maybe he still did) but i never found out who he was. the story might be
freaky to some but for my part, the prankster and his music box will remain in the recesses of my mind.
did you know...
it is believed that louis favre, a watchmaker from geneva, was responsible for making the first
music box
in the eighteenth century.
---
bradstreet girl

The Harvard Yard Fence (c) Harvard University


At Saturday's dedication, Professor Vendler noted that although Harvard has been educating women for many years, women were not full citizens until the 1970s, when Harvard opened its figurative gates.
'The delectable view of a New England autumn in the Yard has now been native to women for a quarter-century, and thousands of Harvard women have gone on to play significant roles in America's intellectual, artistic, economic, and political life," Vendler said. "The future promises thousands more. And though the first extraordinary Anne Bradstreet could not be educated at Harvard, the next Anne Bradstreet will, we hope, be one of us.'
did you know...
that
Anne Bradstreet
, a colonial American woman, is America's first poet.
the proverb of john heywood
Bugs Bunny (c) Warner Brothers
ever wondered who first coined the phrase
"a penny for your thoughts"?
i was thinking about that as i squeezed my brain further to attain one simple answer, on the other hand of course, i didnt have any idea what to write. it awes me when i read other people's blogs -- just how many times in a day can one actually have a death defying, exhilarating, over the top experience worthy enough to be included in their web log? that led me to my first question -- who first used the phrase a penny blah blah..., well now i know, it was
john heywood
. he was born in london in the 1400s and became the king's bard (not to mention a playwright). yeah, he was
that
artistic. naturally, no one could prove that the proverb in question and many others originated from him, doesnt matter -- to society what
always
matters is who
first
published it. i read that in the 1500s, heywood received a 10 mark annuity as the king's puppet (no pun intended), there're 240 pennies to a mark, so that was a yearly salary of 2,400 pennies. compare it to today's top butler who makes about $100 grand ... equating 2400 pennies to $100,000. amazing, isnt it?
so i guess, no matter how lame your blog is or filled with swashbuckling adventures and an all-star cast, just remember that a penny for your thoughts
is no
chump change
.
Oohla-la, Cecilia Sophia!
it almost leaves me spellbound each time i'm asked to fill out a description of myself and my interests. "know thyself" -- strangely, sometimes defining one's self is much harder to do than say, describing a friend. i listed a few of my favourite stuff, they'll represent me for now.
My Mamie
Henrietta'sTable
HarvardCoop
MySisterAileen
CallingCards PenAndInk UCB Milkshakes Tomatoes Unaju Phonograph
Disneyland
LooneyTunes
PaulaWhite
TDJakes
VermontTeddy
FrancetheFatCat*sigh*
Asterix
Groo
NIV
ThePyrates MuchAdoaboutNothing TheRoseandtheRing VanityFair AnneofGreenGables CalvinandHobbes ASeparatePeace HarvardClassics
---
All entries and pen and ink drawings are protected under U.S. copyright and other laws and are the property of C. Sophia or the party credited as the provider of the content.