Up the Steps with Rocky
C. Sophia aka boy crazy: remember the guy from tuesday? pray that he asks me out!!!
Tim: do you want me to pray now or in my private time?
Aileen aka Old Lace: must we always talk about you?

Friday, February 2, 2007
Subject: where have the good(looking) men gone?

hi tim,

it's almost impossible to gather your thoughts in one sitting seeing that you only have 19 mins left to use the darn internet. anyway, I was just thinking about the fact that the world as i observe now, is lacking of its most basic need: cute men.

sometimes it's a struggle just getting out of bed, curling your hair and painting your face with all the rainbow colors knowing that as soon as you step outside, there is simply nothing out there...

oh well.. and to think this is already california. i wonder how goes in other parts of the world?

sighingly yours,
boy crazy

Friday, January 5, 2007
Subject: east coast girl forever

hey tim,

happy new year. hope you had a great(er) time wherever you spent it.

still in sunny cali which (surprisingly) hasn't been so sunny the past couple weeks. family's a-ok, that i'm thankful. on the other hand, i'm not very happy about being back, (frankly, i haven't blogged in awhile, decided to "hibernate" after probably a year and a half of posting, so if i'm babbling -- slap me.) well, you know how i feel about cali, right? yup, i'm back in california where everybody insists i belong. i've never "belonged" here, to be honest. my home has always been the east coast. out here on the west coast, it's different. I accept it as it is, with all its superficiality and cleanliness (not that it's wrong, it just decided to be what it is now without my help)... but i cannot love it the way it wants to be loved (by me). a childhood friend
sells cali like a used car salesman, like, " cali 's the BEST" (in bold italics,
mind you)... can't blame him, he means well. besides, he was born and bred here.

philadelphia is another story. philadelphia was my sanctuary for 6 years. i loved philly. i will always love philly. it kept me away from everything i dread. It embraced me wholeheartedly and taught me to be strong. to be me. i will forever be grateful to philly.

and if it were a guy, i'd have stayed. yup, if philly were a guy, i'd have stayed and loved [him] for the rest of my life... oh well... 'nuff of that. In fairness to californians, cali 's one of the most beautiful states we have. it's a wonder really, why i know in
my heart of hearts i belong elsewhere. you see all kinds of cars (ie benz, bentley, BMW, lamborghini etc neatly parked in every lot); people combining furs with flipflops (yup, only in cali); 100 grand worth of bags and jewelry items just to walk around santana row; then, there are those cali boys who party and drink from 7 am to 7 am (a little exaggeration there.. erm just a teensy bit i might add).

since i came back, i've been drinking nonstop myself. i can't wait to leave, for now i'm hypnotizing myself to enjoy every minute of my "journey" reminding myself i'm going away soon. i want snow! i want freedom to go anywhere i want on a metro, not a flashy car! flashy cars become a bore when your butt sticks to it like a magnet for a long time. no exercise there.

sorry for dumping this on you but there's one consolation out of all my misery these days: family's a-ok.

signed,
boy crazy

Sunday, December 10, 2006
Subject: [Another] Philadelphia Story

Dear Tim,

In a week, everything will change. Philly's blurring even as I write.
Promise you'll keep in touch?

Old Lace

On 12/15/06,
cecilia sophia wrote:

> hello everyone, i know i know... it's past 2 am and here i am, typing my heart away but this is the only time i get to email since i'm flying back to san jose on mon to visit family for the holiday season.

> i'm sure we'll update one another *hinting* on, during or after the break. my oh my... just imagine the feasting and pound-adding holiday cheer... ha! i hope everyone will have a wonderful christmas, though :)

> IT'S BASICALLY MY LAST WEEK IN PHILLY, LORD KNOWS WHY I SHOULDNT BE SPENDING MY LAST DAYS IN GOOD OL' PHILADELPHIA AND NEW YORK JUST PLAIN HAPPY. WHY NOT DATE A LOCAL BOY? I HAD LUNCH WITH TIM FRIDAY LAST WEEK AND MET A WAITER ( OR "FOOD
SERVER") WHO'S UBER-CUTE AND A BITTY METRO (YOUNGER VERSION OF MATTHEW BRODERICK).. HE WAS SO CUTE AND VERY SWEET I KEPT BLUSHING AS HE JOKED ABOUT MY PRESENT TO TIM

> (TIM WAS LATE IN COMING AS USUAL), I DIDNT MIND THOUGH, I ACTUALLY WISHED TIM WASNT COMING AT ALL! ABOUT 15 MINS LATER, MY SISTER AND I WERE STILL WAITING FOR TIMOTHY WHEN THIS GUY CAME UP TO US AGAIN (THE NTH TIME) TO ASK IF OUR FRIEND REALLY KNEW WHERE "SHE" WAS MEETING US.. MY SISTER GOES, "HE KNOWS." HE GOES, "OH.. HIM." I WHISPERED TO MY SISTER TO LET TIM SIT WITH HER SO THE GUY'D KNOW HE WASNT WITH ME.

> WHEN HE CAME BACK, I ASKED FOR HIS NAME.. YUP, ME.. GOOD OL'
ME, ASKING FOR A GUY'S NAME BUT SO WHAT? IT'S MY LAST WEEK IN PHILLY, RIGHT? HE HELD OUT HIS HAND AND TOUCHED MINE, I BLUSHED AGAIN. TIM COMES IN, LEARNS ABOUT THIS GUY AND MAKES A CRACK ABOUT GIVING MY INFO TO HIM. I SAY, "WHY NOT?" YUP.. ME. MY FIRST TIME TO WRITE DOWN MY INFO TO SOMEONE I DIDNT EVEN KNOW; MY FIRST TIME TO MAKE THE FIRST MOVE... U COULD IMAGINE HOW MY SIS AND TIM REACTED.. IT WAS A JAW-DROPPING MOMENT FOR BOTH OF THEM. I CALL THE GUY, ASK FOR A PEN AND PAPER, THEN WROTE DOWN MY INFO ALONG WITH, "THANKS FOR THE TIME!" CALLS HIM BACK, GIVES HIM THE PAPER AND SMILES SWEETLY, HE GOES, "IS THIS FOR ME?" I
SAY, "YES, DEFINITELY." TO MAKE THE STORY SHORT, WE LEAVE THE RESTAURANT AND AS WE'RE ALL WALKING AWAY, I LOOK BACK AND SEE HIM LOOKING OUT THE WINDOW.

> my goodness, those are the times u just cant forget huh? :) anyway, just sharing this with u guys, i'm sending more ny and philly pics when i get the chance. it's very sad, my speech went along well reme, i got a plaque from the philadelphians which made my heart break even more. but i'm very happy just to have met all of them.

> i gotta go, i'll write/call when i'm in cali.

> love
always, sophie

November 2006 (my speech to philadelphians on sunday)

i just scribbled a few stuff since i have already said a lot on this podium for the last couple of years. i'm leaving philadelphia which was my home for the past few years, and as excited as i am to venture out into the open world, i am saddened by the people i'm leaving behind. i know that till i'm old and grey, i will always remember philly, the church, and you. i like to think that i have touched the place and the place touched me. * i thank God for that opportunity and the times i was with you.

***
"I walked the avenue till my legs felt like stone."**I know the streets of Philadelphia like I know my family. They're quirky but totally lovable. If I walked a few blocks to the Swann Memorial Fountain and the Four Seasons Hotel, something amazing was sure to happen, like the time I accidentally met the New York Knicks. A few more blocks and I'd be on 17th & Market, seeking out Liberty Place for my favorite shops and a milkshake. It was intoxicating, the feeling of being free to do whatever I wanted, whenever and still feel safe with the whole city watching my back.

Philly, the City of Brotherly Love, was home to me for six years. I moved four times around Center City and cursed myself each time I did it (if you've experienced the wonders of packing, moving and unpacking, you'll know what I mean) but at the end of the day, it's all good. I found it ultimately rewarding. My very first apartment was in Rittenhouse Square on Walnut Street (shopping!) with Rittenhouse Park just a stone's throw away. I could go barefoot, read, munch, draw, watch concerts, chat with artists working en plein air, take a picture, lie down on one of the park benches. and no one bothered me (too much). My second apartment was on Locust Street right next to the Academy of Music. At night, I would walk with friends along the Avenue of the Arts, drinking in all the culture it has to offer. My third home was in Society Hill, on a quiet, tree-lined street featuring gorgeous Georgian architecture. A few blocks down is eclectic, bohemian South St. (not too far away is Pat's where the cheesesteak, with or without cheese and onions, is to die for). At The Artful Dodger, my friends cheered on as I finished a pitcher of beer. They also cheered on while I ate foot-long hoagies, wondering aloud where I was putting it all. And speaking of pubs, I frequented McGillin's on Drury Street, the oldest tavern in town, Monk's Café on 16 th & Spruce, for the Trappist ales and fries, and the Manayunk Brewery for everything they have. I cheered for the Eagles and Sixers, careful not to jinx them (the Red Sox, however, is a different story).

My fourth move took me to Logan Square in the Art Museum area. I loved living in the vicinity of four museums best of all. I'd step out of my building and literally run into The Thinker. With the Rodin Museum in front of me, the Philadelphia Museum of Art to my left and the Franklin Institute and the Academy of Natural Sciences to my right, I was a happy camper. Running up the museum steps ala Rocky was one of the most exhilarating things ever. You just have to try it for yourself (if you've seen In Her Shoes, you'll know what I mean). Ben Franklin Parkway, practically my backyard, is where they would hold parades and concerts and every 4 th of July, I only had to walk a few steps to watch the fireworks. I wasn't prepared for Live 8, though. The Parkway, by noon, was swarmed by nearly a million people and I had to retreat to my place for air. A couple blocks down, on Vine, is the Free Library, a favorite hang-out where I attended lectures by Newt Gingrich, James D. Watson, Umberto Eco and other fabulous authors. Behind it, on Callowhill, is Whole Foods where I bumped into Denzel Washington and Scott Speedman (in the pasta section, between the breads and meats). Further west, on 30th and Market, is the Amtrak station where I departed and arrived countless times to/from Boston, New York, Chicago, DC, even California (and where I caught the eye of Leo diCaprio for two minutes). I always came back, except for last year when I knew it was time to move on.

I walked and drank my way around Philly, from Logan Square to Rittenhouse to South Street to University City to the Main Line and back, in a blizzard, a heat wave, in my high heels. Some people call Philly the City of Brotherly Snob. Well, okay, maybe it's not always the friendliest of cities. (Incidentally, it's been called New York 's sixth borough. If New York's The City, Philly's definitely The Town). My philosophy is, if you're not feeling the love, pass it on and it might just come back to you. It worked for me, a hundred-thousand fold.

* quoting James D. Houston
** from Streets of Philadelphia by Bruce Springsteen
A Girl and Her Story

(from PFBC Newsletter, November 2006)

What happens when our hearts are shattered and our dreams just seem to pass us by? We go to God in prayer and in turn, He gives us people to help ease the pain. They're there to guide us in our walk with God, constantly putting in mind to take one step at a time because for what it's worth, Christ loves us.

This song reminded me of the day I needed to talk to someone so badly and you were there. I'd like to share it with all of you.

When I am down and, oh my soul, so weary;
When troubles come and my heart burdened be;
Then, I am still and wait here in the silence, Until you come and sit awhile with me. You raise me up, so I can stand on mountains; You raise me up, to walk on stormy seas; I am strong, when I am on your shoulders; You raise me up: To more than I can be.



Let us not become weary in doing good, for at the proper time we will reap a harvest if we do not give up. Therefore, as we have opportunity, let us do good to all people, especially to those who belong to the family of believers.
Thank you so much and God bless.
~ Sophie
You Raise Me Up, Composed by Rolf Lovland and Brendan Graham; Performed by Josh Groban; Girl Making A Wish, copyright Linda Bronson
---
love in november
(c) Meister
- what does it all come down to? love? Love
if you like and i
like,for the reason that i hate people and lean out of the window is love,love
and the reason i laugh and breathe is oh love and the reason
that i do not fall into this street is love.
-- e.e. cummings
today's my birthday.
looking back
, i thank God for these ('though it took a while to blog about it... yikes!) --
cheers to grandmother's health!

canadian cutie loves me

i'm going back to a prestigious school (details later)

sister gave the loveliest

fiorentina

leather journal for my artworks

two great guys took me out to lunch
everyday, i thank God for His faithfulness. He has been so good to me eventhough i don't deserve it. i'm not saying that i am more blessed especially in the face of other people's misfortunes. i believe God has given me good things and has taken one out of impossibly difficult situations so that i may be an effective witness for Him. He loves me as much as He loves the next person. and nope, He doesn't play favourites... whew.
Be she whole, or be she rent,
So my fancy be content,
She's to me most excellent.
-- Robert Herrick
---
God in the midst

Ice Skaters in Central Park New York City, New York USA (c) Ray Laskowitz


friday night was very emotional for me. my dad called and warned me not to freak out. i appreciate that my dad is sensitive and protective of my feelings but i'd rather hear things straight off than break it to me gently. my grandmother was rushed to the hospital that same day and my parents were about to leave to see her. i emailed all my friends in the wee hours of the morning not to vent but to tell them i was going on sabbatical. i also emailed my best friend separately and told him i needed to rejuvenate. i've dropped off the face of the earth once so i promised them if that happens again, i'd tell my guys first. in the email, my opening words were, "i don't know how this email will turn out but here goes." because i really didn't know. i ended up telling them about my questions for God. the night was cold but i felt hot inside. i was angry and all the pent-up feelings came flooding out. i had so many questions like, "how do you [God] feel, really? how do you feel when people die, or when someone's heart is broken? well, mine's broken now. do you feel it, too?" i guess i was crying so hard my face felt numb from the cold. normally, i'm good at logical reasoning and philosophizing. i can hold my ground fairly well. but there are times when it doesn't matter. sometimes, people don't need some proper (smart-alecky) christlike answer, they just want to know if they aren't alone in their feelings. my mom, dad and friends didn't try to sound clever or upright -- no sugar-coating, no sentimental bull -- just unadulterated sincerity from people who deeply care.
i'm hoping my grandmother will recover as she did months ago when i was forced to go back to the bay area. and if you must know, i decided, i shall walk with God all the days of my life because well, someday i want all my questions answered. and yes, i do love Him.
"Come now, let us reason together," Says the LORD.
-- Isaiah 1:18
---
the other sox!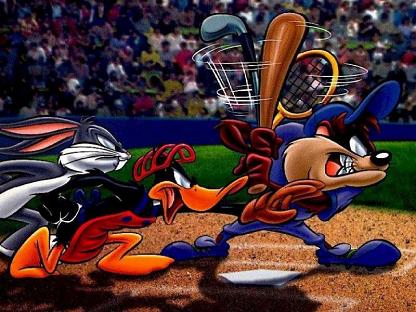 (c) Warner Bros
"It's unbelievable, unbelievable," catcher A.J. Pierzynski said.
It was the third title for the
White Sox
, following wins in 1906 and 1917. And it was the first since "Shoeless" Joe Jackson and the "Black Sox" threw the 1919 Series against Cincinnati.
In the Windy City, where the Cubs have been long king, Chicago's South Side team for once trumped its North Side rival, no small feat for the Sox.
the first time i've watched "
Eight Men Out
", i had mixed emotions. i cried at the end of the movie, actually (and it's NOT even a chick flick). to fully appreciate the white sox's victory, i suggest you guys watch it, if you haven't yet. it's worth your 121 minutes.
soooo.... who's next to root for? better be the cubs!
---
for women, by women
that's my personal description up there. uh yeah, see above. i actually got the result from
here
. it's good to be admired and complimented, isn't it? but what about those who need it more?
i don't want to rain on your parade (if you ppl are having fun today) but i want to inform you, it's
domestic violence awareness month
. my sister and i came up with an idea and discussed it with the other ladies a couple of days ago -- we're sending out special "somethings" to women in shelters. when misfortune strikes, people donate (or give if you prefer to call it that) the two most basic things that we can't live without, food and water. and that's just fine, however, women need more than those. they also need (don't laugh at this) cosmetics (unused! who wants a half-full lipstick?) and other personal hygiene products. so, the women in our circle agreed to put together items that
any woman
would appreciate and hopefully, bring confidence back. i can't imagine what life such women went (or are still going) through but i feel deeply for them...
(if you want to start your own drive, contact your local YWCA, church, or women's shelters.)
personally, i love flowers but it also depends on what kind of flowers i get.
I GOT FLOWERS TODAY...

I got flowers today.
It wasn't my birthday or any other special day.
We had our first argument last night, and he said a lot of cruel things that really hurt me.
I know he is sorry and didn't mean the things he said,
Because he sent me flowers today.

I got flowers today.
It wasn't our anniversary or any other special day.
Last night, he threw me into a wall and started to choke me.
It seemed like a nightmare. I couldn't believe it was real. I woke up this morning sore and bruised all over.
I know he must be sorry,
because he sent me flowers today.

I got flowers today, and it wasn't Mother's Day or any other special day.
Last night, he beat me up again.
It was much worse than all the other times.
If I leave him, what will I do? How will I take care of my kids?
What about money? I'm afraid of him and scared to leave.
But I know he must be sorry,
because he sent me flowers today.

I got flowers today.
Today was a very special day.
It was the day of my funeral.
Last night, he finally killed me. He beat me to death.
If only I had gathered enough courage and strength to leave him,
I would not have gotten flowers today.
(author unknown)
---
rose among thorns
All I was doing was trying to get home from work.
-- Rosa Parks
since i have paid special tribute to the
wonderful men
in my life, i thought of doing the same for the women.
MONTGOMERY, Ala. -
Rosa Parks
, whose refusal to give up her bus seat to a white man sparked the modern civil rights movement, died Monday evening. She was 92... Mrs Parks was 42 when she committed an act of defiance in 1955 that was to change the course of American history and earn her the title "mother of the civil rights movement."
i just watched "fresh prince of bel-air" on nick and in tonight's episode, they tackled black history. i didn't know that an extraordinary individual passed away until i came online and read the news. rosa parks will always be every woman's hero(ine) -- whatever our race, ethnicity and culture be.
---
got milk?
brrr... i left all the windows open last night so i woke up this morning freezing. it's funny because when it happens, my nose is the only part of my body that feels very cold when touched. anyway, i have tons of emergency supply to "warm up" the whole army -- tea, coffee, milk, cocoa, etc etc. milk is my personal favourite though, so if you guys need a warm fall drink, just try this out!
Serves 6
4 ounces sliced or slivered almonds
4 cups milk
4 cups honey
2 ounces amaretto (optional), or to taste

1. Preheat oven to 350°. Spread almonds in a single layer on a rimmed baking sheet, and toast until golden and fragrant, about 10 minutes. Remove from oven; let cool and roughly chop.
2. Place milk in a medium saucepan; cook over medium heat just until milk begins to steam, 5 to 6 minutes.
3. Combine milk, almonds, honey, and amaretto in a blender. Start blender on lowest speed, and puree until almonds are ground to your liking, at least 30 seconds. Serve as is, or strain through a fine-mesh sieve.
---
All entries and pen and ink drawings are protected under U.S. copyright and other laws and are the property of C. Sophia or the party credited as the provider of the content.